Siena Tango Marathon
For smiling tango people
Ratings
Have you been to this event? Let other tangueros know what you think by rating it! Just click on the percentage bars. And, if you feel like providing further details, feel free to drop a few lines at the comments section.
Siena Tango Marathon
Siena Tango Marathon
For smiling tango people
For smiling tango people
50
out of
100
with
4
ratings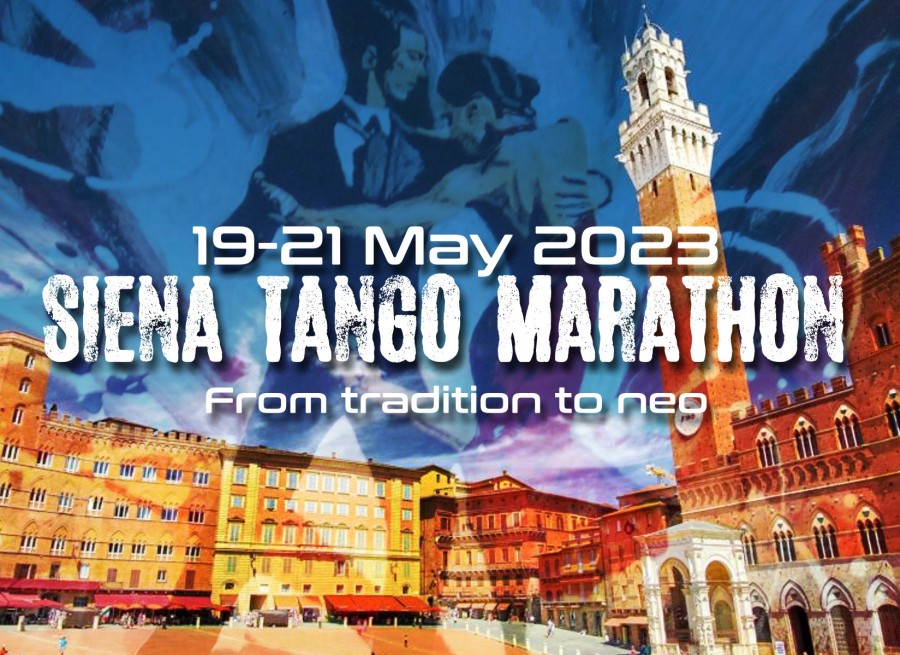 Description
Dear Tango friends! Carpe Diem and Neotango are glad to invite you to Siena Tango Marathon, that will take place from 19th-21st of May 2023 in the lovely ballroom of the Best Western hotel San Marco, and we invite all the tango dancers with good skills and friendly attitude, ready to dance on a wide range of crossover music from traditional tango to neotango. We look forward to welcoming you in Siena! The dancing room will be surrounded by live visuals by the unique visual artist Andreas Lange, from Hannover.   Confirmed TDJs:
Elio Astor
Ezequiel Sanucci
Jean Marc Vandel
El Pablo
La Ombre PROGRAM 22.00-2.00
19 May 2023
DJ Ezequiel Sanucci 16.00-20.00
20 May 2023
DJ El Pablo 22.00-02.00
20 May 2023
DJ Elio Astor 16.00-20.00pm
21 May 2023
DJ La Ombre 22.00-02.00
21 May 2023
DJ Jean Marc Vandel   PRICES (Early bird prices valid until 31 March)
Milonga pass: 60€.
Milonga pass with b&b accommodation in double room at Best Western: 250€ per person. Your entrance in the marathon will be guaranteed ONLY after the payment.
You will receive the Final Confirmation Email, which is actually your pass! REGISTRATION
To register please follow the link on the web site:
https://sienatangomarathon.neotango.it For more informations please contact:
sienatangomarathon@gmail.com
or send a message using the marathon facebook page 
https://www.facebook.com/sienatangomarathon
---
EVENT DETAILS
Location:

Strada Massetana, 70, 53100 Siena, Siena, Italy (view map)

Event dates:

From: Friday, 19 May 2023 - To: Sunday, 21 May 2023

Location:

Strada Massetana, 70, 53100 Siena, Siena, Italy (view map)

Event dates:

Event Starts: Friday, 19 May 2023
Event Ends: Sunday, 21 May 2023

Number of Participants:

130 dancers

Milonguero Ticket Price - Includes all milongas:

60 EUR - Euro Member Countries

Number of Participants:

130 dancers

Milonguero Ticket Price - Includes all milongas:

60 EUR - Euro Member Countries

Is registration required prior to the event?

Required - No tickets at the door

Registration Opens:

Wednesday, 01 February 2023

Registration Closes:

Sunday, 30 April 2023

Is registration required prior to the event?

Required - No tickets at the door

Registration Opens:

Wednesday, 01 February 2023

Registration Closes:

Sunday, 30 April 2023

Accommodation:

Yes

Beverages:

Yes

Transfer:

No

Massage:

No

Accommodation:

Yes

Beverages:

Yes

Transfer:

No

Massage:

No
---
EVENT ORGANISER
Social tango events organization based in Rome
Map
Strada Massetana, 70, 53100 Siena, Siena, Italy
Pin icons from Medialoot
---
---
Reviews
Go back