Roma Neotango Marathon
Everlasting Music First
Ratings
Have you been to this event? Let other tangueros know what you think by rating it! Just click on the percentage bars. And, if you feel like providing further details, feel free to drop a few lines at the comments section.
Roma Neotango Marathon
Roma Neotango Marathon
Everlasting Music First
Everlasting Music First
75
out of
100
with
8
ratings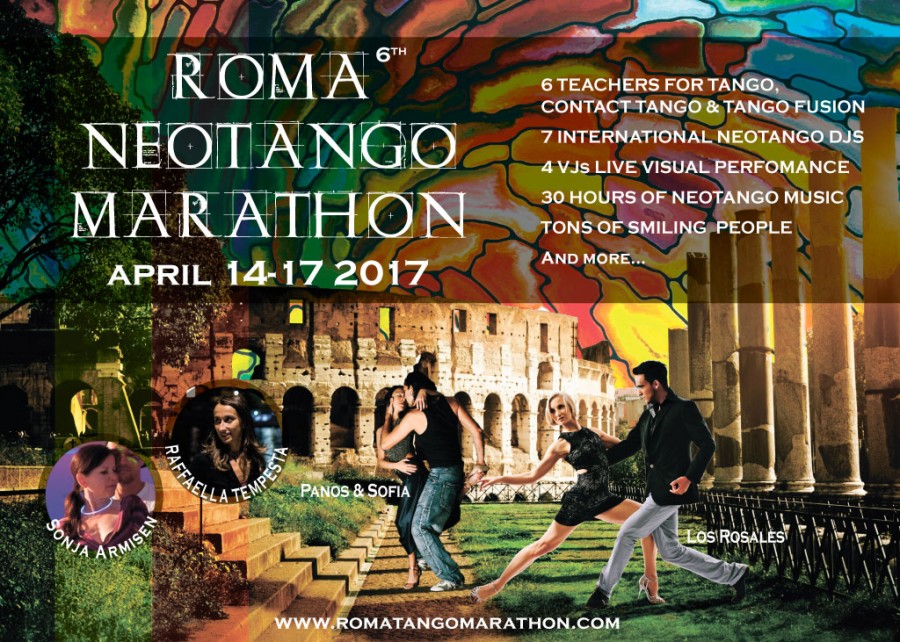 Description
14-17 APRIL 2017: ROMA NEOTANGO MARATHON!
REGISTRATION HAS STARTED, BOOK YOUR FLIGHT NOW! IT/EN/FR/DE/GR/RU
INFORMAZIONI, PROGRAMMA E REGISTRAZIONE:
MORE INFO, PROGRAM AND REGISTRATION:
INFORMATION, PROGRAMME ET INSCRIPTION:
INFOS UND PROGRAMM UND REGISTRIERUNG:
ΠΛΗΡΟΦΟΡΙΕΣ & ΠΡΟΓΡΑΜΜΑ & ΣΥΜΜΕΤΟΧΗ:
Подробности, программа и регистрация на сайте:
WEB: http://ROMATANGOMARATHON.COM/en/
FB: https://www.facebook.com/events/587615911420581/
PROGRAM ROMA NEOTANGO MARATHON 
FRIDAY 14 APRIL 2017
h 18 We welcome our guests, the marathon starts!
h 20:30-22 Dinner at the restaurant of the hotel
h 22 Welcome neolonga with show, DJs Volker, Peggy. Anna
SATURDAY 15 APRIL 2017
h 7-10 Breakfast
h 14-16 Afternoon neolonga DJ Loco
h 16-17:15 Workshop Tangofusion with Sonja Armisen
h 17:30-18:45 Workshop with Juan Manuel & Lisa Rosales
h 19:00-20:15 Workshop with Panos & Sofia
h 20:30-22:00 Dinner at the restaurant of the hotel
h 22 till late Color neolonga - pimp-up yourself, dress the most colourful you can! , DJs Dima, Elio, Anna
SUNDAY 16 APRIL 2017
h 7-10 Breakfast
h 14-16 Afternoon neolonga Dj Sonja Armisen
h 16-17:15 Workshop Contact Tango with Raffaella Tempesta
h 17:30-18:45 Workshop with Juan Manuel & Lisa Rosales
h 19:00-20:15 Workshop with Panos & Sofia
h 20:30-22:00 Dinner at the restaurant of the hotel
h 22 till late Passion neolonga, dress code… spicy , DJs Anna, Thanos, Si
MONDAY 17 APRIL 2017 (OPTION)
h 7-10 Breakfast
h 14:30 Transfer to Barrio Arte
h 15:00-16:00 Pasquetta barbecue
h 16-20 Farewell Milonga (2 dance halls) Dj Jam
h 20 Transfer back to the hotel
h 20:30-22:00 Dinner at the restaurant of the hotel
---
EVENT DETAILS
Location:

Via di Ciampino, 70, Rome, Metropolitan City of Rome, Italy (view map)

Event dates:

From: Friday, 14 April 2017 - To: Monday, 17 April 2017

Location:

Via di Ciampino, 70, Rome, Metropolitan City of Rome, Italy (view map)

Event dates:

Event Starts: Friday, 14 April 2017
Event Ends: Monday, 17 April 2017

Number of Participants:

200 dancers

Milonguero Ticket Price - Includes all milongas:

50 EUR - Euro Member Countries

Number of Participants:

200 dancers

Milonguero Ticket Price - Includes all milongas:

50 EUR - Euro Member Countries

Is registration required prior to the event?

Required - No tickets at the door

Registration Opens:

Thursday, 01 December 2016

Registration Closes:

Friday, 14 April 2017

Is registration required prior to the event?

Required - No tickets at the door

Registration Opens:

Thursday, 01 December 2016

Registration Closes:

Friday, 14 April 2017

Accommodation:

Yes

Beverages:

Yes

Transfer:

Yes

Massage:

Yes

Accommodation:

Yes

Beverages:

Yes

Transfer:

Yes

Massage:

Yes

Website

Facebook:

Website

Facebook:
---
EVENT ORGANISER
Social tango events organization based in Rome
Map
Via di Ciampino, 70, Rome, Metropolitan City of Rome, Italy
Pin icons from Medialoot
---
---
Reviews
Go back