Noches de Ronda
In the wake of the embrace
Ratings
Have you been to this event? Let other tangueros know what you think by rating it! Just click on the percentage bars. And, if you feel like providing further details, feel free to drop a few lines at the comments section.
Noches de Ronda
Noches de Ronda
In the wake of the embrace
In the wake of the embrace
50
out of
100
with
5
ratings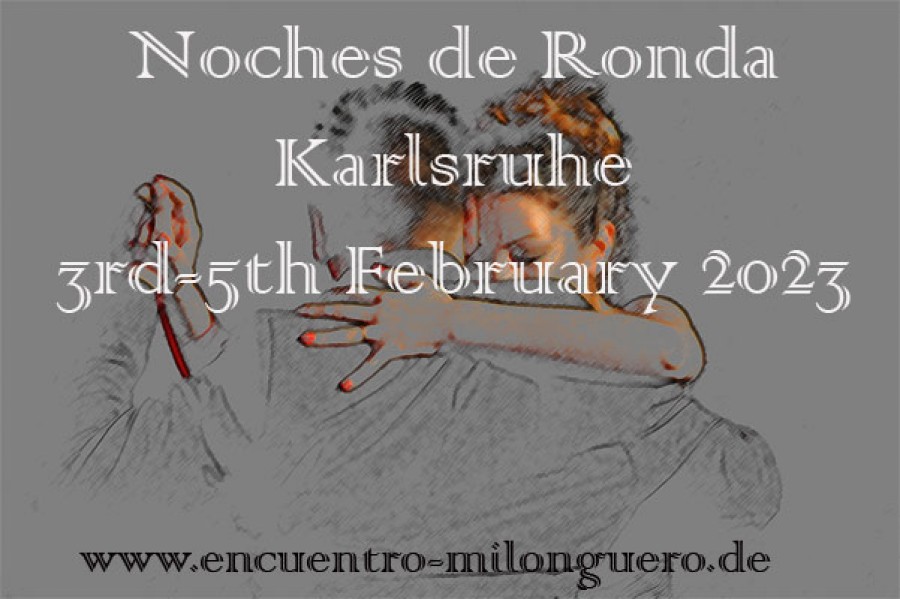 Description
Embrace tango in these long first nights of February at the foothills of the Black Forest and be part of an exciting gender-balanced tango event, in Karlsruhe, Germany, in one of the pioneering tango centres in Europe with a tango history stretching over twenty five years.
The Dj Team:Our first dj is the highly esteemed Jens-Ingo Brodesser from Brussels. No question, one of the most influential djs of Europe.  Saturday afternoon of Noches de Ronda features Marco Moretti, an Italian from Paris and one of the first European to ever dance Argentine Tango.  Two further italians, the highly talented and equally popular Flavio Zizzu and Claudio Copolla,  complete the selection. The afterparty will be run by a local highly experienced dj.
We are looking forward to an intimate gender-balanced event with a reduced number of participants in the best tradition of tango milonguero/marathon. Dance with friends and make new ones. The price includes refreshments during the milongas. Also, the venue of the milongas is connected to a restaurant with quality International/Greek cuisine at very moderate prices.
---
EVENT DETAILS
Location:

Baumeisterstraße 18, Karlsruhe, Germany (view map)

Event dates:

From: Friday, 03 February 2023 - To: Sunday, 05 February 2023

Location:

Baumeisterstraße 18, Karlsruhe, Germany (view map)

Event dates:

Event Starts: Friday, 03 February 2023
Event Ends: Sunday, 05 February 2023

Number of Participants:

130 dancers

Milonguero Ticket Price - Includes all milongas:

120 EUR - Euro Member Countries

Number of Participants:

130 dancers

Milonguero Ticket Price - Includes all milongas:

120 EUR - Euro Member Countries

Is registration required prior to the event?

Required - No tickets at the door

Registration Opens:

Monday, 15 August 2022

Registration Closes:

Saturday, 31 December 2022

Is registration required prior to the event?

Required - No tickets at the door

Registration Opens:

Monday, 15 August 2022

Registration Closes:

Saturday, 31 December 2022

Accommodation:

No

Beverages:

No

Transfer:

No

Massage:

No

Accommodation:

No

Beverages:

No

Transfer:

No

Massage:

No

Website

Facebook:

Website

Facebook:
---
EVENT ORGANISER
Map
Baumeisterstraße 18, Karlsruhe, Germany
Pin icons from Medialoot
---
---
Reviews
Go back