A Tango Milonguero Intensive
4 consecutive Tango Milongero Style Workshops
Ratings
Have you been to this event? Let other tangueros know what you think by rating it! Just click on the percentage bars. And, if you feel like providing further details, feel free to drop a few lines at the comments section.
A Tango Milonguero Intensive
A Tango Milonguero Intensive
4 consecutive Tango Milongero Style Workshops
4 consecutive Tango Milongero Style Workshops
75
out of
100
with
8
ratings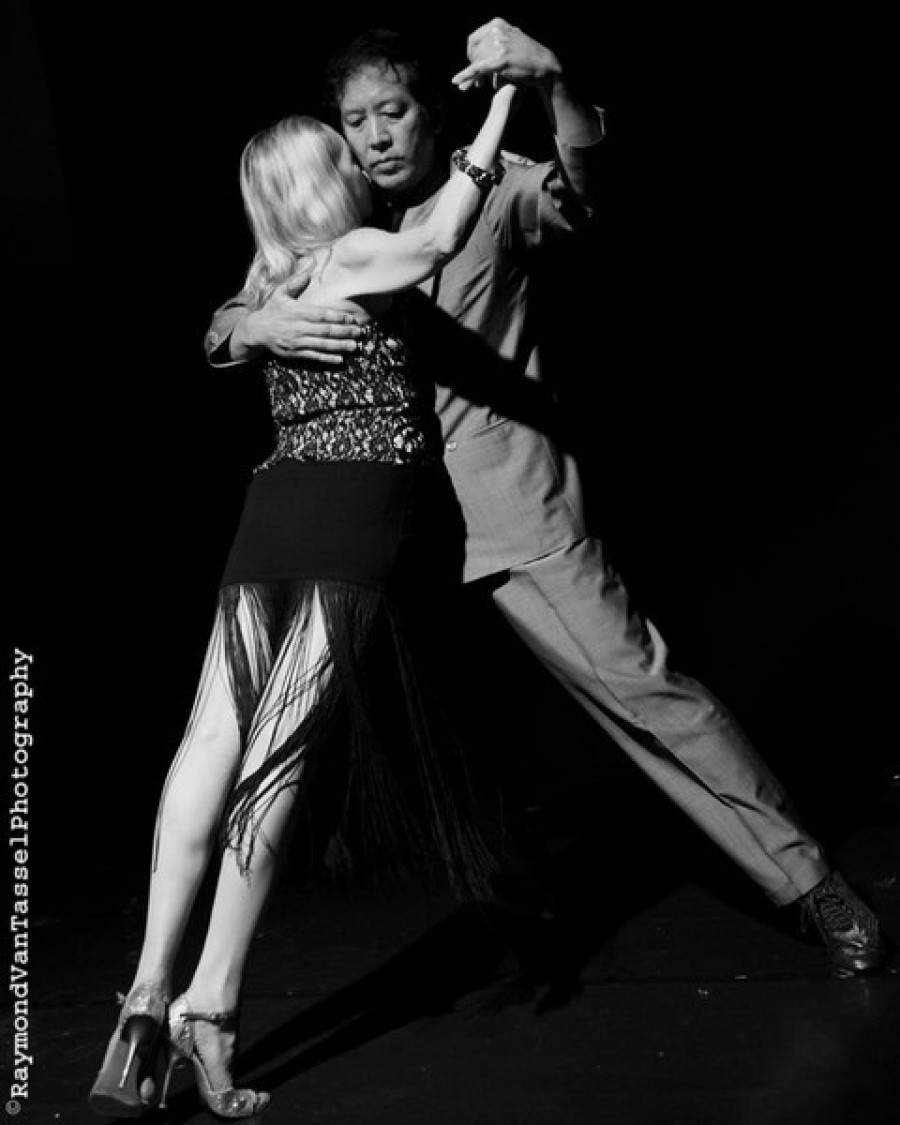 Description
"A TANGO MILONGUERO INTENSIVE"
Jonathan y Olivia Presents
A Tango Milonguero Intensive

Friday January 26, 2018
Time: 1:00pm  5:00pm
4 consecutive Tango Milongero Style Workshops!
Couples Only Registration
Burlingame Masonic Lodge  145 Park Road, Burlingame CA 94010

Class Cost: $20 per person per class.

INSTRUCTORS:

Pablo Rodriguez and Eva Garlez -- Instructors
1:00pm  2:00pm Class topic: -- Dancing on the Tile

Eva and Pablo are among the leading young couples specializing in Tango Milonguero in the world. They are based in Albuquerque, NM and Buenos Aires, Argentina. They have taught and participated in the Albuquerque Tango Festival since 2014-15-16-17. They previously have taught at the Mini Chicago Tango Festival 2017 & 2013, San Diego Tango Festival 2016, Encuentro Milonguero Albuquerque 2016-2017, San Miguel de Allende 2015, Burning Tango Festival 2013, New Zealand Tango Festival 2009, Festival of Ferrara 2011-2013, USA, Oceania and European tours. They combine more than 20 years of experience teaching Tango in a social way with extraordinary ability to explain the basic mechanics of danceable tango and from there to build a very personal dance in their classes. They increase the confidence of their students by giving them the tools they need at all times.

Eva Garlez Bio: After starting to learn Tango, Eva was quick develop considerable knowledge and understanding of both roles. Evas love of dancing is transmitted as she teaches and performs. She has become an outstanding milonguera, having taught and performed with great milongueros. In class she provides all her knowledge and experience as a dancer, optimizing the learning process of the students to help them quickly achieve a high technical quality. She focuses mainly on posture, balance, and elegance to develop an intuitive and personal dance, which enhances the beauty of the dance.

Pablo Rodriguez Bio: Pablo discovered Tango more than 10 years ago and fell in love with the dance and the music instantly. Because of his infatuation with the dance, Pablo began to seek expertise in recognized milongueros, developing his own personal style of dance and teaching. Pablo focuses on leadership: clear and precise lead, posture, music and the comfort of women. He also focuses on the good management of the line of dance and how to optimize the tools one has on the dance floor. The fundamental principles are stepping, elegance, balance, interpretation of music and comfort of women, all with a high technical quality. And all this without forgetting that Tango is a social dance.
For more information about Pablo y Eva at:  http://www.evaypablo.com
Pablo y Eva (505) 313 5316 (c)

Daniel Arias and Laura Mingo -- Instructors
2:00pm  3:00pm Class topic: "Five Essential Tips for Dancing Milonga on a Tile"

DANIEL ARIAS -BIO
Daniel started teaching tango in 2000, providing workshops, private classes, and seminars in San Luis and Buenos Aires, Argentina, and performing at such world renowned and prestige tango institutions as The Argentine Academy of Tango, Caminito Tango Show, Club Sunderland, Yira Yira Milonga, El Beso Milonga, Tango Si Milonga, La Milonguita Milonga and Porteño y Bailarin Milonga.

Daniel was trained in Buenos Aires by acclaimed Argentine Tango dancers, and has been teaching and performing Tango at the highest level for over 15 years.   He participated in internationally renowned competitions, where he won recognition for his preeminence in the Tango art form:
The 2007-2009 InterAmerican Dance Competition in San Luis, Argentina; received First Prize in Tango Salon and Best Newcomer Award.
The 2009 Inter-American Dance Competition, received Best Tango Instructor Award.
The 2010 Inter-American Dance Competition, San Luis, Argentina, received Best Dancer Award.
The 2010 Best of Cuyo Competition, Mendoza, Argentina, received First Prize in Tango Salon.
2011 World Tango Championship in Buenos Aires, Semi-finalist;
2012 World Tango Championship in Buenos Aires, Argentina, Finalist in Tango Salon.
In 2012-2013, Daniel completed his world tour, with classes, seminars, and performances in Turkey, Italy, Germany, and Latvia. In 2014, Daniel settled in Los Angeles, California, where he has become a very popular and sought after Maestro in the Tango Community. Daniel is known for his impeccable, crisp steps, his musical interpretation and his passion for the dance.

Since relocating to California from Buenos Aires, Daniel, a finalist of the Tango World Championship 2012, has a huge devoted following in the tango community due to his crisp and clean dance, his impeccable musicality and teaching skills. Don't miss a chance to study with him.

LAURA MINGO - Bio
Laura has been a Los Angeles based tango organizer for a number of years, and was an organizer and host to one of the most successful LA Milongas, the famous Milonga El Floridita (MEF), and later Milonga Uno. Lauras husband, Daniel Arias, is an Argentine tango dancer and Milonguero Maestro. Laura is Daniel's dance and life partner. They teach weekly classes and also a very popular practica on Sundays. I am also a professional photographer and have a Masters in Linguistics.
https://youtu.be/nzd6ZKxUTTU
Laura Mingo: mingotography@gmail.com

Christopher Nassopoulos and Caroline Peattie -- Instructors
3:00pm  4:00pm Class topic:  "How To Bring Out The Best Of Your Dancing In Crowded Spaces"

Bio:
Christopher Nassopoulos and Caroline Peattie have been dancing and teaching Argentine tango for nearly 45 years combined, teaching the traditions and codes of the social dancers going back generations in Buenos Aires.  They bring energy and passion to close-embrace dancing, and have proven exercises and techniques to pass on this knowledge.  They emphasize comfort, accuracy, and strong musicality, both rhythmic and dynamic, and the material they use in classes is directly and immediately useful on the dance floor.  
Contact Info: Christopher and Caroline
415-860-1016 and/or 415-717-0928
Christopher: molassestango@gmail.com
Caroline: carolinepeattie@gmail.com



Jonathan Yamauchi and Olivia Levitt  Instructors
4:00pm  5:00pm Class Topic: In the style of Gavito  Dancing Intimately and Sensuously in Place (when there is literally no room to move on the floor) PLUS Technique to Leading and Following The Spiral Cross --  Gavitos Signature Movement -- the most aesthetically beautiful cross danced in tango, contrasting masculine and feminine energy.

Jonathan y Olivia -- Bio
Jonathan Yamauchi and Olivia Levit have been twice finalists in the New York National Tango Competition dancing tango milongero style amongst salon style competitors. They have been dancers for over 60 years combined of which dancing and teaching Argentine tango has accounted for nearly 30 years.  Olivia was a former Principal Ballerina with the Oakland Ballet, the San Francisco Theater Ballet, the New York Theater Ballet and has performed throughout the world with a Russian/American Ballet Company. Olivia is master certified in Pilates, Gyrotonic and Gyrokenesis, and Yoga. Jonathan has studied with numerous teachers in Buenos Aires, including his mentor, Carlos Gavito during the last 4 years prior to Gavitos passing. Jonathan is gifted in his ability to analyze, break down and explain body mechanics and movement, empowering students to dance beautifully in a sustained close embrace. Olivia learned her tango from Jonathan and numerous tango instructors from Buenos Aires, including Maria Plazaola and Marcela Duran -- Gavitos last two partners. Together Jonathan y Olivia will share technique necessary to execute Gavitos movements -- learned and mastered by few.

Whether beginning or advanced, students of Jonathan and Olivia receive contemporaneous instruction focusing on detailed technique, perfecting the walk (from which all tango movements originate) breathing, pauses and the intimate sustained close embrace in the tango milonguero style with particular detail to internal and external nuances not perceptible to a third party observer. Jonathan and Olivia teach nuances which will transform your tango into an aesthetic that is beautiful, sensual and intimate. Study with Jonathan and Olivia and experience the feeling of being in another euphoric dimension while dancing even the most simplistic movements. Experience a beautiful level of tango that you may not have previously imagined possible.
More about Jonathan y Olivia including performance videos at www.tangoapilado.com.
Olivia Levitt 650.834.5658 (c)
Jonathan Yamauchi 415.947.9458 (c)
olivia@tangoapilado.com
jonathan@tangoapilado.com

Note: Teachers can be available for private lessons by appointment at nearby Dance Vida (4.7 miles from the Masonic Lodge)  Address: 85 43rd Ave, San Mateo, CA 94403 Hours:  210PM, where open floor space is rented for private lessons at $15/hr. floor cost
---
EVENT DETAILS
Location:

145 Park Road, Burlingame, CA, United States (view map)

Event dates:

From: Friday, 26 January 2018 - To: Friday, 26 January 2018

Location:

145 Park Road, Burlingame, CA, United States (view map)

Event dates:

Event Starts: Friday, 26 January 2018
Event Ends: Friday, 26 January 2018
---
EVENT ORGANISER

Jonathan y Olivia, Argentine tango milonguero style dancers, teachers and performers, are also organizers and hosts to Encuentro Milonguero San Francisco Bay Area 2018 for advanced level milonguero style dancers (formerly Encuentro Milonguero Berkeley). Jonathan y Olivia were also guest hosts/organizers to Encuentro Port Townsend 2017.
More from Jonathan y Olivia:
---
Map
145 Park Road, Burlingame, CA, United States
Pin icons from Medialoot
---
---
Reviews
1

comment
Comment Link

This is a wonderful opportunity to compare and contrast the close embrace teaching styles of four different milonguero style teachers all in one day!
Go back