Titango Belfast Festival
Ratings
Have you been to this event? Let other tangueros know what you think by rating it! Just click on the percentage bars. And, if you feel like providing further details, feel free to drop a few lines at the comments section.
Titango Belfast Festival
Titango Belfast Festival
50
out of
100
with
4
ratings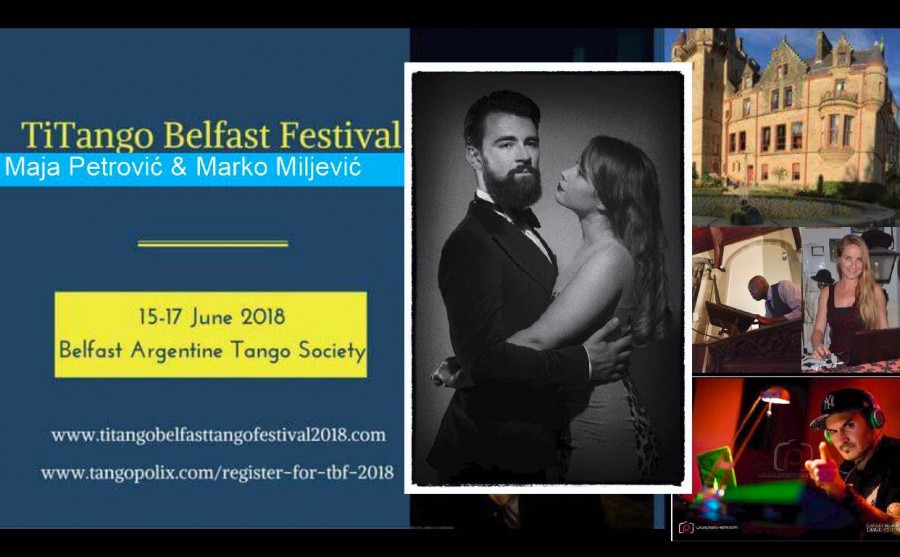 Description
'TITANGO' is back!  

Belfast's bi-annual International Tango Festival in 2018 will feature one of the most famous and favorite couple among tangueros all over the world Maja Petrovic and Marko Miljevic.

Have a great tango weekend in one of Europe's friendliest cities with the possibility of also visiting some of Belfast's great attractions.
Program:

Workshop 1: Friday 5-6:30

AL6 Walking and/in the close embrace

Since walking and embracing are the essence of tango, in this lesson we will focus on how to walk elegantly and effortlessly in close embrace. Through different exercises (alone and in couples) we will show you how to make and keep a comfortable and soft close embrace and also work on the technique of walking, both for leaders and followers.

(Replaces C&N Theme: Walk containment and projection )



Workshop 2: Friday 7:00-8:30  

I/A1 Couples Technique 1: Presence and connection

In this lesson we will focus on finding and keeping a clear presence and strong connection in the couple. As presence we define the way of carrying and using our own bodies while dancing. The connection is created when two present bodies, aware of each other, hug. We will go through different exercises (both alone and in couple) for body awareness, communication, musicality and technique of walking. If the time allows, in the end of the lesson we will walk in close embrace.

(Replaces C&N workshop 2: Musicality and importance of connection )



Friday welcome milonga 9pm-1:00am (DJ Enrique Ringa)



Workshop 3: Saturday 12:30-2:00

I/A4 Circular movements around common axis

In this lesson we will show you one of our favourite figures. By analysing it into details, we will explain the idea of a smooth circular movement in close embrace. This combination will give you a possibility to add some vertical change of dynamics to your dance, which comes in very handy at crowded milongas. We will also spice it up with different entries, exits and embellishments.

(Replaces C&N workshop3: Crosses)



Workshop 4: Saturday 2:30-4:00

A5 Embellishing milonga

If you are bored with regular milonga steps this is a workshop for you! We will share a few playful combinations of embellishments in close embrace which you will be able to further develop on your own.

(Replaces C&N workshop 4: Vintage sequences)



Workshop 5: Saturday 4:30-6:00

A3 Controlling the giro with embrace

Here we will show you how to break the usual patterns in giro through different intensity of the embrace. We will use the embrace to "block" the giro in different moments, without loosing the circularity and the connection.

(Replaces C&N workshop 5: Action reaction; playing with the roles for the understanding of followers suggestions)



Saturday Grand Milonga (with performance) 8:30-1:00am (DJ Olga "La Cachila"- Spain)





Workshop 6

I/A18 Milonga: Symmetrical embrace

Through a fun pattern of steps we would like to break the habit of having only "open" and only "closed" side of the embrace. Depending on how equally we use both sides of our embrace, we will influence the shape of the steps. If the time allows us, we will include an embellishment to spice up the combination.

(Replaces C&N workshop 6: Flexibility in the embrace- transition between close and open embrace)



Farewell Milonga Sunday 17th

3:00-7:00pm (DJ James UK)
FESTIVAL PACKAGES AND PRICES

WORKSHOPS PACKAGE

6 WORKSHOPS £101.84 ONLINE ONLY EARLY BIRD

AFTER 1st MAY 2018 £107.20

NOT AVAILABLE AT THE DOOR


EACH INDIVIDUAL WORKSHOP

ONLINE £20.14 EARLY BIRD DISCOUNT

AFTER 1st May 2018 £21.20 ONLINE

AT THE DOOR £25


MILONGAS PACK - ALL THREE MILONGAS

ONLINE £41.42 EARLY BIRD DISCOUNT

AFTER 1st MAY 2018 £43.60

ONLINE ONLY

NOT AVAILABLE AT THE DOOR


TITANGO WELCOME MILONGA

ONLINE £15.39 EARLY BIRD DISCOUNT

AFTER 1st MAY 2018 £16.39

AT THE DOOR £20


TITANGO GRAND MILONGA  with Performance from Marko and Maja

ONLINE PRICE £20.14

AFTER 1st MAY 2018 £21.20

 AT DOOR £25


TITANGO FAREWELL MILONGA

ONLINE PRICE £10.64 (early bird)

AFTER 1st MAY 2018 £11.20

AT DOOR £15


Balance in Classes  We encourage you to book with a partner to ensure balance in classes. Taxis will not be provided.  COUPLES CAN BOOK TOGETHER IN TANGOPOLIX OUR OFFICIAL FESTIVAL EVENT ADMINISTRATOR.
Venue

Belfast Castle
Antrim Rd, Belfast BT15 5GR

The entire Festival will be held in Belfast Castle

Belfast Castle is set on the slopes of Cavehill Country Park, Belfast, Northern Ireland, in a prominent position 400 feet above sea level. Its location provides unobstructed views of the city of Belfast and Belfast Lough.

It's located just 10 minutes from Belfast city centre and transport links and 15 minutes from George Best Belfast City Airport,
    

There is a Restaurant and Bar within Belfast Castle that will be open during the Festival.

Free WiFi is available at Belfast Castle
---
EVENT DETAILS
Location:

Belfast Castle, Belfast, United Kingdom (view map)

Event dates:

From: Friday, 15 June 2018 - To: Sunday, 17 June 2018

Location:

Belfast Castle, Belfast, United Kingdom (view map)

Event dates:

Event Starts: Friday, 15 June 2018
Event Ends: Sunday, 17 June 2018

Milonguero Ticket Price - Includes all milongas:

43.60 GBP - United Kingdom Pound

Milonguero Ticket Price - Includes all milongas:

43.60 GBP - United Kingdom Pound

Is registration required prior to the event?

Recommended - Tickets might be available at the door

Is registration required prior to the event?

Recommended - Tickets might be available at the door
---
EVENT ORGANISER
The Belfast Argentine Tango Society (BATS) was formed in June 2007 as a "not for personal profit" organisation to promote Argentine Tango. Classes and workshops had taken place in Belfast prior to this – through the efforts of individuals or independent teachers. However, it was felt that a structured society was necessary to facilitate a more consistent promotion of Argentine tango.Membership is open to all and a committee is elected each year to run the society. We are all just tango enthusiasts who volunteer our time and effort to organise classes, milongas, and other events
More from BELFAST ARGENTINE TANGO SOCIETY:
---
Map
Belfast Castle, Belfast, United Kingdom
Pin icons from Medialoot
---
---
Reviews
Go back