La Viruta Berlin
Grande Milongas and Tango University with Horacio PBT Godoy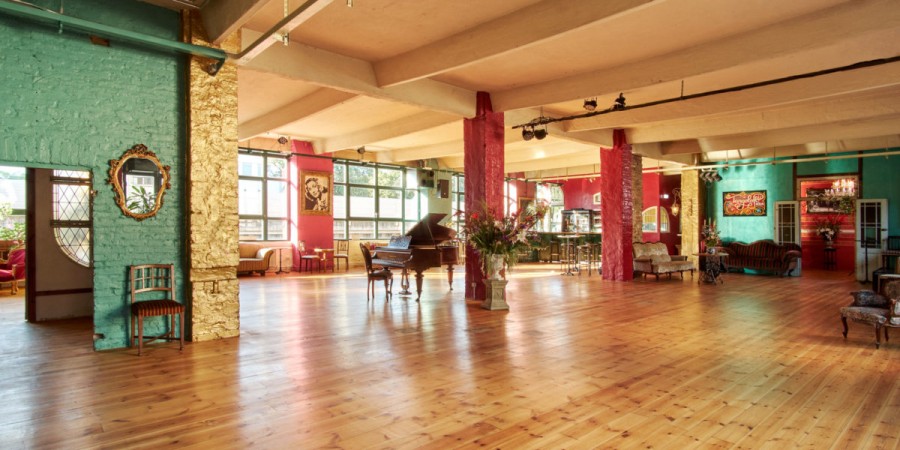 Probably every Tango dancer who visited Buenos Aires has memories of La Viruta - the legendary milonga located in the district of Palermo. This must-go-to Milonga is filled with Tango students till midnight and turns into the meeting point for international dancers & local milonguer@s alike. The special combination of endless nights spent dancing till 6am on the huge dancefloor, filled with hundreds of dancers, all embraced closely dancing to passionate Tango music, the famous last tanda and fresh media-lunas with "café con leche" after 4am - all this makes you fall in love with Tango again and again. This huge dark basement in the building of the Armenian Cultural Centre is also an important institution for popularizing Tango in Buenos Aires. La Viruta is known as an important school where hundreds of people join the tango classes for all levels. Mastermind and charismatic host of the milonga is Horacio "El Pebete" Godoy - unique teacher, virtuoso dancer, passionate historian of Tango, music producer of and a fantastic DJ. The team of Intimacy Berlin invited him to bring the spirit of La Viruta Tango Club for the second time to Europe. In 4 fomaous venues in Berlin we will celebrate 4 nights with Horacio Godoy as Co-host and main DJ. He will be supported by the Berlin-based DJs Guillermo Monty and Ala Malisa, added by Mona Isabelle for the Saturday night added Neo-Tango Floor.
Like the original, La Viruta Tango Club Berlin offers seminars before the milongas by maestro Horacio Godoy and his partner Cecilia Berra. This intense Tango University with 8 Seminars in 4 Days is fokiussed on musicality and history of Tango.  
A special highlight will certainly be their main show of Cecilia and Horacio on Friday night in the amazing historical venue of Ballhaus Pankow. The Opening night will host the show of Berlin Maestras Mimi Hirsch and Özgur Arin. Saturday we present Celeste Medina and Andres Sautel. For the final night we have the first Festival Show of the raising stars of Berlin Dilara Ögretemen and Francesco Chiesi.
Continue Reading
Collapse text
---
EVENT DETAILS
Location:

Berlin, Germany (view map)

Event dates:

From: Thursday, 07 November 2019 - To: Sunday, 10 November 2019

Location:

Berlin, Germany (view map)

Event dates:

Event Starts: Thursday, 07 November 2019
Event Ends: Sunday, 10 November 2019

Number of Participants:

500 dancers

Milonguero Ticket Price - Includes all milongas:

40 EUR - Euro Member Countries

Number of Participants:

500 dancers

Milonguero Ticket Price - Includes all milongas:

40 EUR - Euro Member Countries

Is registration required prior to the event?

Recommended - Tickets might be available at the door

Registration Opens:

Monday, 29 July 2019

Registration Closes:

Sunday, 10 November 2019

Is registration required prior to the event?

Recommended - Tickets might be available at the door

Registration Opens:

Monday, 29 July 2019

Registration Closes:

Sunday, 10 November 2019

Accommodation:

No

Beverages:

No

Transfer:

No

Massage:

No

Accommodation:

No

Beverages:

No

Transfer:

No

Massage:

No
---
EVENT ORGANISER
Milonga Popular / intimacy festival / La Viruta Berlin
---
---
Questions? - Leave a Comment
Go back