Week end des Hirondellles Tango a Rouen
Ratings
Have you been to this event? Let other tangueros know what you think by rating it! Just click on the percentage bars. And, if you feel like providing further details, feel free to drop a few lines at the comments section.
Week end des Hirondellles Tango a Rouen
Week end des Hirondellles Tango a Rouen
50
out of
100
with
4
ratings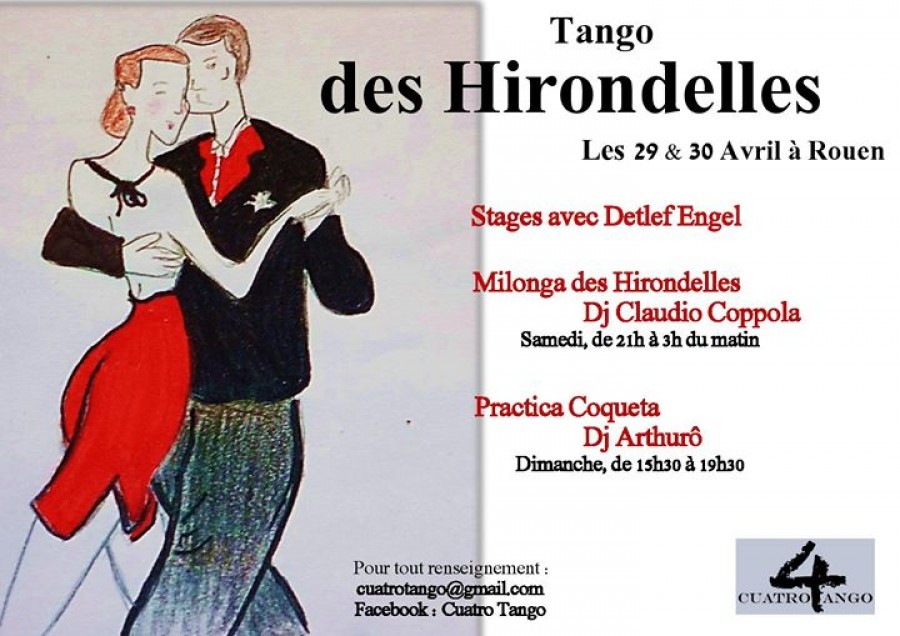 Description
Les Hirondelles seront donc de retour ! Toute l'équipe est heureuse de vous présenter le programme !
LES MILONGAS :
MILONGA DES HIRONDELLES - Dj Claudio Coppola
Samedi, de 21h à 2h du matin - Studio de danse Julian Aelterman
31, Route de Darnétal - Rouen
PAF : 10 € / Adhérents 8 € (Encas et boissons offerts)

PRACTICA COQUETA - Dj Arthurô
Dimanche, de 15h30 à 19h30
Salle Saint-Nicaise
18, rue Poussin – Rouen
PAF : 5€ (Encas et boissons offerts)

LES STAGES :

Salle Saint-Nicaise – 18, rue Poussin.
Nombre de places limité à 7 couples par module.
SAMEDI : (horaires à venir ! Bientôt, bientôt !)
2 modules de 2 heures chacun ayant pour axe commun le traspié.
- Un module tous niveaux (ouvert aux débutants ayant au moins 6 mois de pratique régulière du tango). Travail sur l'ancrage au sol, la jambe d'appui et la jambe libre. Donnez du corps et du relief à votre danse
- Un module "Traspié et variations rythmiques en milonga"
Un travail de précision autant pour les guideurs que pour les guidés.
Prérequis : avoir de bonnes notions du système croisé et savoir danser le rythme de base de la milonga.
Tarifs : 26 € / 23 € (Tarif réduit : étudiants et demandeurs d'emploi) - par module et par personne.
DIMANCHE : TANGO, cours privés partagés
Deux séances d'une heure chacune. 2 couples par séance.
De 12h15 à 13h15 et de 14h à 15h
Après vous avoir vus danser un ou deux tangos, Detlef vous fera un retour personnalisé sur votre danse et vous proposera des axes de travai et vous accompagnera tout au long de la séance. Tout un programme, rien que pour vous.
Tarif : 25 € par séance et par personne.
Pour les non-adhérents : adhésion ponctuelle de 2 € couvrant l'ensemble de votre participation aux stages et aux cours privés partagés.
---
EVENT DETAILS
Location:

Rouen, France

Event dates:

From: Saturday, 29 April 2017 - To: Sunday, 30 April 2017

Location:

Rouen, France

Event dates:

Event Starts: Saturday, 29 April 2017
Event Ends: Sunday, 30 April 2017
---
---
Reviews
Go back