Tango Weekend Freiburg with Malena Martos John Zabala
Ratings
Have you been to this event? Let other tangueros know what you think by rating it! Just click on the percentage bars. And, if you feel like providing further details, feel free to drop a few lines at the comments section.
Tango Weekend Freiburg with Malena Martos John Zabala
Tango Weekend Freiburg with Malena Martos John Zabala
50
out of
100
with
4
ratings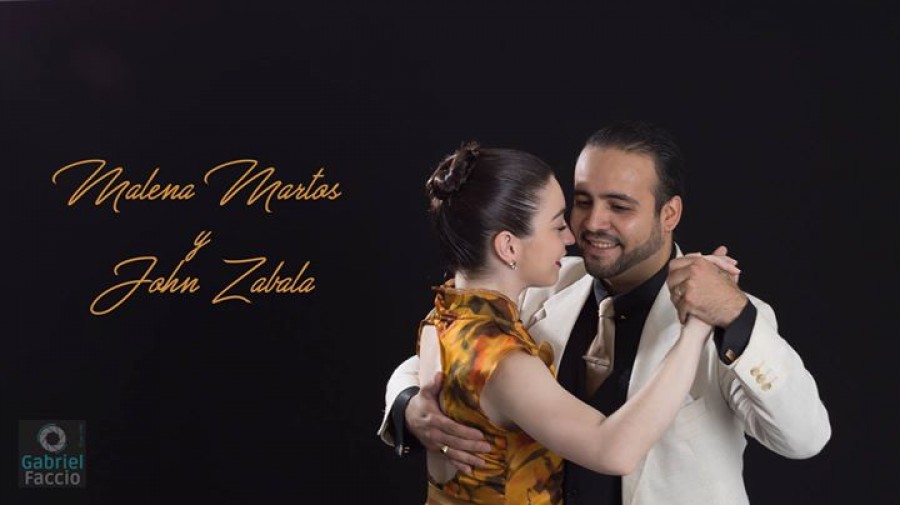 Description
Tango Weekend with Malena Martos & John Zabala
With workshops and Milonga!

More Informations coming soon!

John Zabala : professional Tango dancer, teacher and music collector Colombian born. Former member of several famous dance companies of Colombia among which we can point out BNF (Baile Nacional Firulete), the salsa company Swing Latino and the tango company Tango Vivo, he began his studies of tango in Colombia and later in Buenos Aires he kept improving his knowledge attending classes of famous and respected maestros such as Ernesto Balmaceda and Stella Baez. He taught private lessons as well as workshops in Latin America : Medellín, Cali, Pereira (Colombia), Buenos Aires (Argentina), Santiago (Chile) ; in Asia : Jakarta (Indonesia) and Singapour ; in Europe : Paris, Montpeller, Lyon, Arcachon, Orléans, Poiters (France) and Freiburg (Germany).
Awards and titles :
-National Champion of Tango 2007, Cali, Colombia
- 5th place in the World Championship of Tango 2007, Buenos Aires, Argentina
- Metropolitan Champion of Tango 2010, Santiago, Chile
- Metropolitan Champion of tango Salón and Escenario 2011, Santiago, Chile.
John Zabala's career took place in different countries. Dedicating himself to tango improvisation and instruction, he still attends master classes and workshops dictated by maestros from the old and new generation, which allows him to develop a dance style both modern and tainted with tradition.
He is now living in Paris.

Malena Martos: professional tango dancer and teacher. She began to learn Tango at the age of 9 with the maestra Olga Besio, participating in the group that the maestra formed Tango on Niños in several presentations and events, in deferent theaters of Buenos Aires. The recording for Canal Solo Tango show most of those activities.
Malena completed her artistic knowledge by obtaining the title of Classical and Contemporary Dance Teacher from the Escuela Nacional and the title of Self-Expression through movement from the Instituto Vocacional de Arte of Buenos Aires. Currently she continues to perfect her Tango with excellent maestros such as Ernesto Balmaceda and Stella Baez.
With a great stage experience in dance and techniques, she participated in different events such as the festival of Caçapava do Sul in Brasil.
She is currently teaching Tango, Classical and Contemporary dance classes for all levels, from beginners to advanced students and she appears in presentations with different professional Tango dancers in important Milongas of Buenos Aires. She is living in Buenos Aires where she is known as an excellent dancer and a reference for Argentinean Tango.

Our objective :
Our objective is to work the essence of Tango as well as its technical bases without looking for transmitting quickly only moves. We work slowly but surely, achieving this way to adapt to the rhythm of the students. The kind of Tango we are developing is absolutely suitable for the milonga (ballroom) where the student can stand for himself cultivating the codes of the milonga itself, with the du respect.
Our teaching is based on Tango as a social mood. To do so, we work hard in our class but always in a good mood so that the students can have a good time and learn from whatever we can create during class.
We share our love for tango, not only by teaching it but also by awaking the students sensibility to the different Tango orchestras and singers so they can adapt theire dance to the music, the music serving the body and not the body serving the music.
---
EVENT DETAILS
Location:

Freiburg, Germany

Event dates:

From: Friday, 03 February 2017 - To: Sunday, 05 February 2017

Location:

Freiburg, Germany

Event dates:

Event Starts: Friday, 03 February 2017
Event Ends: Sunday, 05 February 2017
---
---
Reviews
Go back