NANCY Lavoie Tango weekend 1
Ratings
Have you been to this event? Let other tangueros know what you think by rating it! Just click on the percentage bars. And, if you feel like providing further details, feel free to drop a few lines at the comments section.
NANCY Lavoie Tango weekend 1
NANCY Lavoie Tango weekend 1
50
out of
100
with
4
ratings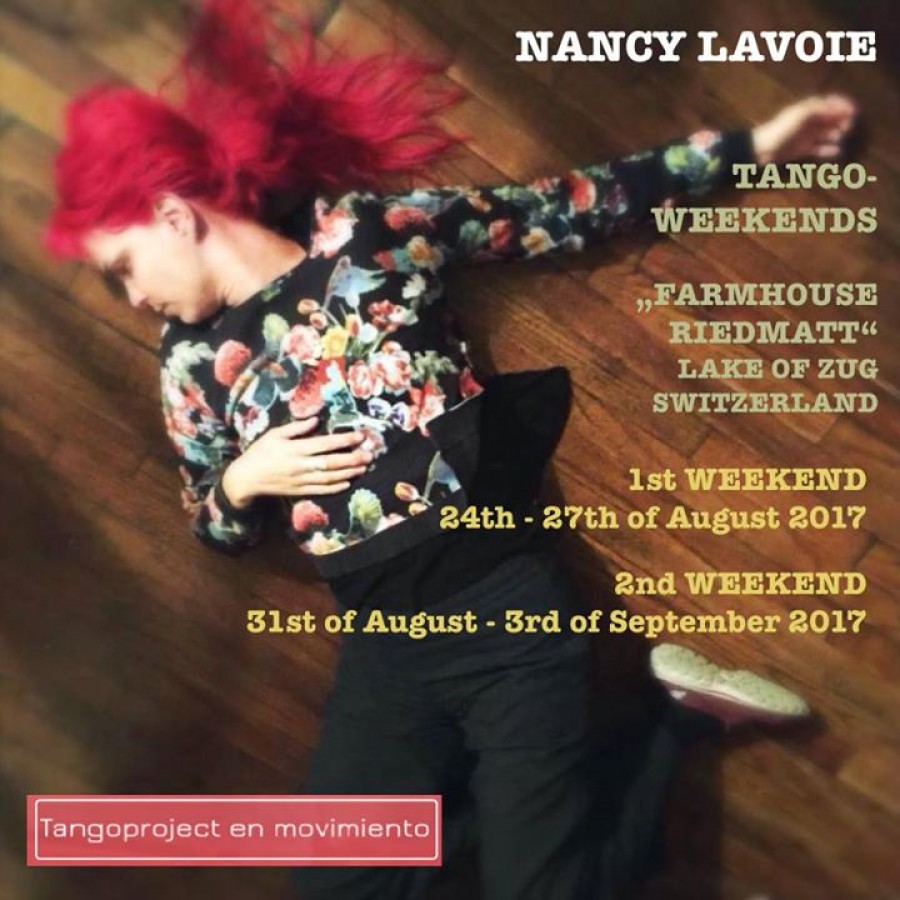 Description
Enjoy an enchanting Tango weekend with us, surrounded by the idyllic landscape above the lake of Zug. The Riedmatt offers space for 10 - 12 people, a big dance floor in the hayloft and a wild romantic garden to linger. There are several double rooms and two single rooms available. You will have enough time around the workshops and Milongas to relax in the silence of nature.

7 Workshops
Milongas on the hayloft
Thursday & Friday - cosy Milonga for the participants.
Saturday - open Milonga for everybody.
Culinary art

Workshops
Thursday
WS1 - What unites us: Points which unite the leaders and the followers, for smooth role changes.
WS2 - Catch me if you can! The craziest paradas and barridas.

Friday
WS3 - Lines and elegance of torso and the arms: Work on the embrace and freedom in the nape, the back, and the arms.
WS4 - Lines and elegance of the legs and feet: Exploration around technical possibilities and expressions of the free foot and leg.

Saturday
WS5 - Dancing pauses and silences: Suspended movements and play of the free leg.
WS6 - The art of touching and tango: Through the aptness of touch within the tango embrace, we will see how to create a sensitive and musical dialogue between two bodies.

Sunday
WS7 - Milonga traspié: A little bit of everything to have fun.
Breakfast in the farmhouse parlor.
Lunch & dinner in a wild romantic garden.


Adress: Riedmatt Zugerstr. 106a 6415 Arth
Contact: igwerder@hispeed.ch
---
EVENT DETAILS
Location:

Arth, Switzerland (view map)

Event dates:

From: Thursday, 24 August 2017 - To: Sunday, 27 August 2017

Location:

Arth, Switzerland (view map)

Event dates:

Event Starts: Thursday, 24 August 2017
Event Ends: Sunday, 27 August 2017

Milonguero Ticket Price - Includes all milongas:

640 CHF - Switzerland Franc

Milonguero Ticket Price - Includes all milongas:

640 CHF - Switzerland Franc

Is registration required prior to the event?

Required - by invitation only

Registration Opens:

Wednesday, 03 May 2017

Registration Closes:

Monday, 10 July 2017

Is registration required prior to the event?

Required - by invitation only

Registration Opens:

Wednesday, 03 May 2017

Registration Closes:

Monday, 10 July 2017

Accommodation:

Yes

Beverages:

Yes

Transfer:

No

Massage:

No

Accommodation:

Yes

Beverages:

Yes

Transfer:

No

Massage:

No

Website

Facebook:

Website

Facebook:
---
EVENT ORGANISER
Map
Arth, Switzerland
Pin icons from Medialoot
---
---
Reviews
Go back