La Sonrisa Tango Weekend
Ratings
Have you been to this event? Let other tangueros know what you think by rating it! Just click on the percentage bars. And, if you feel like providing further details, feel free to drop a few lines at the comments section.
La Sonrisa Tango Weekend
La Sonrisa Tango Weekend
85
out of
100
with
24
ratings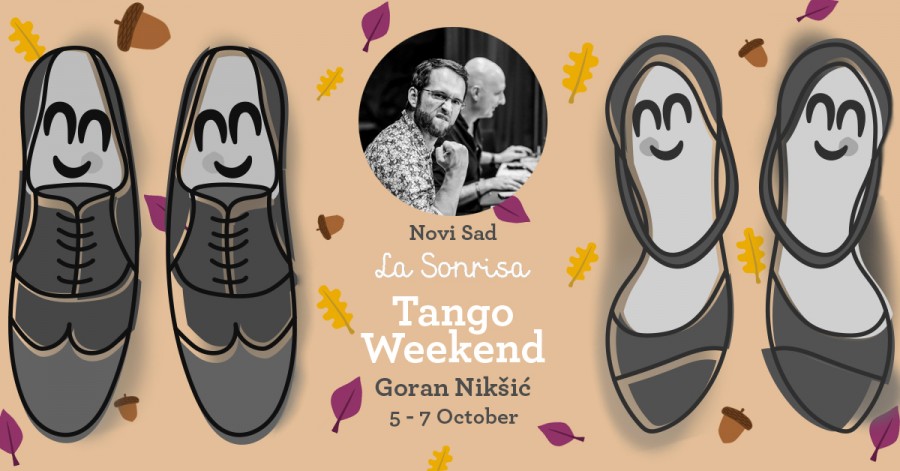 Description
Let the first weekend in October bring and wake up all of our happy, brave, honest and authentic feelings that drive our body and soul while we dance tango!
We welcome you to 2 milongas and 4 workshops!
It is our great pleasure that Goran Nikšić (CRO) will be with us again. All of you that have had the opportunity to see his approach of teaching tango, already know that his passion for dance and music is the main drive that motivates and inspires us to dig deep and bring up our musicality. His creative approaches make the classes fun and enjoyable. Do not miss this great opportunity to bring your tango to the next level.
For detailed workshops description and more about registration click here:
http://bit.ly/LaSonrisaWorkshopsREGISTRATION



FRIDAY 5th of October
World Smile Day Milonga
20:00 - 00:00h - Tri tačke, Narodnog fronta 2
Natasa La Loca y Nina Cortina
Ticket on spot: 200 rsd 
SATURDAY 6th of October
Workshop 1 - Phrasing and communication
11:00 - 12:30h Baletski studio Ludens


Workshop 2 - Ocho - giro - line
12:45 - 14:15h Baletski studio Ludens
Address: Zlatne Grede 25


GRAN Milonga La Sonrisa
21:00 - 01:00 + ...
ETŠ "Mihajlo Pupin" ballroom, Futoška 17
Goran Nikšić (CRO)
Ticket on spot: 350 rsd
SUNDAY 7th of October
Workshop 3 - Enganchadas, voleos, rebotes
11:00 - 12:30h Baletski studio Ludens
Address: Zlatne Grede 25
Workshop 4 - Melody in tango
12:45 - 14:15h Baletski studio Ludens
Address: Zlatne Grede 25



Hugs and smiles
N&N :D
---
EVENT DETAILS
Location:

Novi Sad, Serbia (view map)

Event dates:

From: Friday, 05 October 2018 - To: Sunday, 07 October 2018

Location:

Novi Sad, Serbia (view map)

Event dates:

Event Starts: Friday, 05 October 2018
Event Ends: Sunday, 07 October 2018
---
EVENT ORGANISER
Map
Novi Sad, Serbia
Pin icons from Medialoot
---
---
Reviews
Go back