1 Encuentro de Tango Huesca la Magia
Ratings
Have you been to this event? Let other tangueros know what you think by rating it! Just click on the percentage bars. And, if you feel like providing further details, feel free to drop a few lines at the comments section.
1 Encuentro de Tango Huesca la Magia
1 Encuentro de Tango Huesca la Magia
50
out of
100
with
4
ratings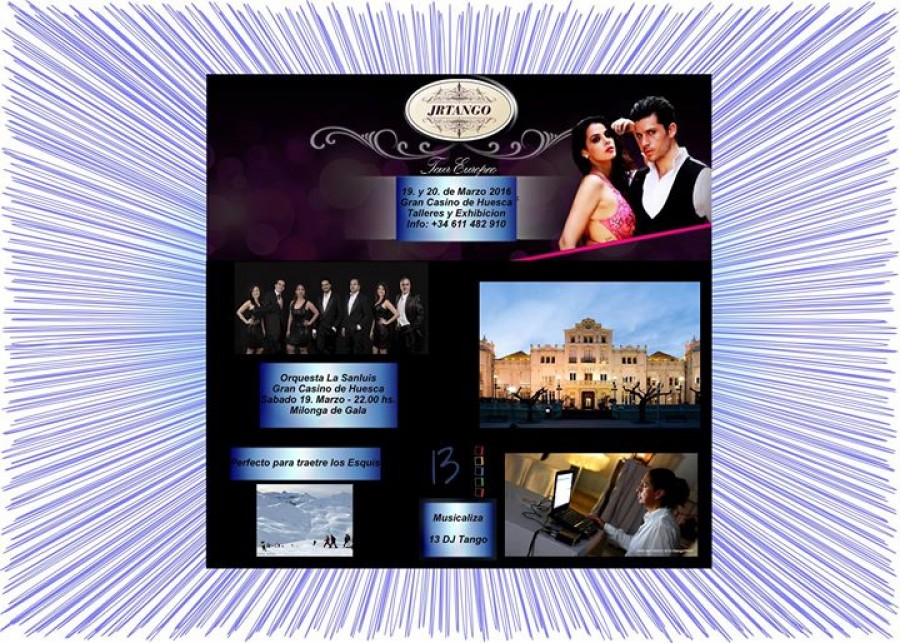 Description
Juan Pablo Bulich y Rocio Liendo (Subcampeones de Tango Argentino en 2016) os proponen en este fin de semana especial dos clases con dos diferentes temas que se impartiran durante el Sabado y el Domingo. CadaTaller es de 3 horas repartido en dos dias. Unicas clases en España!!!

Sabado 19.03.2016 de 17.00 a 18.30 hs. y
Domingo 20.03.2016 de 11.00 a 12.30 hs.
"Escenas de Tango"
Composición de secuencia coreografías aplicadas al tango en escena, buscando el desarrollo de las mismas a través de distintas técnicas para así transmitir la emoción y el sentir que deseamos expresar en un tango.

Sabado 19.03.2016 de 19.00 a 20.30 hs.
Domingo 20.03.2016 de 12.30 a 14.00 hs.
Tango de Salon: "componiendo nuestra tango":
Se trabajaría la técnica, combinaciones de figuras,adornos caminatas melódicas en abrazo cerrado.

El cupo de Alumnos por clase se limita a 12 Parejas!

Precios
1,5 hs. a 30,-- € por Persona
3,0 hs. a 50,-- € por Persona
6,0 hs. a 80,-- € por Persona
(Tarifas Especiales para Estudiantes)

Existe la posibilidad de tomar clases privadas, para esto deberan ponerse en contacto con la organizacion.

Las clases se daran en el ELENCO - Escuela de Folklore
Travesia Ballesteros 4 Bajos en Huesca.

Sabado 19. de Marzo apartir de las 22.00 hs.
Milonga de Gala con la Orquesta de Tango
La Sanluis.
Grand Casino de Huesca
Plaza Navarra / Huesca

Programa:
Primer Set de 45 Min. apartir de las 23.00 hs.
Exhibicion con Pablo Bulich & Rocio Liendo a las 0.00 hs.
Segundo Set de 45 Min. apartir de las 0.30 hs.
Arreglo Musical durante la noche: Enrique Ramirez (13DJ Tango)

Precios:
Entrada Milonga reservada y pagada hasta el 05. de Marzo
15,-- €
Hasta el 16. de Marzo 20,-- €
Venta en la Entrada (solo si queda cupo!) 25,-- €

El Domingo 20. de Marzo apartir de las
14.20 hs. Vermuth/Comida y Milonga de despedida.
Entrada libre.

Oferta Especial Pack:
Clase de 3 hs. & Entrada hasta el 10. de Marzo
55,-- €

CONDICIONES RESERVAR PLAZA y ENTRADAS:
La reserva definitiva de las clases solo se garantiza después de haber sido confirmada y recibido el pago.
Método de pago : Transferencia Bancaria. O pago en efectivo, para esta opción comunicarse con la organización. En la transferencia se debe indicar el nombre facilitado en la inscripción, para poder realizar la correspondencia.




---
EVENT DETAILS
Location:

Zaragoza, Spain

Event dates:

From: Saturday, 19 March 2016 - To: Monday, 21 March 2016

Location:

Zaragoza, Spain

Event dates:

Event Starts: Saturday, 19 March 2016
Event Ends: Monday, 21 March 2016
---
---
Reviews
Go back