Wherever tango argentino
tango4all safetyfirst tangowithoutborder wherevertango
Ratings
Have you been to this event? Let other tangueros know what you think by rating it! Just click on the percentage bars. And, if you feel like providing further details, feel free to drop a few lines at the comments section.
Wherever tango argentino
Wherever tango argentino
tango4all safetyfirst tangowithoutborder wherevertango
tango4all safetyfirst tangowithoutborder wherevertango
50
out of
100
with
4
ratings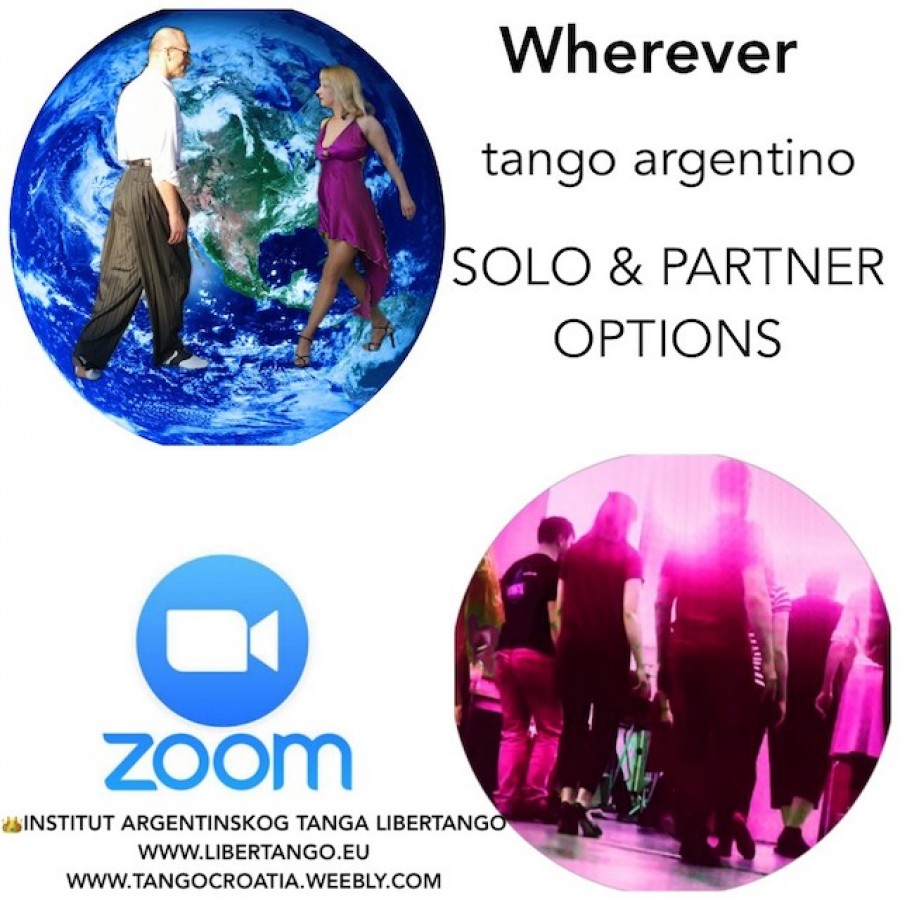 Description
Wherever tango argentino seminar part 1. wednesdays via Zoom 
You want to start to dance tango argentino? Already dancing tango argentino? Sometimes you do not possibility to come on classes? Dance is forbidden in your country? You are from another country and want learn with us?  
❤️Thank you for asking for online classes and that you find the best way to be in this magical world with us. Share this possibility with your friends and family. 
18:00-18:45 preparing body for dance and life for all levels out of the couples. Blends yoga, tango and other body practices to enhance and flexibility, mobility, sensation and possibility in our bodies and the dance. 
19:00-19:45 Creating and releasing tension for movements 1. Walking and dissociation – out of the couples or in couples Drawing on the practice of biotensegrity and her extensive knowledge of tango, Jelena will lead us to understand the role of feet, ankles, gluteus, quadriceps, last lodge and leaves in our dance, and what happens when we find dissociation.   
Cost & Registration:  70HRK/10EURO FOR ONE PART, FOR BOTH PART 100HRK/13EURO Applications are mandatory and additional information on  libertango.jelena@gmail.com, +385 98 950 2738, or via contact form on the website. You do not have to check in in pairs. Private and/or group appointment are possible. Do not hesitate to contact us.
______________________________________________________
Gdjegod tango argentino seminar 1. srijedom via Zoom 
Želiš li početi plesati tango argentino? Već plešeš tango argentino? Ponekad ne možeš doći na nastavu? Ples je zabranjen u vašoj zemlji? Iz druge zemlje si i želiš učiti s nama?   
❤️ Hvala vam što ste tražili online nastavu i što ste pronašli najbolji način da budete u ovom čarobnom svijetu s nama. Podijelite ovu mogućnost sa svojim prijateljima i obitelji. 
18:00-18:45 pripremanje tijela za ples i život za sve razine izvan parova. Radionica koja spaja jogu, tango i druge tjelesne prakse kako bi se poboljšala i fleksibilnost, pokretljivost, osjećaj i mogućnost u našem tijelu i plesu. 
19:00-19:45 Stvaranje i oslobađanje napetosti 1. Hodanje i disocijacija – od parova ili parova. Oslanjajući se na praksu biotensegrityja i njezino opsežno poznavanje tanga, Jelena će nas voditi da shvatimo ulogu stopala, gležnjeva, gluteusa, kvadricepsa, zadnje lože i listova u našem plesu, te što se događa kada nađemo disocijaciji.   
?Prijave i registracije (obvezne) i dodatne informacije na libertango.jelena@gmail.com, +385 98 950 2738, ili putem kontakt obrasca na web stranici. Jednodnevna korisnička članarina: za redovite članove 60 HRK, za ostale 70 HRK. Za sve dijelove 180/240HRK - 4x. Ne morate se prijavu u parovima. Mogući su privatni i/ili grupni sati. Ne ustručavajte se kontaktirati nas.
INSTITUT ARGENTINSKOG TANGA LIBERTANGO WWW.LIBERTANGO.EU
WWW.TANGOCROATIA.WEEBLY.COM
WWW.ARGENTINSKITANGOLIBERTANGO.BLOGSPOT.COM
YouTube channel - Tango argentino Libertango Jelena Somogyi
---
EVENT DETAILS
Location:

Trg Eugena Kvaternika, Zagreb, Croatia (view map)

Event dates:

From: Wednesday, 16 June 2021 - To: Wednesday, 07 July 2021

Location:

Trg Eugena Kvaternika, Zagreb, Croatia (view map)

Event dates:

Event Starts: Wednesday, 16 June 2021
Event Ends: Wednesday, 07 July 2021

Number of Participants:

10 dancers

Milonguero Ticket Price - Includes all milongas:

500 HRK - Croatia Kuna

Number of Participants:

10 dancers

Milonguero Ticket Price - Includes all milongas:

500 HRK - Croatia Kuna

Is registration required prior to the event?

Required - No tickets at the door

Registration Opens:

Friday, 11 June 2021

Registration Closes:

Wednesday, 07 July 2021

Is registration required prior to the event?

Required - No tickets at the door

Registration Opens:

Friday, 11 June 2021

Registration Closes:

Wednesday, 07 July 2021

Accommodation:

No

Beverages:

No

Transfer:

No

Massage:

No

Accommodation:

No

Beverages:

No

Transfer:

No

Massage:

No

Website

Facebook:

Website

Facebook:
---
EVENT ORGANISER
Map
Trg Eugena Kvaternika, Zagreb, Croatia
Pin icons from Medialoot
---
---
Reviews
Go back