Vivir el Tango Workshop
Ratings
Have you been to this event? Let other tangueros know what you think by rating it! Just click on the percentage bars. And, if you feel like providing further details, feel free to drop a few lines at the comments section.
Vivir el Tango Workshop
Vivir el Tango Workshop
50
out of
100
with
4
ratings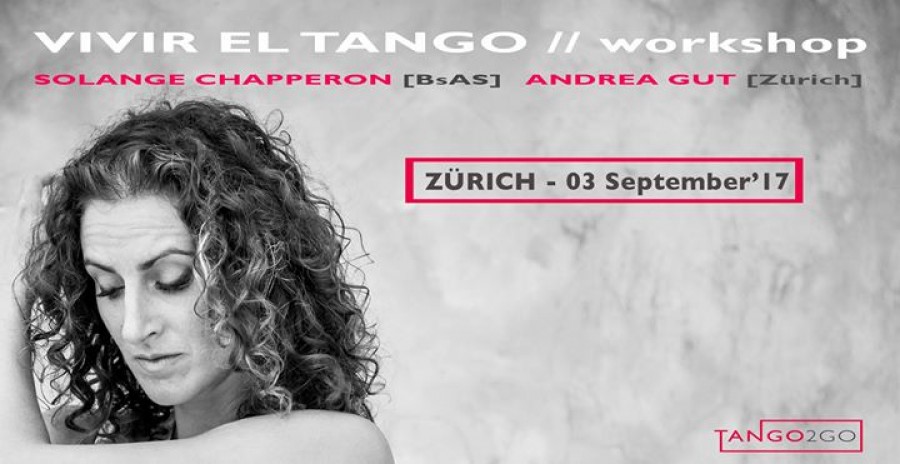 Description
VIVIR EL TANGO

SPEZIAL-WORKSHOP
Mit Solange Chapperon aus Buenos Aires und Andrea Gut aus Zürich

Sonntag 3. September 2017
Zeit 11.00 Uhr bis 15.00 Uhr (inkl. Pause)

1. Teil Verbindung

Wir arbeiten an der Qualität der Verbindung und vertiefen das Selbstverständnis unserer Bewegungen. Mit fundierter Körpertechnik wird die Kommunikation im Paar verbessert.

2. Teil Mehr Sicherheit und Leichtigkeit in der Tango-Welt

Der Tango als sozialer Tanz fordert uns auf vielen Ebenen heraus. Viele kennen es, wie der Stresslevel steigt, wenn es in der Ronda rumpelt oder die Stimmung sinkt, wenn man nicht aufgefordert wird. Oder der Anspruch an Perfektion so hoch ist, dass man sich nicht entspannt und spielerisch in der Tangowelt bewegen kann.

Der Philosoph Martin Buber sagt: "Leben ist Begegnung" Und somit lernen wir im Tango auch fürs Leben. Mit einer Kombination von Tangotechnik und Elementen aus dem ZRM©  wollen wir Bewegungsrichtungen ändern und aus uns herauswachsen.

Ort: Goooal! Albisriederstrasse 226, 8047 Zürich

Kosten:

Beide Teile: 80.—Fr.
45.—Fr. nur 1. Teil

max. Gruppengrösse: 8 Paare

Wenn du keine Partnerin oder Partner hast, melde dich trotzdem, wir tun unser Bestes.


Solange ist in Argentinien ausgebildete Tango Tänzerin und Lehrerin. In Deutschland hat sie Zeitgenössischen Tanz an der Folkwang Hochschule in Essen Werden studiert. Sie ist ausgewiesene Gyrotonic und Gyrokinesis Trainerin.

Andrea Gut ist Kunsttherapeutin und Schulsozialarbeiterin. Seit vielen Jahren arbeitet sie mit Gruppen im beratenden, pädagogsichen und kunsttherapeutischen Setting. Vor 25 ist ihr der Tango zum ersten Mal begegnet und hat sie nie mehr losgelassen.
---
EVENT DETAILS
Location:

Zürich, Switzerland

Event dates:

From: Sunday, 03 September 2017 - To: Sunday, 03 September 2017

Location:

Zürich, Switzerland

Event dates:

Event Starts: Sunday, 03 September 2017
Event Ends: Sunday, 03 September 2017
---
---
Reviews
Go back