STRETCH TANGO
Ratings
Have you been to this event? Let other tangueros know what you think by rating it! Just click on the percentage bars. And, if you feel like providing further details, feel free to drop a few lines at the comments section.
STRETCH TANGO
STRETCH TANGO
50
out of
100
with
4
ratings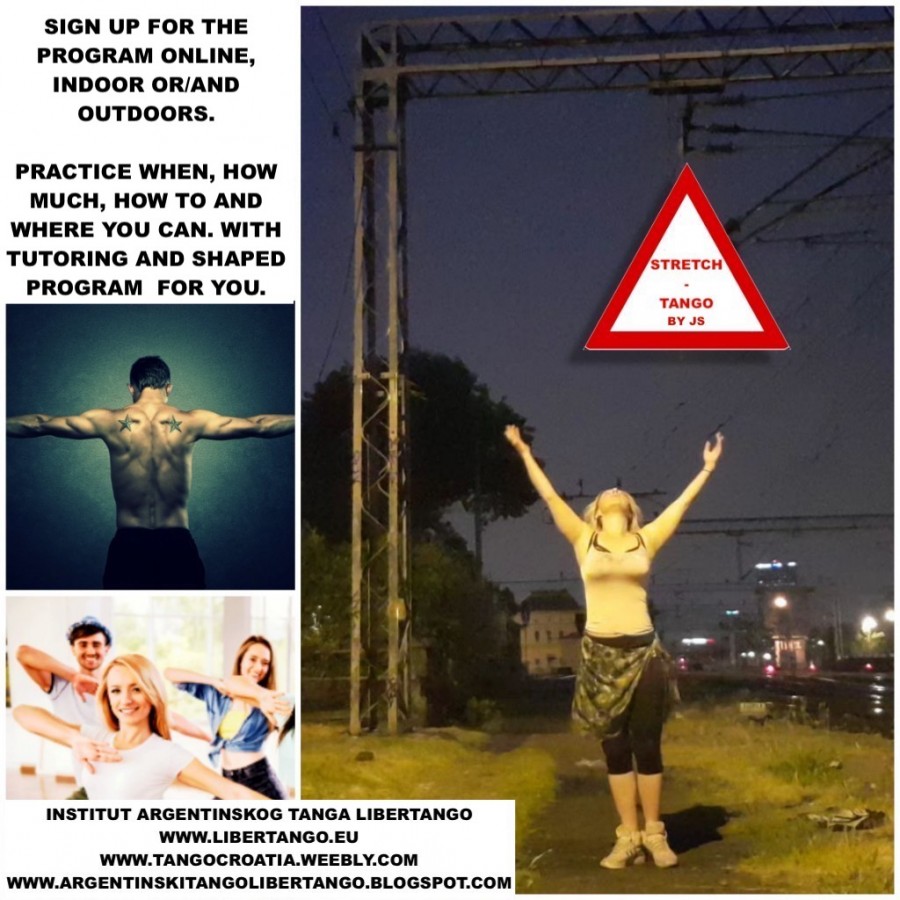 Description
STRETCH – TANGO, EXERCISE - Innovation program by Jelena Somogyi  
SIGN UP FOR THE PROGRAM ONLINE, INDOOR OR/AND OUTDOORS. YOU PRACTICE WHEN, HOW MUCH, HOW TO AND WHERE YOU CAN WITH TUTORING AND SHAPED PROGRAM FOR YOU. 
You're developing a healthy habit that's not aimed at being addicted to the term and the manager who has to be there for you to do something. The goal is to enjoy everyday movements and activities. 
Helps correct the consequences resulting from the wrong load of our body (injury, weaker muscle functionality and ignorance/no movement awareness). Increase joint mobility and muscle elasticity while reducing the wrong tension in the muscles. It's a conscious muscle coordination. It restores the body's freedom. In addition to creating a better connection between mental and physical communication with yourself and the environment.  The harmoniousness of the consciousness of our physical and mental being comes with a set of exercises and movements of optimization of movement, anatomy and ... . 
Its purpose is to improve motor skills, increase power, stretchiness and mobility.  
All body movements are formed by contraction of cross-striped musculature. Motor is used to maintain and change the position of the body and certain parts of it, especially the limbs. The part of the central and peripheral nervous system that serves the motor system is called the motor system. 
The combination of exercises is intended for those who are engaged in movement, who want to regain consciousness or improve their movements (dance, sport ....), but also people who do not care about dance and sport in any form. 
When, how much and how you're here, you're the bosses now. It's like a good meal. Appetizer, main, dish... 
We monitor your tasks and verification of progress through phone calls, correspondence (e-mail, text mes., Hangout (gmail), WhatsApp or video call - Hangout (gmail), WhatsApp... Each video is for a minimum of 45 minutes. It contains explanations of the exercises. Customer membership. service fee of Stretch – tango is 1x per week, 4 videos 150HRK/20EURO or 2x per week 8 videos 200HRK/27ERUO. 
ADDITIONAL INFORMATION AND APPLICATIONS libertango.jelena@gmail.com, +385 98 950 2738 or via the contact form on the website.
---
EVENT DETAILS
Location:

Ulica Ante Kovačića 4, Zagreb, Croatia (view map)

Event dates:

From: Tuesday, 12 May 2020 - To: Thursday, 04 June 2020

Location:

Ulica Ante Kovačića 4, Zagreb, Croatia (view map)

Event dates:

Event Starts: Tuesday, 12 May 2020
Event Ends: Thursday, 04 June 2020

Number of Participants:

5 dancers

Milonguero Ticket Price - Includes all milongas:

27 EUR - Euro Member Countries

Number of Participants:

5 dancers

Milonguero Ticket Price - Includes all milongas:

27 EUR - Euro Member Countries

Is registration required prior to the event?

Required - No tickets at the door

Registration Opens:

Tuesday, 05 May 2020

Registration Closes:

Thursday, 04 June 2020

Is registration required prior to the event?

Required - No tickets at the door

Registration Opens:

Tuesday, 05 May 2020

Registration Closes:

Thursday, 04 June 2020

Accommodation:

No

Beverages:

No

Transfer:

No

Massage:

No

Accommodation:

No

Beverages:

No

Transfer:

No

Massage:

No
---
EVENT ORGANISER
Map
Ulica Ante Kovačića 4, Zagreb, Croatia
Pin icons from Medialoot
---
---
Reviews
Go back