SEMINARIO V3
AVEC SOFIA SABORIDO ET PABLO INZA
Ratings
Have you been to this event? Let other tangueros know what you think by rating it! Just click on the percentage bars. And, if you feel like providing further details, feel free to drop a few lines at the comments section.
SEMINARIO V3
SEMINARIO V3
AVEC SOFIA SABORIDO ET PABLO INZA
AVEC SOFIA SABORIDO ET PABLO INZA
50
out of
100
with
4
ratings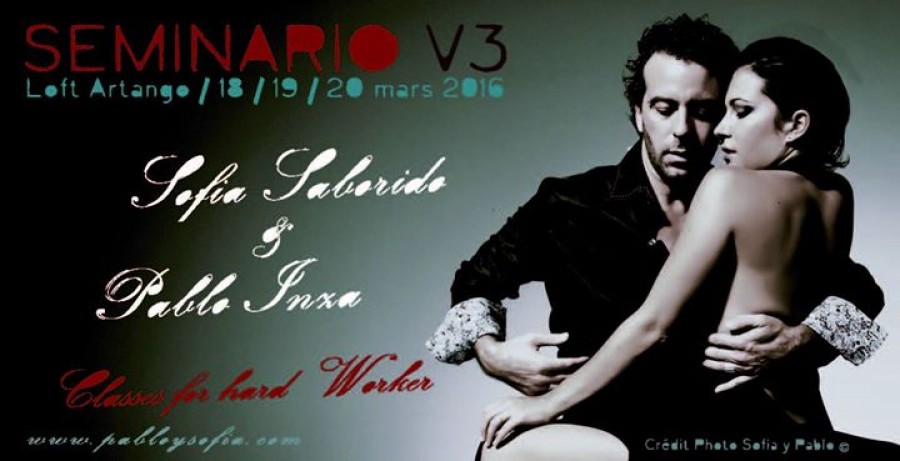 Description
WEEK-END INTENSIF AVEC SOFIA & PABLO LES 18, 19, 20 MARS AU LOFT ARTANGO!

Un week-end d'exception vous est proposé par ces deux grands Maestros de Tango Argentin. Une exploration en profondeur au travers d'un travail technique subtil toujours dans la réalité de la relation à l'autre pour une danse confortable et ressentie...

LES ATELIERS THEMATIQUES:

ATELIER 1 : TECH - HARDCORE TOUS NIVEAUX.
ATELIER 2 : DESAXE POUR LA PISTE INTER / AVANCE (colgadas et volcadas)

SEMINAIRE AVANCE SUR LES GIROS
!!! Places restantes par couple : 2 / 12 !!!

Un travail très intensif pour groupe restreint... il se déroule vendredi, samedi et dimanche. En tout donc 8h de travail pour "hard workers" ! Ce séminaire est prévu pour des danseurs expérimentés de niveau avancé !

GIROS - PARTIE 1/3 : vendredi 18.03 de 19h30 à 21h30
GIROS - PARTIE 2/3 : samedi 19.03 de 10h00 à 13h00
GIROS - PARTIE 3/3 : dimanche 20.03 de 11h00 à 14h00

GRANDE MILONGA MASQUEE AVEC DJ CLAIRE RUFENACHT

DODO TANGO...
Si tu viens de loin tu peux faire dodo à la salle mais pas avant 2h30 du mat... Merci de t'inscrire en même temps que ta demande d'inscription aux ateliers ou seminaire, merci.


---
EVENT DETAILS
Location:

Chavannes, Switzerland

Event dates:

From: Friday, 18 March 2016 - To: Sunday, 20 March 2016

Location:

Chavannes, Switzerland

Event dates:

Event Starts: Friday, 18 March 2016
Event Ends: Sunday, 20 March 2016
---
---
Reviews
Go back