Fabian Peralta y Josefina Bermudez - EXLUSIVE TANGO WEEKEND
Their pedagogy has been built from their motivation - their desire to transmit the elegance and precision of Tango Salon
Ratings
Have you been to this event? Let other tangueros know what you think by rating it! Just click on the percentage bars. And, if you feel like providing further details, feel free to drop a few lines at the comments section.
Fabian Peralta y Josefina Bermudez - EXLUSIVE TANGO WEEKEND
Fabian Peralta y Josefina Bermudez - EXLUSIVE TANGO WEEKEND
Their pedagogy has been built from their motivation - their desire to transmit the elegance and precision of Tango Salon
Their pedagogy has been built from their motivation - their desire to transmit the elegance and precision of Tango Salon
50
out of
100
with
4
ratings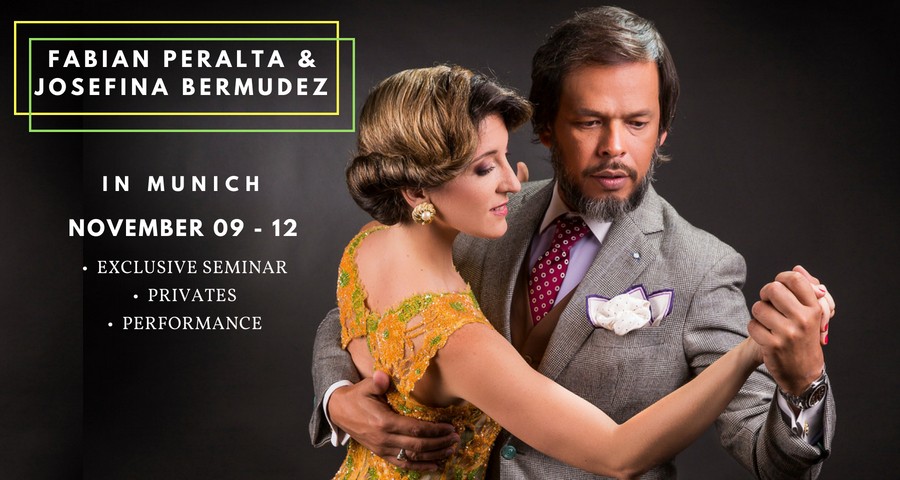 Description
* Fabián Peralta and Josefina Bermúdez in Munich *

We are thrilled to welcome in Munich our most beloved teachers and dancers Fabian Peralta y Josefina Bermudez !! They are one of the top 10 best tango couples in the world and are invited to prestigious tango festivals worldwide.
You will be given an immersive and exclusive seminar on Friday, Saturday and Sunday, women's technique and of course a great Sunday show in our Milonga at Schlachthof.

• TANGO ARGENTINO EXCLUSIVE SEMINAR (9 hours) with 30 minutes each coffeebreak!

A complete course, given by the Maestros' special quality. 9 hours in which you can make your dance more natural and develop like never before. Fabián and Josefina will get to know you better through the weekend and be able to work very specifically with you and your needs.
Their pedagogy has been built from their motivation: their desire to transmit the warm and passionate Argentine tango essence, as well as its elegance, precision and sobriety of this passion, the ease and the pleasure of sharing. This « Tango Salón », offers the refinement and honor code of dance.

The maximum number of pairs is limited to 12 to support quality and intensive learning.

Events:
- Friday, 09. November 2018 from 19:00 to 22:30
- Saturday, November 10, 2018 from 11:30 am to 3:00 pm
- Sunday 11 November 2018 from 11:30 to 15:00

Location: will be announced

We will provide you with a selection of drinks in the studio (coffee, tea, water, juice) as well as snacks to eat so you can strengthen in between times (included in the price).

The event is aimed at dancers from intermediate level who want to improve their tango and learn the elements of the unique and elegant style of Fabian and Josefina.

• Women's technique with Josefina Bermúdez - Sun. 11.11 at 18:00 in the Schlachthof

• Milonga in the Schlachthof with show by Fabián Peralta & Josefina Bermúdez - Sun. 11.11. from 19:30 to 00:00

Private lessons on request!

Preise:
– Seminar: 160€/Person = 150€ Seminar + 10€ Milonga with Show
– Womens' Technique: 35€/Person
– Milonga with Show: 15€/Person

Registration & Info:
Mobile: +49 017630627190
E-mail: lidia.kondilidis@yahoo.com
REGISTRATION LINK: https://docs.google.com/forms/d/e/1FAIpQLSf_i3tH1DvNm7kLmH2ES2DcnZpH1mOUW3vCupyOlNCJuFj1MQ/viewform?usp=sf_link


A little bit about the Maestros:

Josefina Bermudez started to study dance at the age of 5 years. She continued her studies (classical and modern dance) with Beatriz Schraiber in Blue City. After graduating from the New School of Contemporary Dance with renowned choreographer Oscar Araiz, she also danced in the ensembles of the same choreographer. At the age of 11, she starts tango. Later, she participated in tango shows with various companies, including the famous company Corvalan "Tango Malambo", with whom she toured Greece and much of Europe. Currently, Josefina teaches tango at a prestigious tango school (in Buenos Aires) under the direction of the dancer and choreographer Carlos Copello. For the past five years Josefina has been touring Europe, Asia and North America, teaching and performing tango at festivals. She was a jury member at international championships, including the 2016 UK Tango Championship, the 2017 Italian Tango Championship and the 2018 UK Tango Championship.

Fabián Peralta began studying tango with the great master Mingo Pugliese at the age of 23. He appears regularly in Buenos Aires' big tango houses and around the world: Casa Blanca, La Ventana, Michelangelo, El Viejo Almacen, Taconeando, Esquina Homero Manzzi Esquina Carlos Gardel, among others. He also created and directed the renowned Tango show "Corporation Tango"; and was part of the best tango companies in the world. For the past five years Fabián has taught at the prestigious school "Carlos Copello" and at the most prestigious tango festivals in the world. He participated in prestigious international festivals (Australia, Germany, Holland, Italy, Turkey, Spain) where he led workshops. His passion for tango was crowned in 2006 where he became world champion in the tango salon.

Fabián Peralta and Josefina Bermudez have many years of experience dancing together and present a distinctive tango style that is classic and based on techniques from the tango salon.
---
EVENT DETAILS
Location:

Zenettistraße 9, Munich, Germany (view map)

Event dates:

From: Friday, 09 November 2018 - To: Sunday, 11 November 2018

Location:

Zenettistraße 9, Munich, Germany (view map)

Event dates:

Event Starts: Friday, 09 November 2018
Event Ends: Sunday, 11 November 2018

Number of Participants:

24 dancers

Milonguero Ticket Price - Includes all milongas:

160 EUR - Euro Member Countries

Number of Participants:

24 dancers

Milonguero Ticket Price - Includes all milongas:

160 EUR - Euro Member Countries

Is registration required prior to the event?

Required - couples only

Registration Opens:

Saturday, 01 September 2018

Registration Closes:

Monday, 05 November 2018

Is registration required prior to the event?

Required - couples only

Registration Opens:

Saturday, 01 September 2018

Registration Closes:

Monday, 05 November 2018

Accommodation:

No

Beverages:

Yes

Transfer:

No

Massage:

No

Accommodation:

No

Beverages:

Yes

Transfer:

No

Massage:

No
---
EVENT ORGANISER
More from Lidia Kondilidis:
---
Map
Zenettistraße 9, Munich, Germany
Pin icons from Medialoot
---
---
Reviews
Go back