Tango Viejo Tallinn Marathon
Ratings
Have you been to this event? Let other tangueros know what you think by rating it! Just click on the percentage bars. And, if you feel like providing further details, feel free to drop a few lines at the comments section.
Tango Viejo Tallinn Marathon
Tango Viejo Tallinn Marathon
50
out of
100
with
4
ratings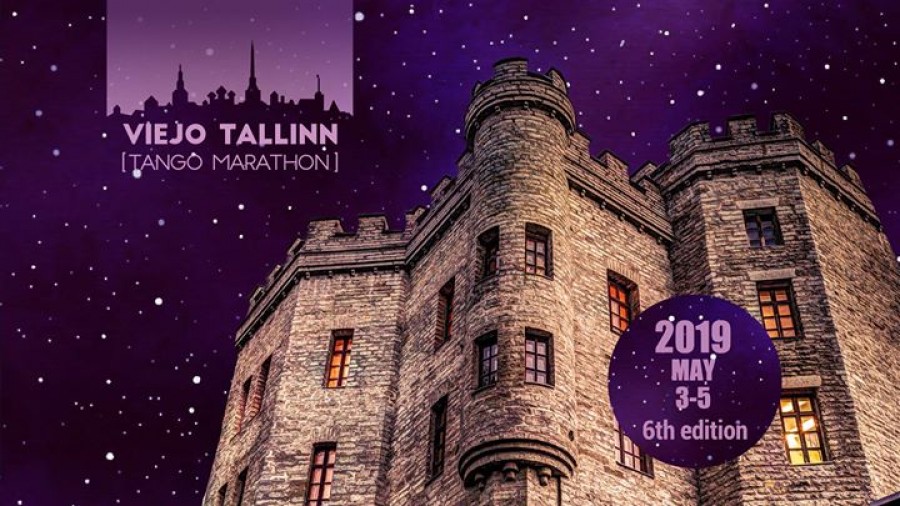 Description
Fairy tale is back!
Cosy and safe atmosphere makes any fairy-tale come true, and the castle awaits its guests. Our marathon is open for everybody who can share our love and understanding of tango. We love the Golden Age music, a good Ronda, friendly dancers, close embrace, mirada, cabeceo, codigos, as well as spring, good food and harmony with the others. We remember that the good balance helps to have good atmosphere, and we hope it is important for you too.

DJs:
- Jenni Valli (Fi)
- Toufik Cherifi (Be)
- Birger Haugdal (No)
- Bernt Andreas Drange (Fi)
- Marina Rusakova (Ee)
- Olesya Nesteruk (Ee)

Be ready for 2 pre-parties on May 1st and 2nd and afterparty on Sunday, May 5th! Venue is Kohvik Legend (Nõmme spordikeskus) – Külmallika 15a, Tallinn. Entrance fee is 10 euro. Pre-party and afterparty are open for everybody and not role-balanced guaranteed. Poured floor (feels a bit more harder for feet than the perfect wooden floor in the main venue).

PROGRAM:

WEDNESDAY, May 1st
18.30 - 22.00 Pre-party (Kohvik Legend - Tallinn, Külmallika 15)

THURSDAY, May 2nd
18.30 - 22.00 Pre-party (Kohvik Legend - Tallinn, Külmallika 15)

MARATHON AT GLEHN CASTLE
(Tallinn, Vana-Mustamäe 48) – only for marathon participants
FRIDAY, May 3rd
19.00 - 23.00 DJ Marina Rusakova (Estonia)
23.00 - 04.00 DJ Bernt Andreas Drange (Finland)
SATURDAY, May 4th
12.00 - 17.00 DJ Olesya Nesteruk (Estonia)
17.00 - 22.00 DJ Birger Haugdal (Norway)
22.00 - 04.00 DJ Toufik Cherifi (Belgium)
SUNDAY, May 5th
11.00 - 12.00 Free Old Town Guided tour
13.00 - 18.00 DJ Jenni Valli (Finland)

18.00 - 23.00 Afterparty (Kohvik Legend - Tallinn, Külmallika 15)

We stick to the principle "first come, first served", but we also want to keep the balance of leaders/followers under control, since we can accept 150 participants max. Early registration and registration in couples is preferable, however you can fill in form as single dancer.

VENUE:
The venue for the main milongas is the Glehn Castle (Vana-Mustamäe 48, Tallinn). It is situaded within the city boundaries.
This is an old castle with a romantic past and a 200 sq m WOODEN FLOOR, one of the favourite spots for weddings and photo sessions. The ride to the castle from airport will cost approximately 10-15 eur. Distance from Academic hostel to the venue is 1,2 km or up to 20 min walking.

PRICE:
Early bird price for the milonga package is 110 eur per person IF you register and pay before Jan 31. Late price for the milonga package – 130 eur (1 Feb – 26 April). You cannot buy tickets at the entrance!
Food and drinks are included (2x Dinners, 2x Brunches, 2x Night soups; snacks, water, coffe and tea).
For your convenience, we serve the food 6 times during the marathon, so that you can dance the whole day without leaving the castle and enjoy socialising with friends. When you register, please inform us if you have a special diet or any allergies.

ACCOMODATION:
When your registration has been confirmed, you will get a booking code, which allows you to book the room with the special price.

Academic Hostel (1,2 km or up to 20 min walking to the venue)
Special room prices (breakfast on request). All rooms are twin, shower and kitchen are shared for every 2 rooms.
Twin room – 37 € per night (18,50 for 1 person)

Hotel Dzingel (6 km or 11-15 min by car)
Budget Sgl - 33 €
Budget Twin/Dbl - 45 €
Budget Triple - 57 €
Standart Sgl - 43 €
Budget Twin/Dbl - 54 €
Budget Triple - 65 €
Superior Single - 57 €
Superior Twin/Double - 66 €
Breakfast, morning/evening sauna, Wifi are included.

Another good option is to find private apartments through Airbnb.
---
EVENT DETAILS
Location:

Tallinn, Estonia

Event dates:

From: Friday, 03 May 2019 - To: Sunday, 05 May 2019

Location:

Tallinn, Estonia

Event dates:

Event Starts: Friday, 03 May 2019
Event Ends: Sunday, 05 May 2019
---
---
Reviews
Go back