Tango Flow 2020
Come with us on a different journey
Ratings
Have you been to this event? Let other tangueros know what you think by rating it! Just click on the percentage bars. And, if you feel like providing further details, feel free to drop a few lines at the comments section.
Tango Flow 2020
Tango Flow 2020
Come with us on a different journey
Come with us on a different journey
75
out of
100
with
8
ratings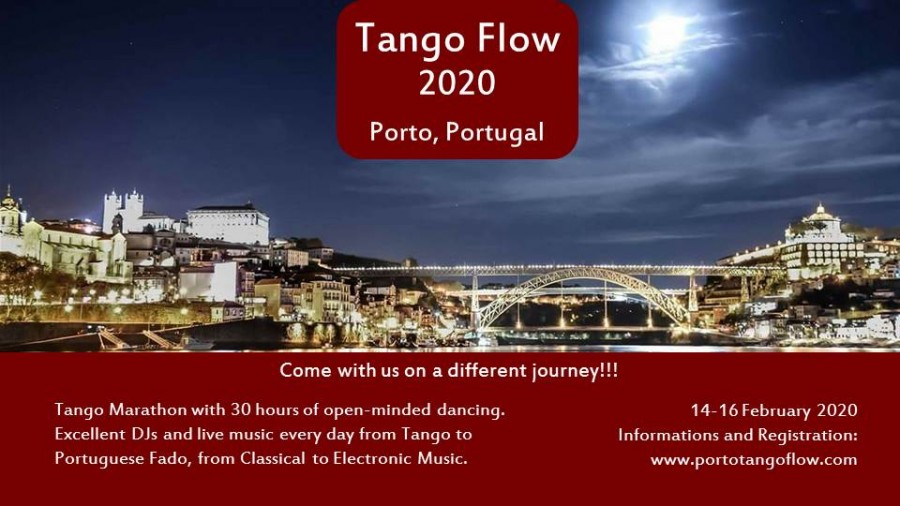 Description
Join us in Porto for a different experience of open-minded dancing, with excellent DJs and live music every day from Tango to Portuguese Fado, from Classical to Electronic Music, that will make you dance the entire weekend.
​
It is with great pleasure that seek with this event to share my love for Argentinian Tango in all its aspects and sounds.
The music was specially chosen to challenge you to embrace new experiences:
Each DJ will bring it own personal touch and style, from Love and Flow to Neotango.
Each live music performance will make you dance Argentinian Tango with Portuguese aroma and flavor.
​
Specially Fado,
To me, I feel that Fado has the same emotional feeling for the Portuguese People, as Argentinian Tango has to the Argentinian People. I can't even describe to you in words the pleasure that I have in dancing Tango to the sound of Fado. This was the only way i found how: "Come dance with me!!!!"
​
The event is being organized to allow for complete freedom of movements - that's why the registrations are limited to 150 participants, so, don't be afraid to execute High Boleos and Jumps, new rhythms, open embrace, closed embrace, no embrace.
Alas, the universe of possibilities is endless....
​
However, there are only 3 rules I ask you to follow:
Maintain the Ronda and invitation by cabeceo;
Don't hurt yourselves or others;
Most Important - Have FUN!!!!
DJs:
Afonso Duarte – Portugal
Rui Resende – Portugal
Jorge Sanz – Spain
Jean-Marc Vandel - Switzerland
Live Artists
Inês Homem de Melo – Portugal
Orquestra Típica de Tango La Ideal – Portugal
Fernanda Moreira – Portugal
See you in February,
---
EVENT DETAILS
Location:

Rua de Passos Manuel 44, Porto, Portugal (view map)

Event dates:

From: Friday, 14 February 2020 - To: Sunday, 16 February 2020

Location:

Rua de Passos Manuel 44, Porto, Portugal (view map)

Event dates:

Event Starts: Friday, 14 February 2020
Event Ends: Sunday, 16 February 2020

Number of Participants:

130 dancers

Milonguero Ticket Price - Includes all milongas:

100 EUR - Euro Member Countries

Number of Participants:

130 dancers

Milonguero Ticket Price - Includes all milongas:

100 EUR - Euro Member Countries

Is registration required prior to the event?

Recommended - Tickets might be available at the door

Registration Opens:

Sunday, 01 September 2019

Registration Closes:

Sunday, 16 February 2020

Is registration required prior to the event?

Recommended - Tickets might be available at the door

Registration Opens:

Sunday, 01 September 2019

Registration Closes:

Sunday, 16 February 2020

Accommodation:

No

Beverages:

Yes

Transfer:

No

Massage:

Yes

Accommodation:

No

Beverages:

Yes

Transfer:

No

Massage:

Yes
---
EVENT ORGANISER
Started dancing tango in 2011. Teacher since 2015. Likes above everything else to dance the music with the partner with a happy smile or laughter. Everything is embrace. All movements are allowed. All musics are possible. :)
Map
Rua de Passos Manuel 44, Porto, Portugal
Pin icons from Medialoot
---
---
Reviews
Go back