Maratona TangoPiccante
IV Edizione
Ratings
Have you been to this event? Let other tangueros know what you think by rating it! Just click on the percentage bars. And, if you feel like providing further details, feel free to drop a few lines at the comments section.
Maratona TangoPiccante
Maratona TangoPiccante
IV Edizione
IV Edizione
50
out of
100
with
4
ratings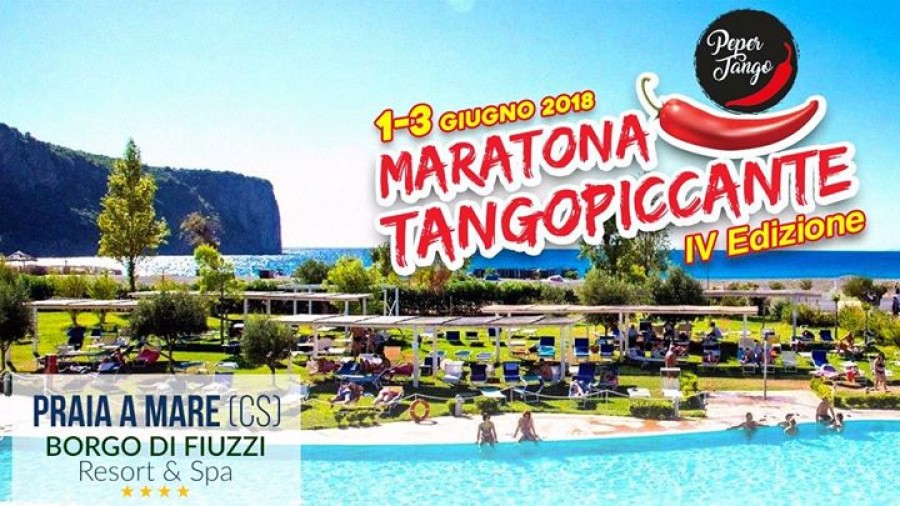 Description
#scroll down for english

MARATONA TANGOPICCANTE 1-3 GIUGNO 2018 IV Edizione

Borgo di Fiuzzi Resort & Spa****
Praia a Mare (CS) Italy

Lussuoso Resort sulla spiaggia
Pista in parquet
Tdjs Internazionali
No stop Buffet
Rafting
Parapendio
Aquafans
Gite in barca
Paracadutismo
Amici, Divertimento, Tango, Mare e buon cibo...!!

☶☶☶☶☶☶☶☶☶☶☶☶☶☶☶☶☶☶☶☶☶☶☶
LOCATION
☶☶☶☶☶☶☶☶☶☶☶☶☶☶☶☶☶☶☶☶☶☶☶
Borgo di Fiuzzi Resort & Spa**** ubicato sul lungomare di Praia a Mare, immersa nell'incantevole Riviera dei Cedri e del Golfo di Policastro, offre un'ampia spiaggia privata, piscine coperte e all'aperto con vista panoramica sull'isola di Dino dove sono presenti delle grotte marine, tra queste le più famose sono la Grotta Azzurra (per l'intenso colore azzurro dell'acqua al suo interno) e la Grotta del Leone (il nome deriva dalla presenza al suo interno di uno scoglio che assomiglia molto ad un leone sdraiato).

- Piscine e servizi benessere
piscina con vista all'aperto - hammam - vasca idromassaggio/jacuzzi - massaggi - spa & centro benessere - solarium - palestra - sauna

a breve tutte le altre info.....!!!
___________________________________________________

MARATONA TANGOPICCANTE 1-3 JUNE 2018 IV Edition

Borgo di Fiuzzi Resort & Spa ****
Praia a Mare (CS) Italy

Luxurious resort on the beach
Parquet dance floor
International Tdjs
No stop Buffet
Rafting
Paragliding
Aquafans
Boat trips
Parachuting
Friends, Fun, Tango, Sea and good food ... !!

☶☶☶☶☶☶☶☶☶☶☶☶☶☶☶☶☶☶☶☶☶☶☶
LOCATION
☶☶☶☶☶☶☶☶☶☶☶☶☶☶☶☶☶☶☶☶☶☶☶
Borgo di Fiuzzi Resort & Spa **** located on the seafront of Praia a Mare, nestled in the enchanting Riviera dei Cedri and the Gulf of Policastro, offers a large private beach, indoor and outdoor pools with panoramic views of the island of Dino where there are marine caves, among these the most famous are the Blue Grotto (due to the intense blue color of the water inside) and the Grotta del Leone (the name derives from the presence inside it of a rock that looks a lot like a lying lion).

- Swimming pools and wellness services
outdoor pool - hammam - jacuzzi / jacuzzi - massages - spa & wellness center - solarium - gym - sauna

soon all the other info ..... !!!
---
EVENT DETAILS
Location:

Praia a Mare, Italy

Event dates:

From: Friday, 01 June 2018 - To: Sunday, 03 June 2018

Location:

Praia a Mare, Italy

Event dates:

Event Starts: Friday, 01 June 2018
Event Ends: Sunday, 03 June 2018
---
---
Reviews
Go back