Hawaii Tango Marathon
Ratings
Have you been to this event? Let other tangueros know what you think by rating it! Just click on the percentage bars. And, if you feel like providing further details, feel free to drop a few lines at the comments section.
Hawaii Tango Marathon
Hawaii Tango Marathon
50
out of
100
with
4
ratings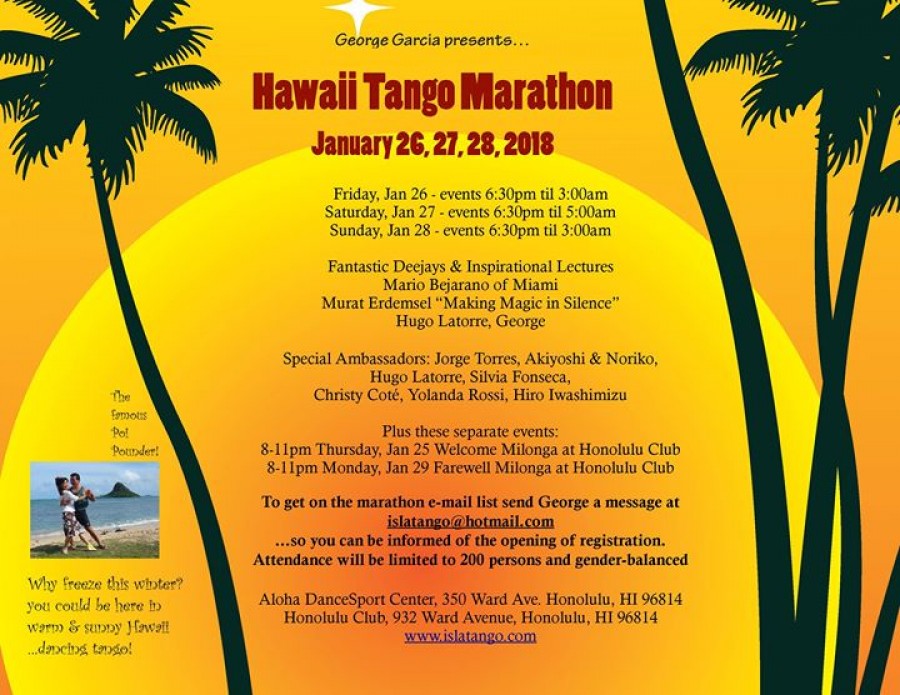 Description
Aloha from Hawaii...

Hawaii Tango Marathon 2018
presented by George Garcia

Friday, Jan 26 - events 6:30pm til 3:00am
Saturday, Jan 27 - events 6:30pm til 5:00am
Sunday, Jan 28 - events 6:30pm til 3:00am

Fantastic Deejays & Inspirational Lectures
Mario Bejarano of Miami
Murat Erdemsel
Hugo Latorre (Las Vegas)
George

Special Ambassadors: Jorge Torres, Akiyoshi & Noriko,
Hugo Latorre, Silvia Fonseca, Christy Coté, Yolanda Rossi, Hiro Iwashimizu, more to come...

Plus these separate events:
8-11pm Thursday, Jan 25 Welcome Milonga at Honolulu Club
8-11pm Monday, Jan 29 Farewell Milonga at Honolulu Club

More...
Two great dance floors, a larger main floor and an adjoining smaller one for dance floor overflow, practice and vendors.

Yolanda Rossi will have her Tango Splash store on hand. Shoes, clothing and accessories.

The faculty will be available for private lessons by appointment only, shared studio space during the day can be rented directly from Aloha DanceSport Center. I'll provide a contact number.
Make your arrangements directly with the teacher and the studio.

I (and Hiro) are tentatively planning a Friday Night Sunset/Fireworks Boat Cruise on the Aukai from Ala Moana Harbor, walking distance from the milonga!
This may be subject to change as it overlaps the opening of the tango marathon - However, contact me if you are interested.

Snorkel and Scuba Tours are available on the boat, Aukai during the day.

I'm also putting together a 'List of Fun Things to Do on Oahu'.
Attendance will be limited to 200 persons and gender-balanced.

This event is a grassroots event, open to suggestions and improvements. Being limited to 200 dancers, it won't be a massive event but one of quality and aloha. spirit.

The event venue will be at:
Aloha DanceSport Center, 350 Ward Ave. Honolulu, HI 96814
Honolulu Club, 932 Ward Avenue, Honolulu, HI 96814
It's only a short distance from Waikiki, and Uber is popular here. Maybe Lyft, too.
---
EVENT DETAILS
Location:

Honolulu, United States

Event dates:

From: Friday, 26 January 2018 - To: Sunday, 28 January 2018

Location:

Honolulu, United States

Event dates:

Event Starts: Friday, 26 January 2018
Event Ends: Sunday, 28 January 2018
---
---
Reviews
Go back