Columbia Tango Marathon
Ratings
Have you been to this event? Let other tangueros know what you think by rating it! Just click on the percentage bars. And, if you feel like providing further details, feel free to drop a few lines at the comments section.
Columbia Tango Marathon
Columbia Tango Marathon
50
out of
100
with
4
ratings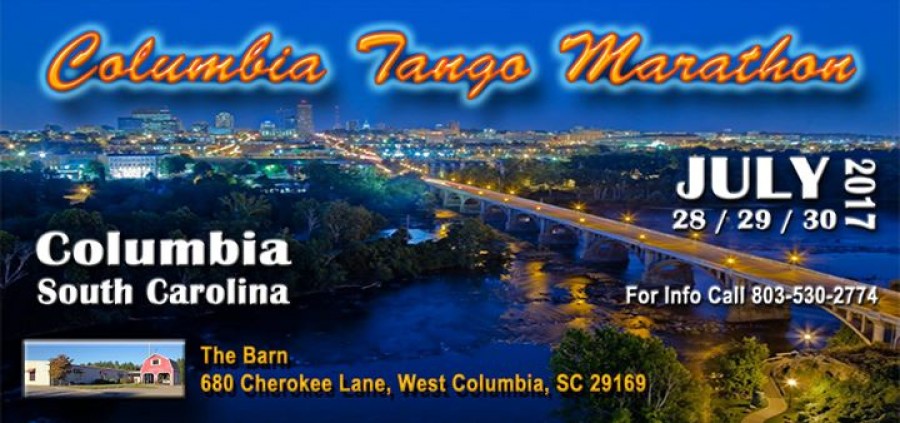 Description
COLUMBIA TANGO MARATHON - A FUN weekend - 26 Hours of dancing, friends, food, vendors and more!

SCHEDULE:
_________ FRIDAY 07/28 
7pm - 10pm – DJ Ken Broom (Columbia, SC) **
10pm - 2am – DJ Clint Rauscher (Atlanta, GA)
_________ SATURDAY 07/29
11am - 12pm - Yoga with Stevie Rodis (Columbia, SC)
2pm - 5pm – DJ Ken Broom (Columbia, SC) **
5pm - 8pm – DJ Mark Mindel (Charlotte, NC) 
8pm - 11pm – DJ Manuel Patino (Atlanta, GA) 
11pm - 2am – DJ Daniel Arredondo (Charlotte, NC) 
_________ SUNDAY 07/30
11am - 2pm – DJ Greg Gershowitz (Charlotte, NC) ** 
2pm - 6pm – DJ Gene El Chinko Reed (Columbia, SC)

** Includes Alternative / Nuevo

COST:
During March $60; April $75; May $90; June $105; July $120
(On-line fees apply)
Purchase tickets at link below:
https://www.eventbrite.com/e/columbia-tango-marathon-tickets-31591081776

VENUE:
The Barn is a unique ballroom with a very spacious, beautiful, comfortable, suspended hardwood floor providing over 3,000 feet of space for your dancing pleasure!

VENDORS: 
Sandra, Kathryn and Diego will be at the event with their great collection of clothes and shoes!
Sandra Angel - https://www.facebook.com/MussaCollection/ 
Kathryn Wong - http://www.tangokat.com/
Diego Santana Tango - https://www.facebook.com/raqueltangoshoes/

MASSAGE THERAPIST: 
The amazing Sandra Young, Certified Massage Therapist, will be available for hands on therapy to help your fatigued muscles so you can dance all weekend! She will have her chair and table. Be sure to schedule a massage!

YOGA: 
Renew your mind, body and soul in this fantastic class with the great, Stevie Rodis and get ready for hours of dancing! A few mats will be provided but if you have a yoga mat please bring it.
https://www.facebook.com/apinchayoga/

ARTIST: 
Lauren Bolshakov will be exhibiting her beautiful art work and will have it available for purchase.
https://www.facebook.com/lauren.threestudios/?fref=ts

LODGING:
Call SUPER 8 WEST COLUMBIA AIRPORT (recently renovated).
Phone - 803-791-1000.
Mention you will be attending 'THE BARN EVENT' for a SPECIAL DISCOUNT.
This hotel is conveniently located next door to The Barn.
Address: 650 Cherokee Lane, West Columbia, SC 29169.

For more information call 803-530-2774.


---
EVENT DETAILS
Location:

680 Cherokee Ln, West Columbia, United States (view map)

Event dates:

From: Friday, 28 July 2017 - To: Sunday, 30 July 2017

Location:

680 Cherokee Ln, West Columbia, United States (view map)

Event dates:

Event Starts: Friday, 28 July 2017
Event Ends: Sunday, 30 July 2017
---
EVENT ORGANISER
Map
680 Cherokee Ln, West Columbia, United States
Pin icons from Medialoot
---
---
Reviews
Go back