VIII INTERNATIONAL TRIESTE TANGO FESTIVAL
PASION SIN FRONTERAS
Ratings
Have you been to this event? Let other tangueros know what you think by rating it! Just click on the percentage bars. And, if you feel like providing further details, feel free to drop a few lines at the comments section.
VIII INTERNATIONAL TRIESTE TANGO FESTIVAL
VIII INTERNATIONAL TRIESTE TANGO FESTIVAL
PASION SIN FRONTERAS
PASION SIN FRONTERAS
62
out of
100
with
8
ratings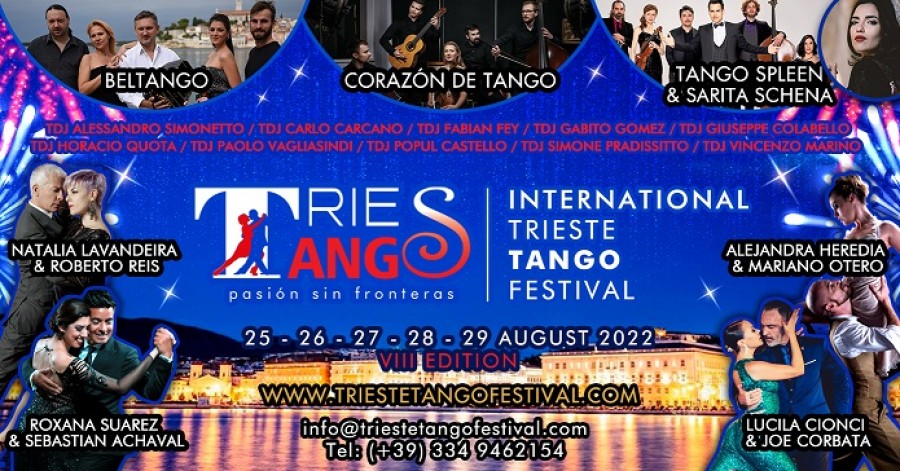 Description
In the magical Trieste (Italy), mitteleuropean city located on the shores of the Adriatic sea, the International Trieste Tango Festival is back with its 8th edition. The main event will be held in the beautiful venue of Molo IV, entirely surrounded by the sea. Also this year, it will feature an international cast of the best maestros, Tdjs and orchestras every evening, as well as new events such "La 12 ore Marathon", afternoon milongas and the Sightseeing Tanguero 2022 … 5 days a puro Tango!
This year the Festival will be opening Wednesday the 25th of August 2022 with the first evening milonga at Molo IV where the event will continue until Monday 29th August, concluding with a Tango Marathon called "La 12 ore Marathon".
The evenings will feature the following international artists:
3 Orchestras:
Tango Spleen & Sarita Schena (Italy & Argentina), Beltango (Serbia) & Corazón De Tango (Slovenia).
8 Maestros:
Natalia Lavandeira & Roberto Reis (Argentina), Roxana Suarez & Sebastian Achaval (Argentina), Lucila Cionci & Joe Corbata (Argentina), Alejandra Heredia & Mariano Otero (Spain & Argentina).
10 Tango Djs:
Horacio Luis Quota (Argentina), Carlo Carcano (Como, Italy), Fabian Feiguin (Argentina), El Popul Castello (Bologna, Italy), Vincenzo Marino (Trieste, Italy), Paolo Vagliasindi (Trieste, Italy), Alessandro Simonetto (Trieste, Italy), Simone Pradissitto (Pordenone, Italy), Gabito Gomez (Argentina), Giuseppe Colabello (Treviso, Italy).
- REGISTRATIONS:
WWW.TRIESTETANGOFESTIVAL.COM   - INFORMATION:
INFO@TRIESTETANGOFESTIVAL.COM
(+39) 334-946-2154 (ALSO WHATSAPP)   - LOCATIONS:
● EVENING MILONGAS, "LA 12 ORE MARATHON" & WORKSHOPS: MOLO IV
Punto Franco Vecchio Magazzino Molo IV, Sala Agorà – (Piazza Duca degli Abruzzi) Trieste, Italy
● AFTERNOON MILONGAS & WORKSHOPS: GB TANGO ACADEMY
Viale XX Settembre 3 Trieste, Italy   GENERAL DIRECTION: GUILLERMO BERZINS
---
EVENT DETAILS
Location:

Trieste, Province of Trieste, Italy Punto Franco Vecchio Magazzino Molo IV, Sala Agorà – (Piazza Duca degli Abruzzi) (view map)

Event dates:

From: Thursday, 25 August 2022 - To: Monday, 29 August 2022

Location:

Trieste, Province of Trieste, Italy Punto Franco Vecchio Magazzino Molo IV, Sala Agorà – (Piazza Duca degli Abruzzi) (view map)

Event dates:

Event Starts: Thursday, 25 August 2022
Event Ends: Monday, 29 August 2022

Milonguero Ticket Price - Includes all milongas:

25.00 EUR - Euro Member Countries

Milonguero Ticket Price - Includes all milongas:

25.00 EUR - Euro Member Countries

Is registration required prior to the event?

Recommended - Tickets might be available at the door

Registration Opens:

Sunday, 15 May 2022

Registration Closes:

Wednesday, 10 August 2022

Is registration required prior to the event?

Recommended - Tickets might be available at the door

Registration Opens:

Sunday, 15 May 2022

Registration Closes:

Wednesday, 10 August 2022

Accommodation:

Yes

Beverages:

Yes

Transfer:

No

Massage:

No

Accommodation:

Yes

Beverages:

Yes

Transfer:

No

Massage:

No

Website

Facebook:

Website

Facebook:
---
EVENT ORGANISER
More from GB Tango Academy:
---
Map
Trieste, Province of Trieste, Italy Punto Franco Vecchio Magazzino Molo IV, Sala Agorà – (Piazza Duca degli Abruzzi)
Pin icons from Medialoot
---
---
Reviews
Go back