Southern California Tango Championship and Festival
An unforgetable event in Los Angeles in March 2019
Ratings
Have you been to this event? Let other tangueros know what you think by rating it! Just click on the percentage bars. And, if you feel like providing further details, feel free to drop a few lines at the comments section.
Southern California Tango Championship and Festival
Southern California Tango Championship and Festival
An unforgetable event in Los Angeles in March 2019
An unforgetable event in Los Angeles in March 2019
35
out of
100
with
6
ratings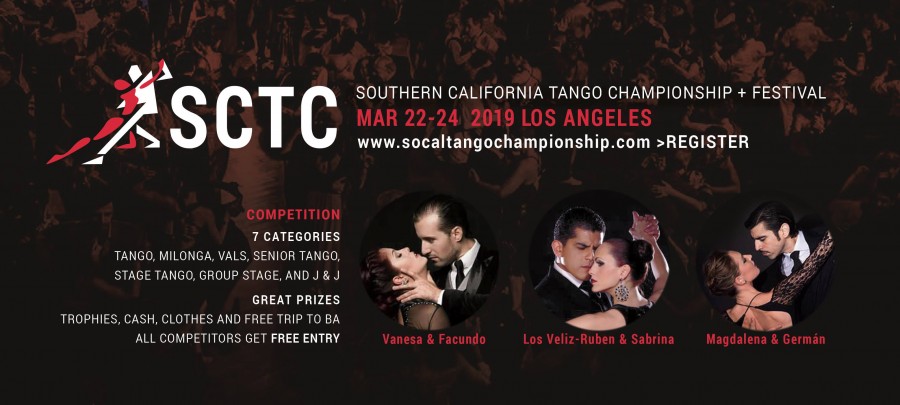 Description
We are thrilled to announce that the fifth edition of the Southern California Tango Championship & Festival will be held March 22-24 of 2019 at our NEW location at WESTMOR DANCE STUDIO, with a dance floor that would make Fred Astaire swoon, in the heart of Hollywood.

With over 350 tangueros (and 100 competitors) in attendance last year, it will be "The EVENT of the Year!" Situated in Los Angeles, the cities electric vibe is the perfect backdrop for an unforgettable experience.

The FESTIVAL includes:
3 days of workshops led by world-renowned instructors unforgettable milongas, live orchestra from BA, nationwide known DJs and performances by world-class maestros & champions.
The CHAMPIONSHIP features the following 7 categories:
• Tango Salon
• Stage Tango
• Senior Tango
• Milonga
• Vals
• Stage Group
* Jack & Jill
We also have a Group Competition/Showcase category!

~ Maestros & Judges are ~
MAGDALENA GUTIERREZ & GERMAN BALLEJO
VANESA VILLALBA & FACUNDO PIÑERO
SABRINA VELIZ & RUBEN VELIZ ( LOS VELIZ)

~ Live Orchestra from BA ~
LA JUAN D'ARIENZO

~ DJs of the Festival are ~
Friday night - ROD from CHICAGO (USA)
Saturday night - LAMPIS from LOS ANGELES (USA)
Sunday night - CARLOS from PORTO (PORTUGAL)

EARLY BIRD for Competition Registration ends JANUARY 20, 2019
EARLY PRE-Festival Registration ends February 7, 2018

For any inquiries, please email Yuliana at info@socaltangochampionship.com!
---
EVENT DETAILS
Location:

Los Angeles, CA, USA (view map)

Event dates:

From: Friday, 22 March 2019 - To: Sunday, 24 March 2019

Location:

Los Angeles, CA, USA (view map)

Event dates:

Event Starts: Friday, 22 March 2019
Event Ends: Sunday, 24 March 2019

Number of Participants:

350 dancers

Milonguero Ticket Price - Includes all milongas:

150 USD - United States Dollar

Number of Participants:

350 dancers

Milonguero Ticket Price - Includes all milongas:

150 USD - United States Dollar

Is registration required prior to the event?

Recommended - Tickets might be available at the door

Registration Opens:

Monday, 22 October 2018

Registration Closes:

Friday, 15 March 2019

Is registration required prior to the event?

Recommended - Tickets might be available at the door

Registration Opens:

Monday, 22 October 2018

Registration Closes:

Friday, 15 March 2019

Accommodation:

No

Beverages:

Yes

Transfer:

No

Massage:

No

Accommodation:

No

Beverages:

Yes

Transfer:

No

Massage:

No
---
EVENT ORGANISER
---
Map
Los Angeles, CA, USA
Pin icons from Medialoot
---
---
Reviews
Go back