Pugnochiuso tango holidays TangoOasis
Ratings
Have you been to this event? Let other tangueros know what you think by rating it! Just click on the percentage bars. And, if you feel like providing further details, feel free to drop a few lines at the comments section.
Pugnochiuso tango holidays TangoOasis
Pugnochiuso tango holidays TangoOasis
50
out of
100
with
4
ratings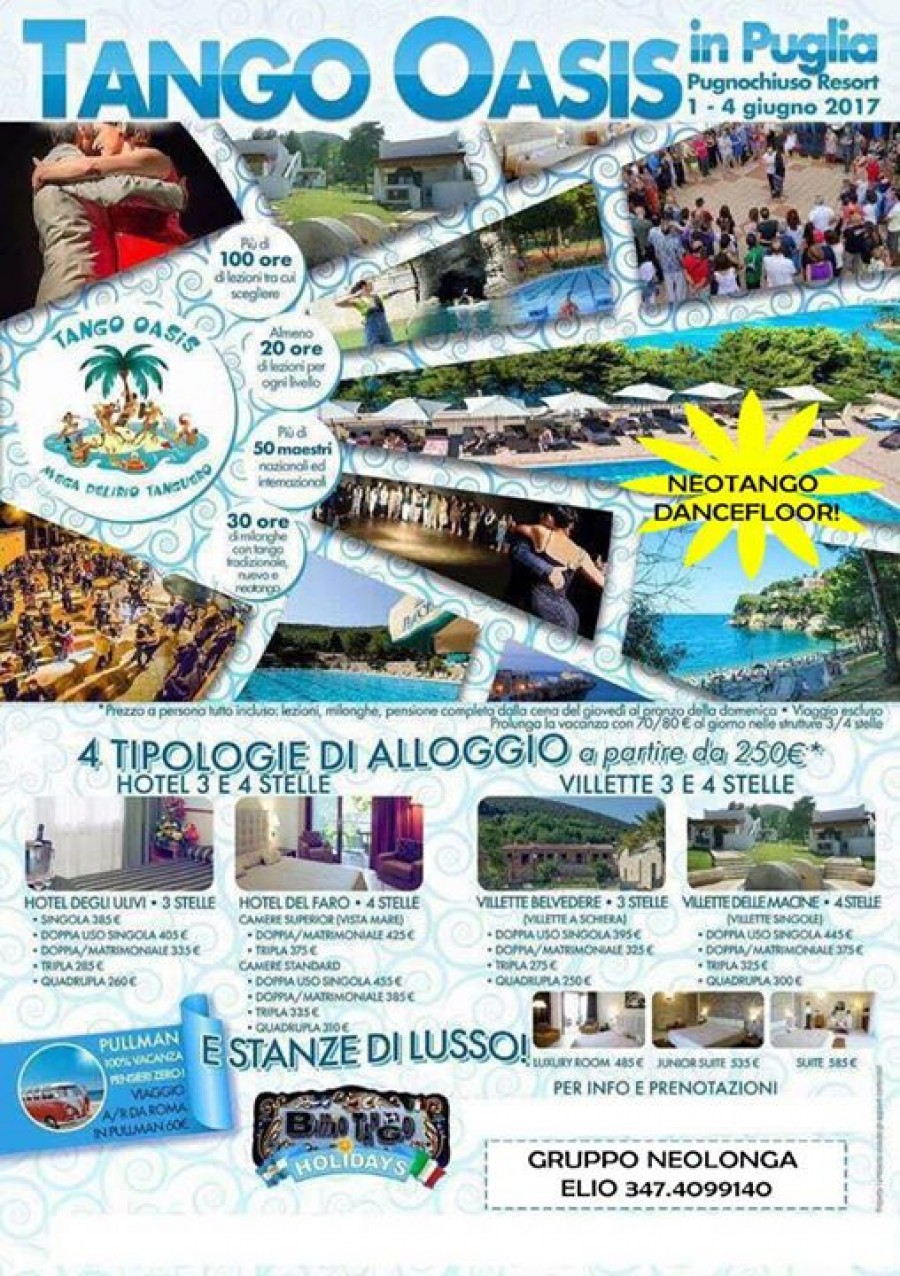 Description
(ENGLISH BELOW)
Un altro festival di tango dedica una pista da ballo al Neotango!
Invito tutti gli amici che danzano l'antico ballo dell'abbraccio su musica dei nostri giorni a questo raduno che lo scorso anno ha contato più di 600 presenze.
La località è Vieste, in Puglia, all'interno del resort Pugnochiuso, ina splendida spiaggia privata, bei tramonti sul mare e Neolonga nelle sere di giovedì, venerdì e sabato in cui ho il piacere di essere alla console. Sarà possibile anche ballare il retrotango nelle altre piste.


ENGLISH
Another tango festival brings a Neotango dancefloor, hoorayyy!!! :)
I invite all my neotango friends who dance the old embrace dance on modern music to this great festival which last year counted more than 600 tangueros, it's on a marvellous private beach in south of Italy. There is a bus connection from Rome to Vieste, in Puglia region, inside a touristic resort.
There will be neolongas on thursday, friday and saturday night and i'm glad to be at the console.
There is possibility also to dance retrotango on the other dancefloor.


Noi ci siamo!!! Voi siete pronti al MEGA DELIRIO TANGUERO!!!

Benvenuti a TANGO OASIS 2017, il più grande RADUNO TANGUERO di sempre, una TANGO VACANZA, una RASSEGNA di SPETTACOLI, oltre 100 ORE di LEZIONI per tutti i livelli con oltre 70 MAESTRI da tutt'Italia, una MARATONA con 30 ORE DI MILONGHE con piste dedicate al tango tradizionale, nuevo e neo tango in riva al mare, bordo piscina, in splendide terrazze all'aperto che si affacciano sulla meravigliosa baia di Pugnochiuso.

Anche quest'anno per la VI EDIZIONE di TANGO OASIS saremo in PUGLIA, presso il Pugnochiuso Resort, un magnifico Resort di 150 ettari, nel cuore del Parco Nazionale del Gargano.

Quest'anno avremo tutto il villaggio in esclusiva per noi e come l'anno scorso si potrà scegliere tra 4 tipologie di alloggi: Hotel 4 stelle, Hotel 3 stelle o bellissime villette mono e bilocali dislocate nel parco ma anche LUXURY ROOM E SUITE per i più esigenti.

Hanno confermato la loro partecipazione oltre 70 Maestri nonché collaboratori locali da tutt'Italia delle più prestigiose Scuole con anche Stars di fama internazionale, maestri Campioni del Mondo, Campioni Europei e Campioni Italiani.

Bravissimi dj per le nostre milonghe di mattina in riva al mare, bordo piscina al tramonto e by night, con una scelta musicale che accontenterà tutti i gusti con piste dedicate sia al tango tradizionale che al tango nuevo e neotango.

E ancora: pensione completa con l'ottima cucina della puglia, i servizi gratuiti di animazione e di baby e junior club, speciali prezzi e gratuità per i bambini al seguito, utilizzo delle piscine e delle incantevoli spiagge private attrezzate, spettacoli serali con show dei Maestri, oltre 30 ore di milonghe e 20 ore di lezione garantite per ciascun livello.

TUTTO INCLUSO A PARTIRE DA 250€, vaggio escluso.

VIAGGIO A/R da Roma in Pullman 60€.


---
EVENT DETAILS
Location:

Pugnochiuso, Italy

Event dates:

From: Thursday, 01 June 2017 - To: Sunday, 04 June 2017

Location:

Pugnochiuso, Italy

Event dates:

Event Starts: Thursday, 01 June 2017
Event Ends: Sunday, 04 June 2017
---
---
Reviews
Go back