Hudson Valley Tango Festival 2019
Our Festival is inspired by unity and community. We welcome you all with open arms into a close embrace.
Ratings
Have you been to this event? Let other tangueros know what you think by rating it! Just click on the percentage bars. And, if you feel like providing further details, feel free to drop a few lines at the comments section.
Hudson Valley Tango Festival 2019
Hudson Valley Tango Festival 2019
Our Festival is inspired by unity and community. We welcome you all with open arms into a close embrace.
Our Festival is inspired by unity and community. We welcome you all with open arms into a close embrace.
50
out of
100
with
4
ratings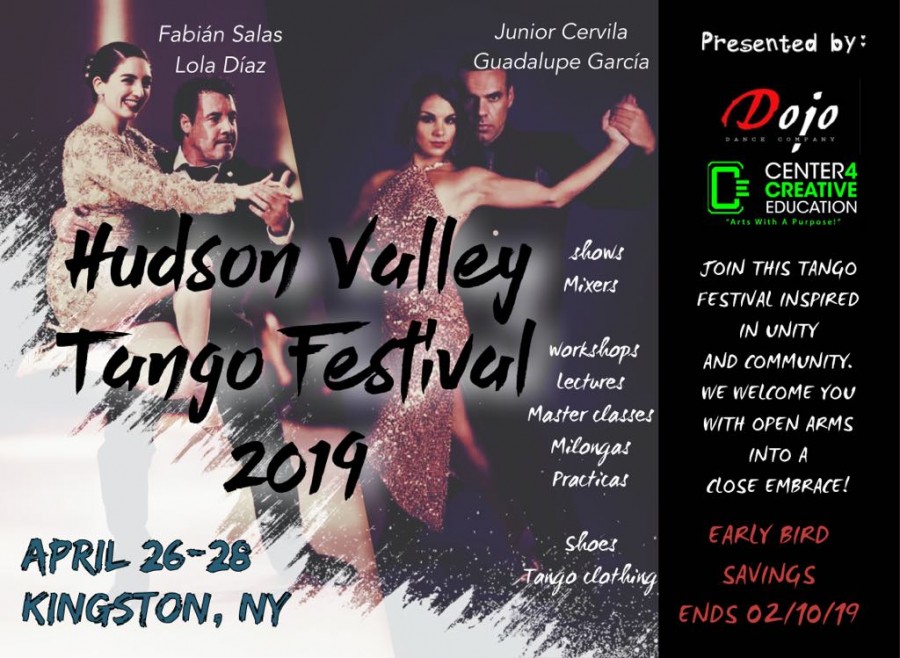 Description
Dojo Dance Company and CCE present:

Hudson Valley Tango Festival 2019 edition.
Happening on April 26-28.
Save the date, buy your pass and Register now!

Early bird-big deals for FULL AND DAILY PASSES AVAILABLE UNTIL FEBRUARY 10TH.

Immerse yourself in 3 full days of Argentine Tango music, dance and Culture. This is a weekend for "tangonatics", enthusiastic dancers and brave new comers.

We have planned 4 programs to suit every level of expertise.
~10am-6pm: Master Classes, All levels, Beginner lessons, Introductory sessions, History of Music, learn about the origins of Tango Music, Orchestras and their evolution. Technique and mind blowing experiences!
~ Afternoon Practicas
~ Milongas 8pm-2am.
"Bootcamp for Absolute Tango Beginners"  Satuday 27-Sunday 28th (Have you ever desired to convert few friends into Tango? here is the right opportunity. This program offers over 6 lessons for the new dancers to choose from and fall in love with this Dance)
Tango, Body & mind connection. Mainly Yin-Yoga, Restorative Yoga, Mediation, Tango Groove experience.  (This program offers the possibility to enrich your Tango by the awareness of your state of mind, taking care of your body before and during the dance, alignment & body condition, making your tango experience more pleasurable.). 
Intermediate level: Enjoy over 12 Workshops with Tango stars, Local Teachers and special Teaching Artists from Friday 26 through Sunday 28. All Milongas & Practicas.
Advanced level: Master Classes and workshops with Tango stars & Special Teaching Artists. Milongas & Practicas. All inclusive!

Our fabulous festival will be held at the majestic Senate Garage and the iconic Upstairs at BSP located in the Stockade District of the Historic Kingston NY, first capital of New York state.

Easy and extensive parking, easy commute, accommodations near by, many lovely cafes and restaurants 1 minute walk.

Our Tango Stars: Junior Cervila & Guadalupe Garcia ~ Fabian Salas & Lola Diaz

Our Local & talented maestros: Kevin Mageee, Gustavo Rios and Maggie Griffin, Ellen Chrystal, Maia Martinez & David Salvatierra. More to come!

Special Guest: Dr. Inessa Zaleski. Manuk Colakyan. 

Dj Line-up: Manuk (PA), Rahul H-Kashl (Montreal), Ilene Marder(NYC)

Live Music by Los Chantas Tango NYC .
LOS CHANTAS are a multinational tango ensemble based in New York City. Their repertoire draws from the great Argentine tango tradition from the guardia vieja to the present. The group has been playing in milongas, clubs, theaters, and other venues in and around New York since its inception in 2002. With original arrangements of songs by Gardel, Troilo, Salgán, Piazzolla, and others, and a playful, improvised style, Los Chantas infuse classic tangos with new life and unique flavor.

David Hodges: bandoneón
Emilio Teubal: piano
Sergio R. Reyes: violin
Pedro Giraudo: bass

Use this link to buy your passes:
http://www.dojodancecompany.com/2019-purchase-tickets-workshops-practicas-milongas/

Meet us at 4 N Front Street, Kingston, New York
Invite your friends, this year we offer a special program of intense introduction to tango for new dancers, let everyone know!
After all this event is about our community welcoming all of you in an abrazo!

Look at the Airbnb's and Hotels soon. We count with discounts for our tango travelers at the Best Western Plus, within walking distance from Bus Terminal & Venues.
Coming from far away ? Need accommodations? Talk to us.
maia@dojodancecompany.com
(845)4756006
---
EVENT DETAILS
Location:

4 North Front Street, Kingston, NY, USA (view map)

Event dates:

From: Friday, 26 April 2019 - To: Sunday, 28 April 2019

Location:

4 North Front Street, Kingston, NY, USA (view map)

Event dates:

Event Starts: Friday, 26 April 2019
Event Ends: Sunday, 28 April 2019

Number of Participants:

400 dancers

Milonguero Ticket Price - Includes all milongas:

85 USD - United States Dollar

Number of Participants:

400 dancers

Milonguero Ticket Price - Includes all milongas:

85 USD - United States Dollar

Is registration required prior to the event?

Recommended - Tickets might be available at the door

Registration Opens:

Monday, 10 December 2018

Registration Closes:

Saturday, 20 April 2019

Is registration required prior to the event?

Recommended - Tickets might be available at the door

Registration Opens:

Monday, 10 December 2018

Registration Closes:

Saturday, 20 April 2019

Accommodation:

Yes

Beverages:

Yes

Transfer:

No

Massage:

No

Accommodation:

Yes

Beverages:

Yes

Transfer:

No

Massage:

No

Website

Facebook:

Website

Facebook:
---
EVENT ORGANISER
More from Dojo Dance Company:
---
Map
4 North Front Street, Kingston, NY, USA
Pin icons from Medialoot
---
---
Reviews
Go back