Festival TANGO Stages d ETE de Crest
Ratings
Have you been to this event? Let other tangueros know what you think by rating it! Just click on the percentage bars. And, if you feel like providing further details, feel free to drop a few lines at the comments section.
Festival TANGO Stages d ETE de Crest
Festival TANGO Stages d ETE de Crest
50
out of
100
with
4
ratings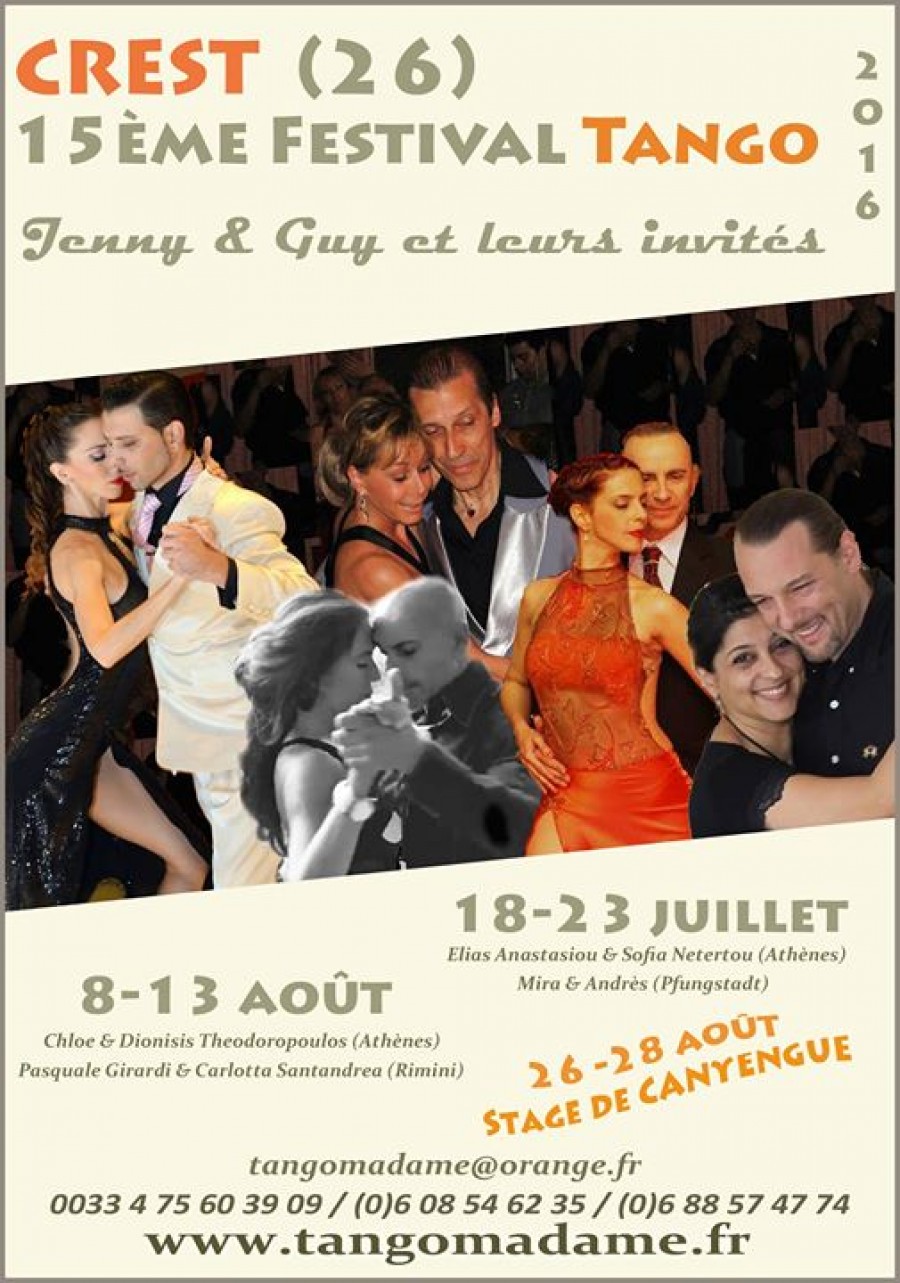 Description
XVème édition des Stages d'été et FESTIVAL TANGO de Crest avec Jenny & Guy et leurs invités: Sofia Netertou & Elias Anastasiou d'Athènes et Andrés & Mira de Pfungstadt (Allemagne) en juillet - Chloe & Dionisis Theodoropoulos d'Athènes et Pasquale Girardi & Carlotta Santandrea de Rimini en août!!!!!!!
Ne manquez pas cet événement!
Jenny & Guy vous attendent pour cet événement annuel.
Informations et détails sur demande et envoi par mail. Les inscriptions sont ouvertes.

DU LUNDI 18 AU SAMEDI 23 JUILLET, 6 jours de tango intensif... ou relax....
DU LUNDI 8 AU SAMEDI 13 AOUT, 6 jours de ... tango? folie!

Programme: 2 stages de 6 jours, Milongas tous les soirs à partir de 21h30 (PAF ), des soirées "Bal dans la Rue", (soirées en plein air gratuites), démos des danseurs, animations dans la ville, apéros tango, Initiations gratuites...
Lieux des cours Juillet/Août: Ecole Georges Brassens, Avenue Jean Jaures, Espace Crest Actif, salle Roch Grivel, Quai Bérangier de la Blache, salle Coloriage, Espace Soubeyran...

Samedi 23 juillet, et Samedi 13 août à 22h, GRAND BAL et show/exhibitions des danseurs avec l'Orchestre "La Marca Cuarteto" (Entrée payante).
* La salle "Coloriage" est une grande et belle salle avec PARQUET!

Repas en commun (pique-niques... gastronomiques!)
Et toujours, dans la très belle région de Crest... baignades le soir, nombreuses possibilités de randonnées, visites, la région est magnifique... Bref, venez, vous verrez!%%%
Réservez vite votre séjour avec nous! Ne manquez pas cet événement!

Et pour finir l'été, à VALENCE, 16, rue Marguerite,
du 26 au 28 août, notre 13ème FESTIVALITO Special CANYENGUE, et Milonga & Tango.



---
EVENT DETAILS
Location:

Crest, France

Event dates:

From: Monday, 18 July 2016 - To: Saturday, 23 July 2016

Location:

Crest, France

Event dates:

Event Starts: Monday, 18 July 2016
Event Ends: Saturday, 23 July 2016
---
---
Reviews
Go back