VivDA - MILONGA FOR ALL, PLESNJAK TANGO ARGENTINO IN ZAGREB
Ratings
Have you been to this event? Let other tangueros know what you think by rating it! Just click on the percentage bars. And, if you feel like providing further details, feel free to drop a few lines at the comments section.
VivDA - MILONGA FOR ALL, PLESNJAK TANGO ARGENTINO IN ZAGREB
VivDA - MILONGA FOR ALL, PLESNJAK TANGO ARGENTINO IN ZAGREB
50
out of
100
with
4
ratings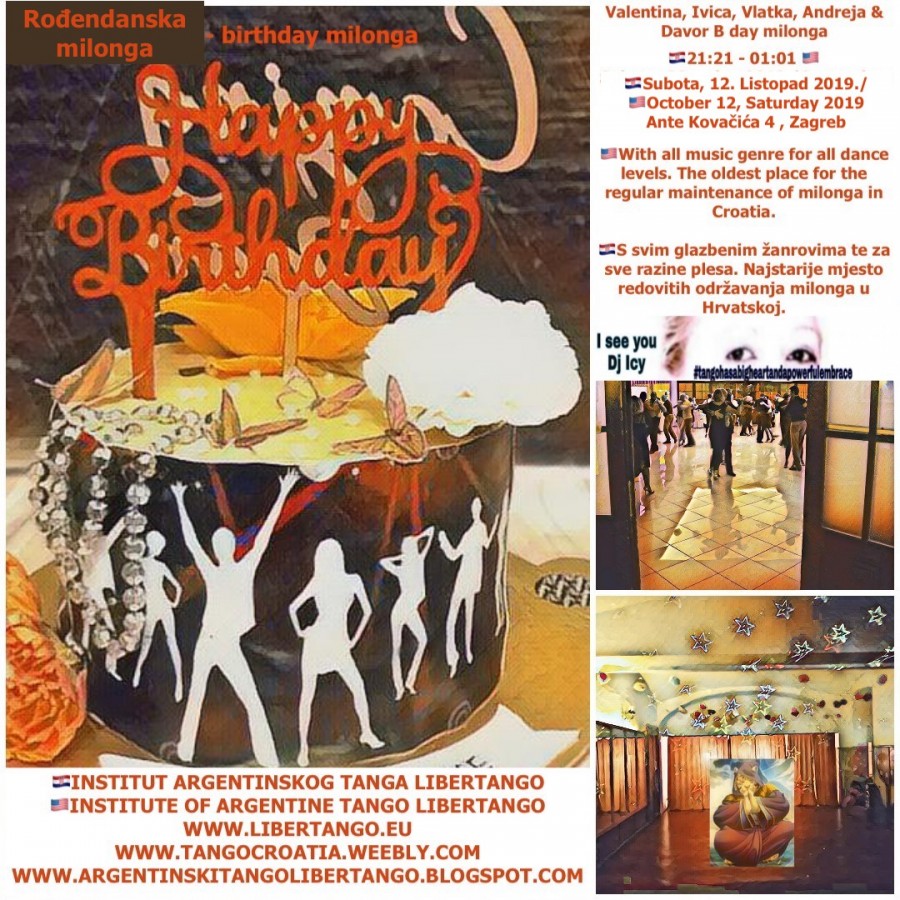 Description
?Valentina, Ivica, Vlatka, Andreja & Davor ?
21:21 - 01:01 ??Subota, 12. listopad 2019./??October 12, Saturday 2019
Ante Kovačića 4 , Zagreb
??milonga with all music genre for all dance levels. The oldest place for the regular maintenance of milonga in Croatia.
??milonga s svim glazbenim žanrovima te za sve razine plesa. Najstarije mjesto redovitih održavanja milonga u Hrvatskoj.
?https://argentinskitangolibertango.blogspot.com/2019/09/svijesnost-i-milonga-sretno-mjesto.html
??Biti svjestan i s poštovanjem prema drugima kao i svega oko nas na milongi, princip je zapravo sve onoga što je potrebno za riješiti mnoge probleme te stvoriti zdravu atmosferu time i jaču zajednicu plesača argentinskog tanga.
??Being conscious and respectful of others as well as everything around us on milonga, the principle is actually all that is needed to solve many problems and create a healthy atmosphere thus a stronger community of dancers of Argentine tango.
????
INSTITUT ARGENTINSKOG TANGA LIBERTANGO
INSTITUTE OF ARGENTINE TANGO LIBERTANGO
WWW.LIBERTANGO.EU
WWW.TANGOCROATIA.WEEBLY.COM
WWW.ARGENTINSKITANGOLIBERTANGO.BLOGSPOT.COM
---
EVENT DETAILS
Location:

Ulica Ante Kovačića 4, Zagreb, Croatia (view map)

Event dates:

From: Friday, 11 October 2019 - To: Friday, 01 November 2019

Location:

Ulica Ante Kovačića 4, Zagreb, Croatia (view map)

Event dates:

Event Starts: Friday, 11 October 2019
Event Ends: Friday, 01 November 2019

Number of Participants:

20 dancers

Milonguero Ticket Price - Includes all milongas:

20 HRK - Croatia Kuna

Number of Participants:

20 dancers

Milonguero Ticket Price - Includes all milongas:

20 HRK - Croatia Kuna

Is registration required prior to the event?

Not required - Tickets at the door

Is registration required prior to the event?

Not required - Tickets at the door

Accommodation:

No

Beverages:

Yes

Transfer:

No

Massage:

No

Accommodation:

No

Beverages:

Yes

Transfer:

No

Massage:

No

Website

Facebook:

Website

Facebook:
---
EVENT ORGANISER
Map
Ulica Ante Kovačića 4, Zagreb, Croatia
Pin icons from Medialoot
---
---
Reviews
Go back