Tangolab Vacanza tango a Maratea
Ratings
Have you been to this event? Let other tangueros know what you think by rating it! Just click on the percentage bars. And, if you feel like providing further details, feel free to drop a few lines at the comments section.
Tangolab Vacanza tango a Maratea
Tangolab Vacanza tango a Maratea
50
out of
100
with
4
ratings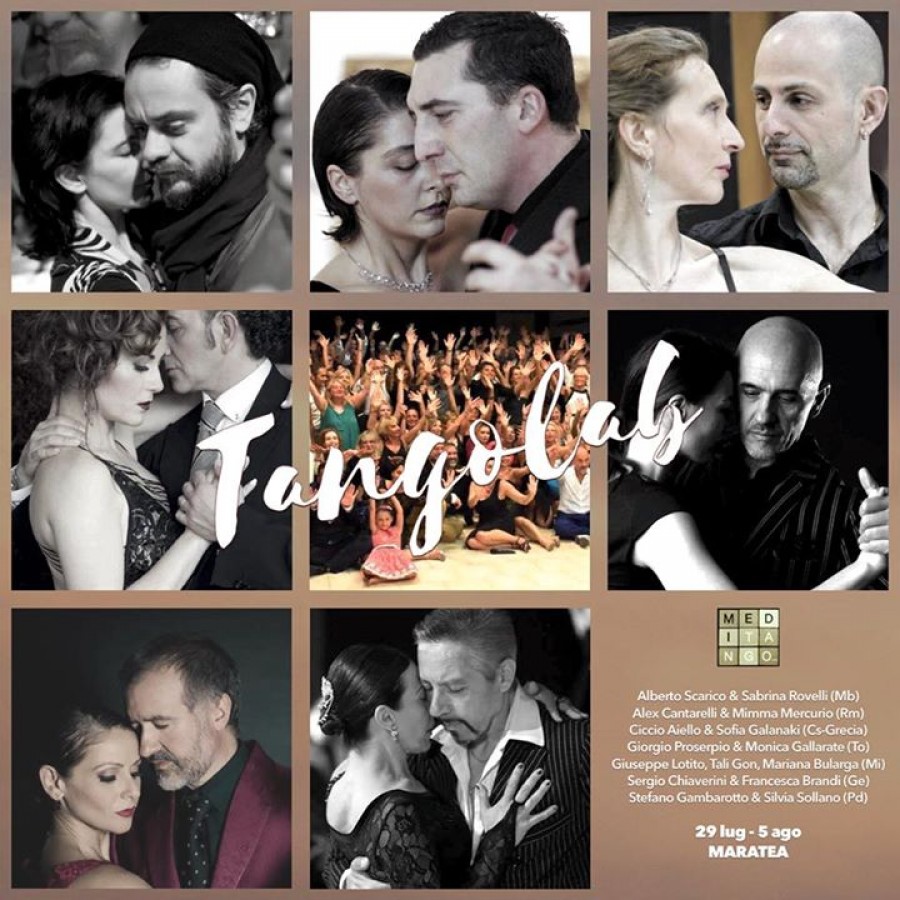 Description
TANGOLAB 2018
Direzione artistica e organizzazione a cura di Mimma Mercurio e Alex Cantarelli

Una vacanza-tango in un bellissimo hotel 4 stelle a Maratea, con un mare stupendo e con un eccezionale cast di maestri.
TANGOLAB, per ballare, studiare, conoscersi, incontrarsi, per divertirsi !!

28/29 luglio - 5 agosto
Grand Hotel Pianeta Maratea Resort
C.da Santa Caterina, 50 - 85046 Maratea PZ Italy
Il Grand Hotel PianetaMaratea Resort , si trova in una posizione suggestiva e panoramica lungo la collina della famosa Statua del Cristo Redentore e a soli 4 km dal centro storico, nella location più affascinante. La posizione strategica direttamente sul golfo di Policastro, la vicinanza agli elementi naturalistici di grande impatto, tutti i servizi di un quattro stelle, rendono il Grand Hotel PianetaMaratea Resot la struttura ideale per una vacanza indimenticabile.


MAESTRI (in ordine alfabetico)
Alberto Scarico & Sabrina Rovelli (Mb)
Alex Cantarelli & Mimma Mercurio (Rm)
Ciccio Aiello & Sofia Galanaki (Cs-Grecia)
Giorgio Proserpio & Monica Gallarate (To)
Giuseppe Lotito, Tali Gon, Mariana Bularga (Mi)
Sergio Chiaverini & Francesca Brandi (Ge)
Stefano Gambarotto & Silvia Sollano (Pd)

TARIFFE in mezza pensione (con acqua e vino), lezioni pomeridiane e serate:
8 notti 745€
7 notti 665€
6 notti 585€
5 notti 495€
4 notti 400€
3 notti 310€
2 notti 212€
Tariffe blloccate fino al 15 maggio, dopo ci sarà un aumento.

Supplemento singola €25 a giorno.
Tessera associativa Acsi FaiTango obbligatoria €5.
Bambini fino a 12 anni tariffe scontatissime.
Parcheggio gratuito, ombrellone e sdraio gratuito.

LEZIONI
Le lezioni di tango sono incluse nella quota Tangolab e si terranno tutti i giorni nel pomeriggio. Sabato 28 luglio non sono previste attività, domenica 29 luglio dopo l'aperitivo di benvenuto ci sarà una lezione (h.18,30). Gli altri giorni, due lezioni (h.17,00-18,15 + h.18,30-19,45).
Per le donne sono previste sia lezioni di coppia che di tecnica.
Il programma potrebbe subire variazioni, il calendario lezioni sarà disponibile in loco.

GRUPPI
Quattro gruppi di studio che lavoreranno in contemporanea in quattro differenti sale.
Avanzato
Inter-Avanzato
Princ-Intermedio
Tecnica donne

Lezioni extra mattutine di TAITANGO
«Il Taitango è una danza guerriera ma anche una danza di coppia che prevede ruoli dinamici di decisione, ascolto e improvvisazione».



---
EVENT DETAILS
Location:

Maratea, Italy

Event dates:

From: Sunday, 29 July 2018 - To: Sunday, 05 August 2018

Location:

Maratea, Italy

Event dates:

Event Starts: Sunday, 29 July 2018
Event Ends: Sunday, 05 August 2018
---
---
Reviews
Go back