Tampere Tango Week
Ratings
Have you been to this event? Let other tangueros know what you think by rating it! Just click on the percentage bars. And, if you feel like providing further details, feel free to drop a few lines at the comments section.
Tampere Tango Week
Tampere Tango Week
50
out of
100
with
4
ratings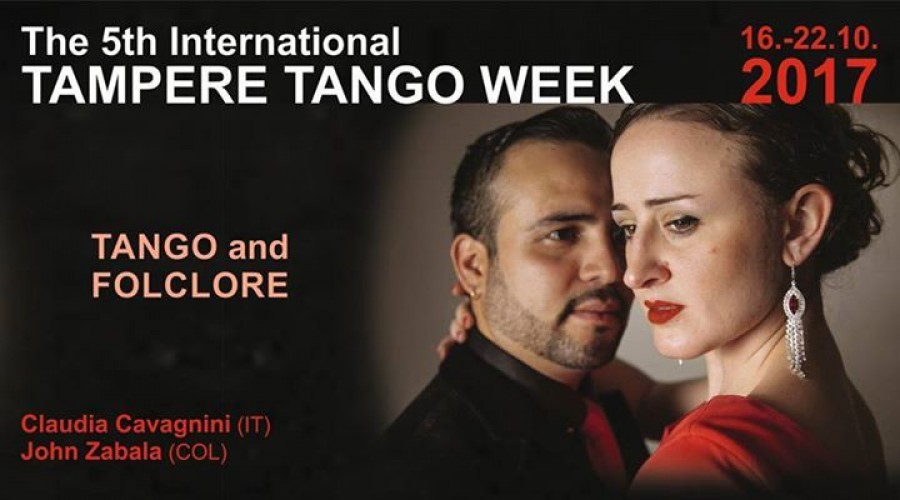 Description
Tampere Tango Week 2017 maestrot ovat taidokkaat ja kokeneet John Zabala (COL) ja Claudia Cavagnini (IT)!

Vierailevien opettajien workshopit pe-su. Ma-pe TTW goes folklore, jolloin paikalliset opettajat pitävät argentiinalaisen milongan ja valssin lisäksi kansantanssitunteja! Lauantaina juhlamilonga ravintola Laternassa ja sunnuntaina juhlimme tangoviikon päättäjäisiä Milonga Verdessä.

OHJELMA, TANGO JA FOLKLORE:

Ma 16.10.
klo 19-20 Milonga perusteet
Klo 20-21 Folklore: Chacarera perusteet
Klo 21-22 Tangovalssi keskitaso-edistyneet

Ti 17.10. MisTres Milonga, Teerenpeli 0€

Ke 18.10. FOLKLORE / TANGOILTA 0/5€
klo 19-20 Chacarera ryhmässä
klo 20-21 Ohjattu kansantanssipractica
Klo 21-22 Tangopractica

To 19.10.
klo 19-20 Tangovalssi perusteet
Klo 20-21 Folklore: Gato ja Escondido
Klo 21-22 Milonga keskitaso-edistyneet

Tango aMoroson harjoitusryhmien kausimaksuun kuuluu yksi valssi/milongatunti ja yksi kansantanssitunti maanantain ja torstain valikoimista. Lisätunnit 10€/hlö. Myös muut kuin viikkoryhmissä kävijät ovat tervetulleita tunneille hintaan 10€/hlö/60min oppitunti (aMoroson jäsenet, muut 15 e). Ei ennakkoilmoittautumista, maksu ennen tunnin alkua käteisellä.


VIIKONLOPUN TANGO-OHJELMA
Opettajat Claudia Cavagnini ja John Zabala

Viikonlopun pe-su tangotunneille on ennakkoilmoittautuminen. Ilmoittautuminen avataan 25.9. Workshopin hinta on 20€/hlö/90min oppitunti Tango aMoroson jäsenille, muut 25 e.

Pe 20.10.
19-20.30 Tango All levels: Connection through the base leg and the importance of the axis.
20.30-22 Practica

La 21.10.
12-13.30 Tango Salon 1: Walking, cadencia and weight change.
14-15.30 Tango Salon 2: Firm and flexible embrace in giros and sacadas.

21-02 Gran Milonga Laterna:

Su 22.10.
14.00-15.30 Milonga all levels: Classical dynamics of milonga with changes of musicality.

16-20 Milonga Verde:

Tervetuloa mukaan viettämään upeaa tanssintäyteistä viikkoa kanssamme!
---
EVENT DETAILS
Location:

Tampere, Finland

Event dates:

From: Monday, 16 October 2017 - To: Sunday, 22 October 2017

Location:

Tampere, Finland

Event dates:

Event Starts: Monday, 16 October 2017
Event Ends: Sunday, 22 October 2017
---
---
Reviews
Go back