14TH NEW YEAR'S MILONGA
Ratings
Have you been to this event? Let other tangueros know what you think by rating it! Just click on the percentage bars. And, if you feel like providing further details, feel free to drop a few lines at the comments section.
14TH NEW YEAR'S MILONGA
14TH NEW YEAR'S MILONGA
50
out of
100
with
4
ratings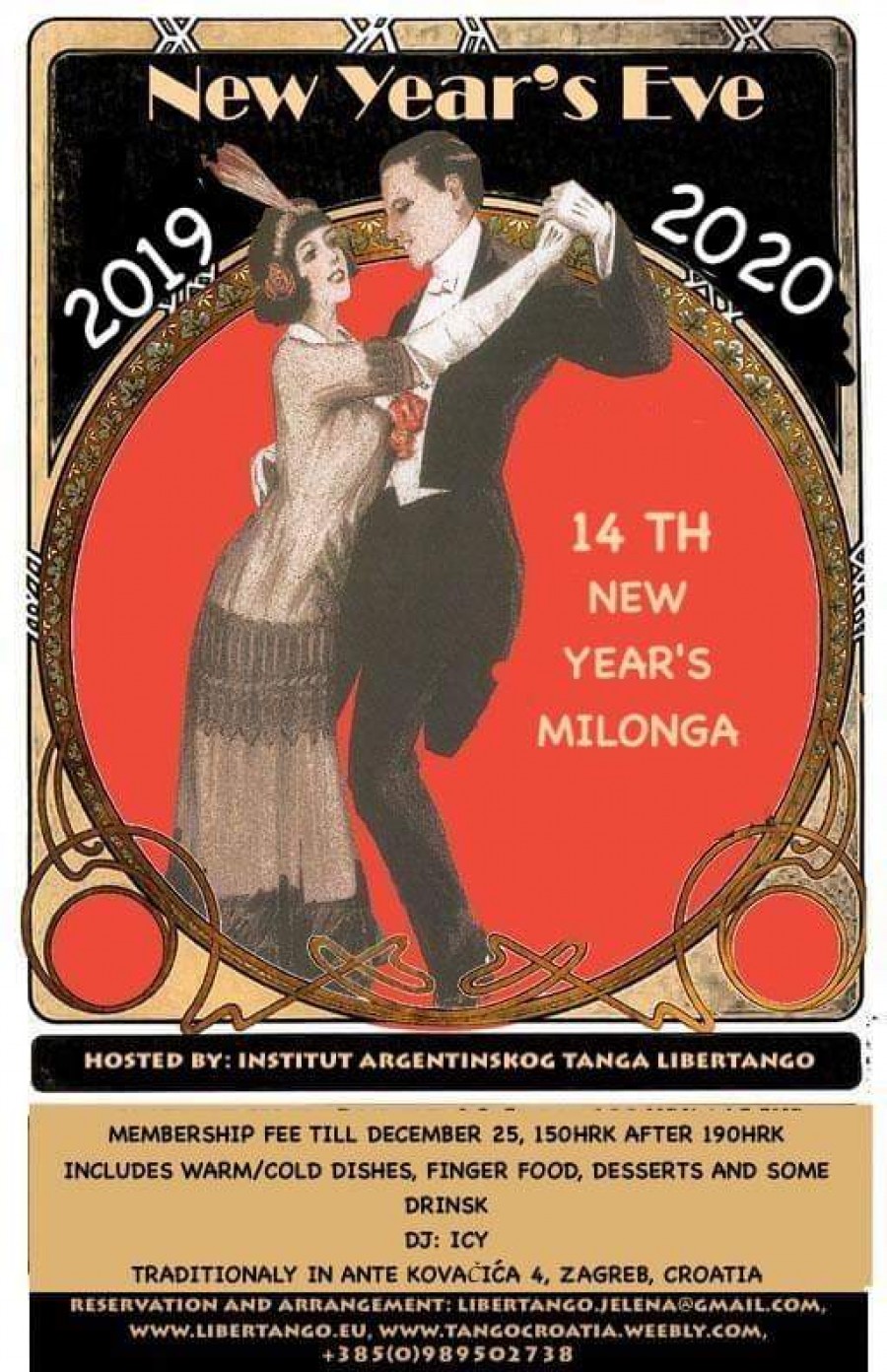 Description
14th NEW YEAR'S MILONGA

We got 14 behind us. Traditionally we will with @ango welcome New Year in the space where everything began to boil and cook ;)
14TH NEW YEAR'S MILONGA IN ZAGREB 31. December 2019. First regular @ango happning in Croatia
- 21:21 - 02:21
- various snacks, meat and non-fat dishes and sweet (we will not skip soup) hot and cold
- different beverages
- traditionally continue in the same area where the first New Year's milonga was held in Croatia, Ante Kovačića 4
Payments and Bookings
Applications and bookings up to 30. December. Membership fee 150 HRK. After 25. The payment of the membership fee is 170 HRK.
Reservation and payment of membership fees
- Phone number + 385 98 950 2738
- electronic mail libertango.jelena@gmail.com
- via contact forms on the website www.libertango.eu and www.tangocroatia.weebly.com

INSTITUT ARGENTINSKOG TANGA LIBERTANGO
INSTITUTE OF ARGENTINE TANGO LIBERTANGO
WWW.LIBERTANGO.EU
WWW.TANGOCROATIA.WEEBLY.COM
WWW.ARGENTINSKITANGOLIBERTANGO.BLOGSPOT.COM
---
EVENT DETAILS
Location:

Ulica Ante Kovačića 4, Zagreb, Croatia (view map)

Event dates:

From: Tuesday, 31 December 2019 - To: Wednesday, 01 January 2020

Location:

Ulica Ante Kovačića 4, Zagreb, Croatia (view map)

Event dates:

Event Starts: Tuesday, 31 December 2019
Event Ends: Wednesday, 01 January 2020

Number of Participants:

15 dancers

Milonguero Ticket Price - Includes all milongas:

170 HRK - Croatia Kuna

Number of Participants:

15 dancers

Milonguero Ticket Price - Includes all milongas:

170 HRK - Croatia Kuna

Is registration required prior to the event?

Required - No tickets at the door

Registration Opens:

Saturday, 28 December 2019

Registration Closes:

Monday, 30 December 2019

Is registration required prior to the event?

Required - No tickets at the door

Registration Opens:

Saturday, 28 December 2019

Registration Closes:

Monday, 30 December 2019

Accommodation:

No

Beverages:

Yes

Transfer:

No

Massage:

No

Accommodation:

No

Beverages:

Yes

Transfer:

No

Massage:

No
---
EVENT ORGANISER
Map
Ulica Ante Kovačića 4, Zagreb, Croatia
Pin icons from Medialoot
---
---
Reviews
Go back