Bergen Embrace II
Ratings
Have you been to this event? Let other tangueros know what you think by rating it! Just click on the percentage bars. And, if you feel like providing further details, feel free to drop a few lines at the comments section.
Bergen Embrace II
Bergen Embrace II
50
out of
100
with
4
ratings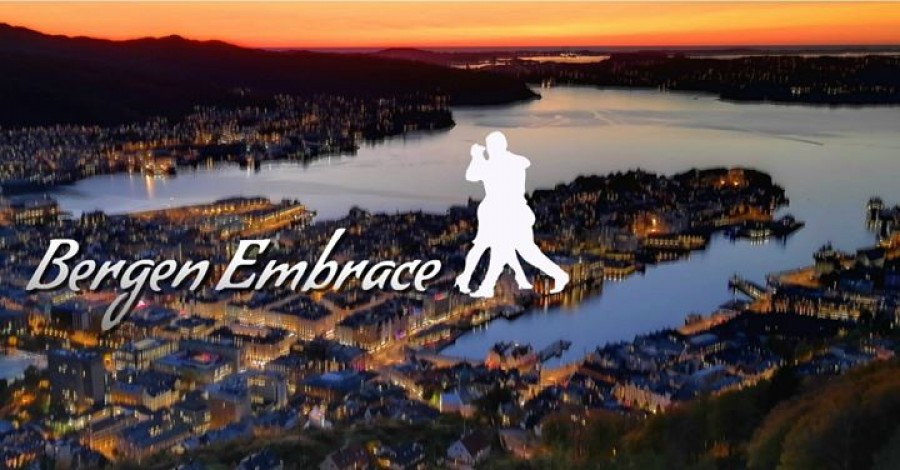 Description
Tango Abrazo is thrilled to announce the second editon of Bergen Embrace! We thought the first was so much fun that we are inspired to do it again, and will do our best to make this an equally pleasant and welcoming event.

Registration starts on Friday January 12th.

Bergen is known for its many rainy days, but your chances to see the sun at this time of the year are extremely good. In any case, anyone who says sunshine brings happiness, has never danced in the rain! We advise you to take some extra days to explore Bergen, the fjords and other beautiful nature nearby.

Bergen Embrace will like the first year take place in Grand Hotel Terminus' large wooden floor hall, located in the centre of Bergen. Participants may choose to sleep and eat at the hotel next door (same owners), or in a variety of reasonably priced accomodation and culinary options nearby. Norway has reputation for being expensive, but if you stay away from fancy cocktails, fast non-electric cars and cocaine, you'll be fine.

Confirmed DJs:
- Trud Antzée, Oslo
- Gabriel Bakke, Bergen
- Irma Gross, Basel
- Solveig Jansen, Bergen
- Alexander Palchikovskiy, Kiev
- Sigrid van Tilbeurgh, Lausanne

And two more excellent international DJs, to be confirmed!

DRAFT PROGRAM:

Thursday July 5th, PREPARTY (open to all): Venue TBC
20-01: DJ-1

Friday July 6th, Hall Terminus
14-19: DJ-2
21-02: DJ-3

Saturday July 7th, Hall Terminus
13-18: DJ-4
21-02: DJ-5

Sunday July 8th, Hall Terminus
14-19: DJ-6
21-02: DJ-7

Monday July 9th, AFTERPARTY (open for all)
DJ-8 (time and venue TBC)

This is a role-balanced event for close-embrace lovers at high and intermediate+ dance levels, where we follow these basic rules: : use mirada/cabeceo, clear the floor and change partner during cortinas. You may sit wherever you like. Smiling is encouraged and assumed to happen frequently.

The price, NOK 1000 / €105, includes eight milongas; six at the Hotel Grand Terminus plus Thursday's and Monday's pre- and afterparties (venues TBC). Adding up to about 40 hours of dancing (but you might want to take some breaks).

There will be approximately 150 dancers for the Friday-Sunday main event. To assure role balance, we encourage registration in pairs. There will also be a single registration option, and we will match leaders and followers as far as we can. Dual role dancers are welcome. The registration is not based on first come first served, but on dance experience, geographical diversity and recommendations by dancers whose judgement we trust. The pre- and after-milongas are open to all, and not role-balanced guaranteed.

ACCOMODATION:
Rooms have been reserved next to the dance venue, at Hotel Zander K, for the special price of NOK 990/1190 for single/double with breakfast. When your registration has been confirmed, you will get a booking code. There will be other and more budget options nearby.

We advise you not to purchase tickets or accomodation before your registration has been accepted.
---
EVENT DETAILS
Location:

Bergen, Norway

Event dates:

From: Thursday, 05 July 2018 - To: Monday, 09 July 2018

Location:

Bergen, Norway

Event dates:

Event Starts: Thursday, 05 July 2018
Event Ends: Monday, 09 July 2018
---
---
Reviews
Go back