14th Valencia Tango Festival 2016
XIV Encuentro de Aficionados al Tango. See you in Valencia
Ratings
Have you been to this event? Let other tangueros know what you think by rating it! Just click on the percentage bars. And, if you feel like providing further details, feel free to drop a few lines at the comments section.
14th Valencia Tango Festival 2016
14th Valencia Tango Festival 2016
XIV Encuentro de Aficionados al Tango. See you in Valencia
XIV Encuentro de Aficionados al Tango. See you in Valencia
56
out of
100
with
8
ratings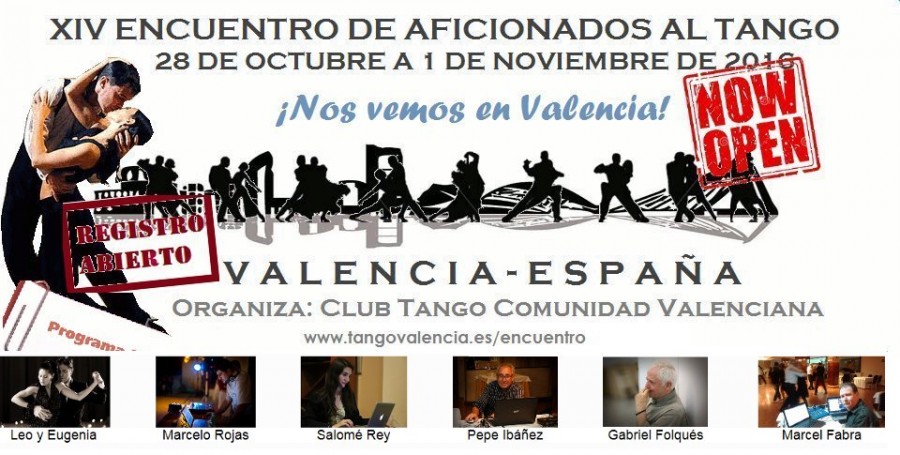 Description
14th  Valencia Tango Festival 2016
From October 28th to November 1st 2016 tangueros from all over the world will gather in the beautiful Spanish city on the Mediterranean Sea to experience five days packed with tango. The festival includes nine milongas lasting a total of 30 hours. Three of them are free, one will be held right at the beach, another in a square in the city centre. The world-famous couple Leo Calvelli & Eugenia Usandivaras will delight us with seven hours of tango classes. Marcelo Rojas, one of the most renowned DJs in Buenos Aires, will share his expertise in a three-hour workshop on Tango-DJing.
The festival will take place in the four star Olympia Hotel, Events & Spa, located at only five minutes by underground from the historical city centre. To make your stay in Valencia complete, join us for a lovely boat ride on the Albufera lake and taste a typical Valencian rice dish and horchata (traditional drink made of tiger nuts).
The 14th Valencia Tango Festival is waiting for you. More information on our website: programme, prices, invited artists, registration form.
We're looking forward to welcoming you at the festival. See you in Valencia!
http://www.tangovalencia.es/encuentro/index.html
---
EVENT DETAILS
Location:

Alboraia, Spain Avenida del Maestro Serrano, 5 (view map)

Event dates:

From: Friday, 28 October 2016 - To: Tuesday, 01 November 2016

Location:

Alboraia, Spain Avenida del Maestro Serrano, 5 (view map)

Event dates:

Event Starts: Friday, 28 October 2016
Event Ends: Tuesday, 01 November 2016

Number of Participants:

300 dancers

Milonguero Ticket Price - Includes all milongas:

70 EUR - Euro Member Countries

Number of Participants:

300 dancers

Milonguero Ticket Price - Includes all milongas:

70 EUR - Euro Member Countries

Is registration required prior to the event?

Recommended - Tickets might be available at the door

Registration Opens:

Friday, 22 April 2016

Registration Closes:

Tuesday, 25 October 2016

Is registration required prior to the event?

Recommended - Tickets might be available at the door

Registration Opens:

Friday, 22 April 2016

Registration Closes:

Tuesday, 25 October 2016

Accommodation:

Yes

Beverages:

Yes

Transfer:

No

Massage:

No

Accommodation:

Yes

Beverages:

Yes

Transfer:

No

Massage:

No

Website

Facebook:

Website

Facebook:
---
EVENT ORGANISER
This Association in Valencia (Spain) is constituted to extend the enjoyment of the dance through increased knowledge of their culture, origins and evolution. As artistic activity, it is as free as painting, music or any other art, no limitations other than those of personal taste, creativity and harmonization of the couple with music " The founding manifest. July 1998
More from Club Tango Comunidad Valenciana:
---
Map
Alboraia, Spain Avenida del Maestro Serrano, 5
Pin icons from Medialoot
---
---
Reviews
Go back