Grand Milonga Ball
At the Bridport Argentine Tango Festival
Ratings
Have you been to this event? Let other tangueros know what you think by rating it! Just click on the percentage bars. And, if you feel like providing further details, feel free to drop a few lines at the comments section.
Grand Milonga Ball
Grand Milonga Ball
At the Bridport Argentine Tango Festival
At the Bridport Argentine Tango Festival
50
out of
100
with
4
ratings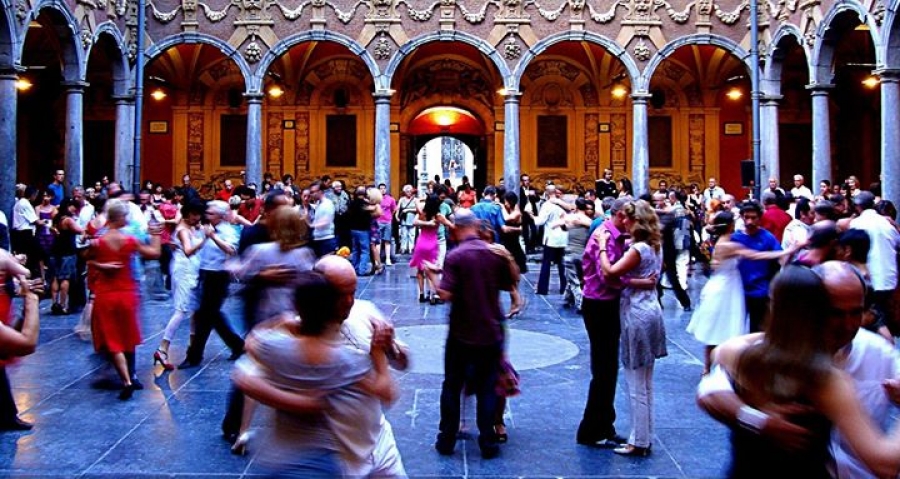 Description
This is the big evening dance event of the Bridport Argentine Tango Festival, with sets of live music played by Martín Espindola on bandoneón, Tim Sharp on keyboard and Javier Fioramenti on guitar and bass. There will be light refreshments available (tea, coffee, soft drinks, maté, cakes, biscuits and some savouries) and at approximately 21.30 there will be two not-to-be-missed performances, one by Martín Espindola and Martina Sapelli and the other by noted tutors Veronica Toumanova from Paris and Benjamin Solano from Bordeaux.

Martín is a well respected tango teacher, singer and guitar and bandoneón player, as well as a former athlete and Olympic coach representing Argentina in international tournaments.

Tim Sharp studied piano at the Guildhall and in Havana, Cuba, as well as playing in Lima, Peru, and latterly becoming well known in England for his interpretation of Latin American piano styles and in demand for his appearances at tangop events.

Javier Fioramenti, from Rosario, Argentina, is a renowned tango guitarist and bass players ass well as a composer and music producer with De Wolfe Music in London. Javier has played regularly at the National Theatre and the Royal Festival Hall as well as throughout Europe and his music is played regularly on the BBC, ITV, Channel 4 and Sky TV.

Because this will be a great event with a great atmosphere, make sure you don't miss it. Entrance, to include everything mentioned above, £15.00 with spectator tickets for your non-dancing friends at half price. And if your non-dancing friends come at 7.30 they can enjoy a free tango taster class led by Martín and start to learn what all the excitement is about.

In addition to this big Saturday milonga there will also be evening milongas on Friday and Sunday as well as workshops, practícas and more during the days. Contact me through Facebook or by email to murdoch AT tangodorset.org.uk for more details.

See you there!

Image, courtesy of Velvet, of a milonga at the Lille Bourse.
---
EVENT DETAILS
Location:

Bridport, United Kingdom

Event dates:

From: Saturday, 28 November 2015 - To: Saturday, 28 November 2015

Location:

Bridport, United Kingdom

Event dates:

Event Starts: Saturday, 28 November 2015
Event Ends: Saturday, 28 November 2015
---
---
Reviews
Go back