Color Milonga
Color Milonga
Ratings
Have you been to this event? Let other tangueros know what you think by rating it! Just click on the percentage bars. And, if you feel like providing further details, feel free to drop a few lines at the comments section.
Color Milonga
Color Milonga
Color Milonga
Color Milonga
50
out of
100
with
4
ratings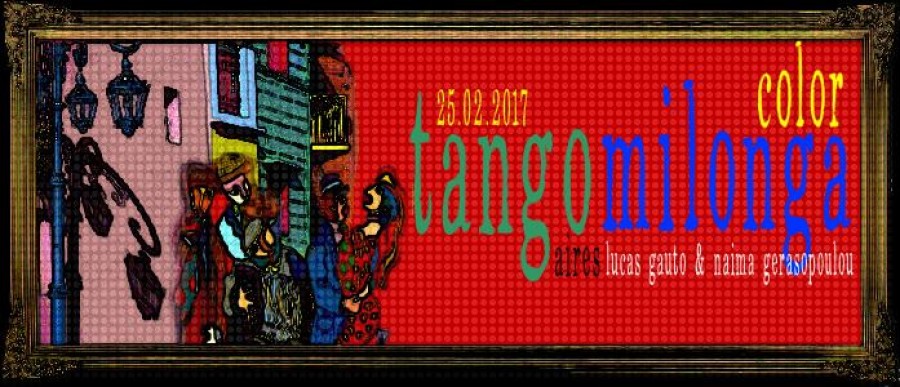 Description
The TangoAires team of FEX, on Saturday 25 February 2017, during the "Thrace Folk Festival -
Carnival of Xanthi 2017", organizes argentinian tango seminars and "color milonga" with show, from LUCAS GAUTO & NAIMA GERASOPOULOU!

Get dressed in colours and join us!!!

--------------------------------------------------------------------------------------------
LUCAS GAUTO is the 3rd Champion in Mudial de Tango 2016, category "Tango de pista" and double Champion in Metropolitan Championship of Buenos Aires in categories of "Vals" & "Milongueros del Mundo"! He has been teaching in various milongas and tango academies of Cordoba and has performed in some of the most important milongas of Buenos Aires, Cordoba, Rosario & Santa Fe along with some of the greatest maestros and dancers of Argentina.

NAIMA GERASOPOULOU is Mediterranean and Eastern Europe Champion of Tango Acropolis Competition 2014 and Semifinalist World Championship of Tango in Buenos Aires in 2015. She has many participations and shows in Greek and International Festivals along with prominent Greek and Argentinean Maestros.
22:30 – 03:30 : color milonga with show by LUCAS GAUTO & NAIMA GERASOPOULOU, Kapnapothiki FEX, Platonos 27 - Xanthi

Tdj: Panagiotis Sachidis - Tango Bar - Thessaloniki

Milonga entrance: €7/person (with a glass of wine or a beer)
--------------------------------------------------------------------------------------------
Argentinian tango seminars
Kapnapothiki FEX, Platonos 27 - Xanthi
Saturday 25th of February
18:00 – 19:30 Tango I (All levels)
19:45 – 21:15 Tango II (Intermidiate & Advanced)

Price for tango seminars
1 seminar = €10/person
2 seminars = €15/person
---
EVENT DETAILS
Location:

Platonos 27, Xanthi, Greece (view map)

Event dates:

From: Saturday, 25 February 2017 - To: Sunday, 26 February 2017

Location:

Platonos 27, Xanthi, Greece (view map)

Event dates:

Event Starts: Saturday, 25 February 2017
Event Ends: Sunday, 26 February 2017

Milonguero Ticket Price - Includes all milongas:

7 EUR - Euro Member Countries

Milonguero Ticket Price - Includes all milongas:

7 EUR - Euro Member Countries

Is registration required prior to the event?

Not required - Tickets at the door

Is registration required prior to the event?

Not required - Tickets at the door

Accommodation:

No

Beverages:

Yes

Transfer:

No

Massage:

No

Accommodation:

No

Beverages:

Yes

Transfer:

No

Massage:

No

Website

Facebook:

Website

Facebook:
---
EVENT ORGANISER
More from Ioannis Dafnis:
---
Map
Platonos 27, Xanthi, Greece
Pin icons from Medialoot
---
---
Reviews
Go back