Autumn in Tallinn with Omar Quiroga Veronica Palacios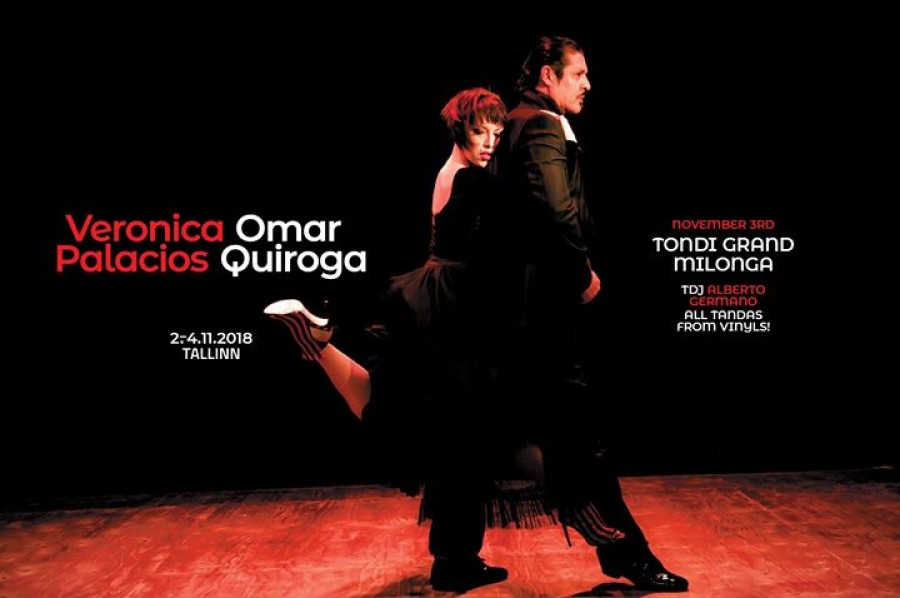 ENG:

Tondi Grand Milonga with perfomance from Maestros on Saturday!

Workshops:

Friday 02.11.18
18.30 WS1 - Hug: secrets for a good connection and subsequent transmission of music from the intimacy of the hug. How to play musically in complicity with the couple.
20.00 WS2 - Dancing with interpretation and without it. We will show the importance of "interpretation" in Tango

Saturday 03.11.18
12.00 WS3 - Knowing Tango structures in a clear way, and how to break the structures after knowing them.
13.45 WS4 - Useful Milongueras sequences adaptable to the dance space of the milonga

Lunch break during 1 hour

16.15 WS5 - Milonga Lisa and Traspié and how to play rhythmically by dancing milonga

21.00 - 02.00 Tondi Grand Milonga with show from Maestros.
NB! FIRST TIME IN ESTONIA! TDJ Alberto Germanó - ALL TANDAS FROM VINYLS!
ENG:

Tondi Grand Milonga with perfomance from Maestros on Saturday!

Workshops:

Friday 02.11.18
18.30 WS1 - Hug: secrets for a good connection and subsequent transmission of music from the intimacy of the hug. How to play musically in complicity with the couple.
20.00 WS2 - Dancing with interpretation and without it. We will show the importance of "interpretation" in Tango

Saturday 03.11.18
12.00 WS3 - Knowing Tango structures in a clear way, and how to break the structures after knowing them.
13.45 WS4 - Useful Milongueras sequences adaptable to the dance space of the milonga

Lunch break during 1 hour

16.15 WS5 - Milonga Lisa and Traspié and how to play rhythmically by dancing milonga

21.00 - 02.00 Tondi Grand Milonga with show from Maestros.
NB! FIRST TIME IN ESTONIA! TDJ Alberto Germanó - ALL TANDAS FROM VINYLS!
Price 20 EUR ( vater, tea, coffee, wine, snacks, fruits)

Sunday 04.11.18
14.00 WS6 - Female Technique, rediscovering the woman who dances Tango, useful secrets of body awareness to dance better, recognizing the female territory in the dance within the couple, how to use our body in its totality and in harmony with the movements.

15.45 WS7 - General technique without having to sign up as a couple, important information to better use our body dancing, how to handle our weights, how to balance and unbalance, how to rotate towards certain movements, how to be more reactive to music
.
Lunch break during 1 hour

18.15 WS8 - Different walks in couple and sequences sharing balance.
Workshop prices for one person:
1 workshop 20.-
2 workshops 38.-
3 workshops 54.-
4 workshops 68.-
5 workshops 80.-
6 workshops 90.-
7 workshops 98.-
8 workshops 104.-

Private lesson for one person or couple with one of Maestros 100 EUR


Continue Reading
Collapse text
---
EVENT DETAILS
Location:

Tallinn, Estonia

Event dates:

From: Friday, 02 November 2018 - To: Sunday, 04 November 2018

Location:

Tallinn, Estonia

Event dates:

Event Starts: Friday, 02 November 2018
Event Ends: Sunday, 04 November 2018
---
---
Questions? - Leave a Comment
Go back