Tango Holiday with Laura Andreas in Umbria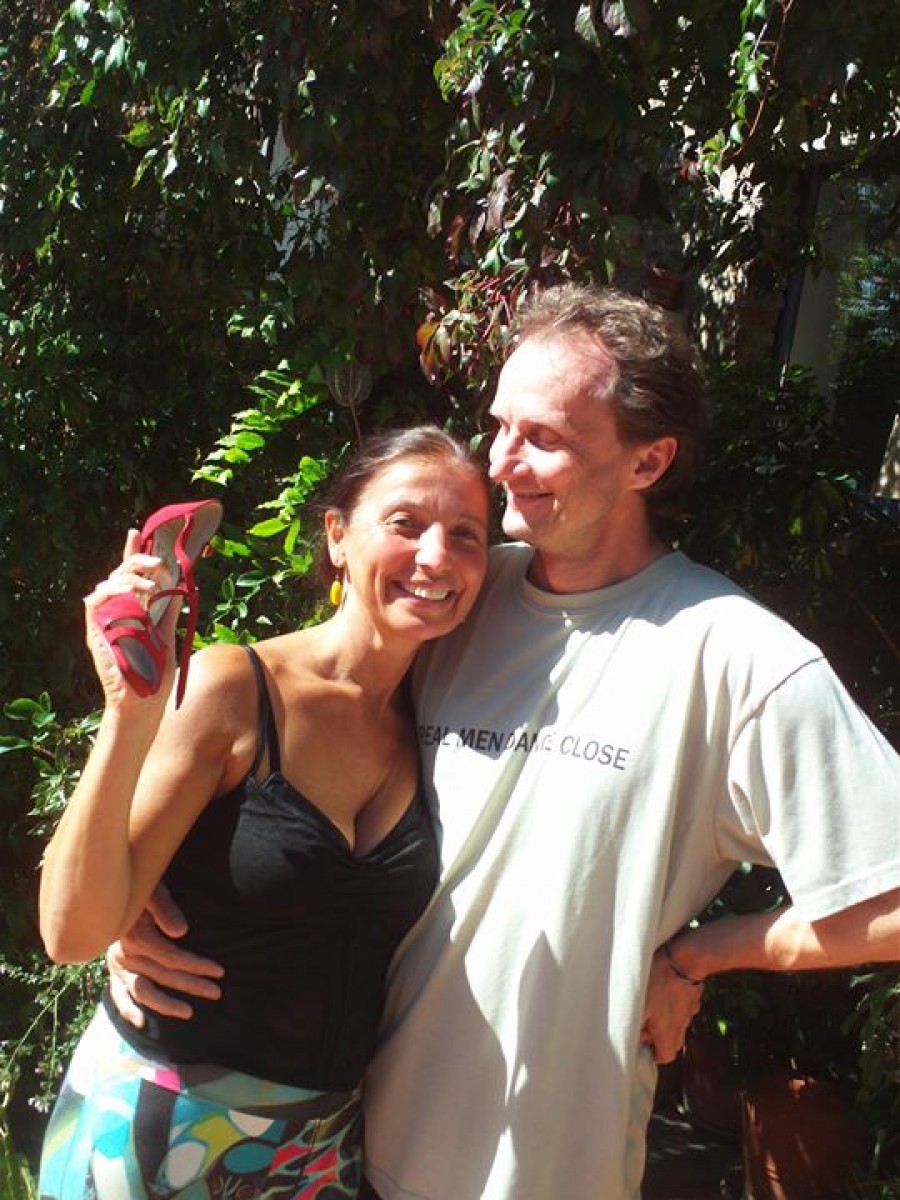 About the teachers:

Laura Priorii originally from Brescia, Italy, has been living in Berlin for almoast 30years. She has started with Argentine Tango 18 years ago with Brigitte Winkler. She has partnered for several years "El Pajaro" Diego Riemer and organized a Milonga together with him. During her regular stays at Buenos Aires she was trained by Gustavo Naveira and Giselle Anne, Marianna Flores and Eduardo Capussi, Fernando Galera and Vilma Vega, Analisa Vega and Marcelo Varela and Chicho and Lucia.

Andreas von Maxen got into Argentine Tango 24 years ago. He has taught for several years in Bremen (Northern Germany) together with Thomas and Catalina and was mainly influenced by Fernando and Vilma, Nancy and Damian and Analia and Marcelo.

About the teachers:

Laura Priorii originally from Brescia, Italy, has been living in Berlin for almoast 30years. She has started with Argentine Tango 18 years ago with Brigitte Winkler. She has partnered for several years "El Pajaro" Diego Riemer and organized a Milonga together with him. During her regular stays at Buenos Aires she was trained by Gustavo Naveira and Giselle Anne, Marianna Flores and Eduardo Capussi, Fernando Galera and Vilma Vega, Analisa Vega and Marcelo Varela and Chicho and Lucia.

Andreas von Maxen got into Argentine Tango 24 years ago. He has taught for several years in Bremen (Northern Germany) together with Thomas and Catalina and was mainly influenced by Fernando and Vilma, Nancy and Damian and Analia and Marcelo.

Laura and Andreas originally preferred the Milonguero-Style in close embrace. In the past years however they started to adopt elements of Tango Nuevo and to experiment with the open embrace. It is their aim to interpret the unique character of Tango music also in the "Nuevo Estilo". In their lessons they emphasize on musicality, communication within the couple, playful movements. For preparation they also integrate body exercises with elements from Yoga and Feldenkrais.

Tango at Villa La Rogaia

Come to Italy for a combination of Tango, Arts, Culture, Food, Wine and more...

Learn to dance Tango quicker in small intimate groups. Maximum number of participants only 9 couples per class !

Individual attention and intensive learning guaranteed .

Practice what you have learned during your daily Tango lessons dancing every night after dinner.

Registration possible also without partner !

Spend a relaxing week at Villa La Rogaia, an old countryhouse with a large garden and a pool. La Rogaia is situated in the hills above Lake Trasimeno between Rome and Florence.

Relax in your individually crafted beautiful double or single room (shared bathroom for two bedrooms) or in your own private holiday appartment (for two persons).

Enjoy our hearty and healthy breakfast and authentic Umbrian cuisine freshly prepared by Mamma Ornella for dinner.

Get inspired by Italy's wealth of culture and history: We can arrange art historical tours to Arezzo, Assisi or Perugia and more.

Level: Intermediate

Languages of instruction: English, German, Italian

Have a look at our complete program now online at

http://www.tango-holidays.com/
Continue Reading
Collapse text
---
EVENT DETAILS
Location:

Castel Rigone, Italy (view map)

Event dates:

From: Saturday, 15 September 2018 - To: Saturday, 22 September 2018

Location:

Castel Rigone, Italy (view map)

Event dates:

Event Starts: Saturday, 15 September 2018
Event Ends: Saturday, 22 September 2018

Number of Participants:

18 dancers

Milonguero Ticket Price - Includes all milongas:

965 EUR - Euro Member Countries

Number of Participants:

18 dancers

Milonguero Ticket Price - Includes all milongas:

965 EUR - Euro Member Countries

Is registration required prior to the event?

Required - No tickets at the door

Registration Opens:

Sunday, 26 November 2017

Registration Closes:

Friday, 14 September 2018

Is registration required prior to the event?

Required - No tickets at the door

Registration Opens:

Sunday, 26 November 2017

Registration Closes:

Friday, 14 September 2018

Accommodation:

Yes

Beverages:

Yes

Transfer:

Yes

Massage:

Yes

Accommodation:

Yes

Beverages:

Yes

Transfer:

Yes

Massage:

Yes

Website:

Facebook:

Website:

Facebook:
---
EVENT ORGANISER
Organizer of Tango Holidays to Italy since 1999
Map
Castel Rigone, Italy
Pin icons from Medialoot
---
---
Questions? - Leave a Comment
Go back