Les 24 heures de Metz 2
24 hours 4 milongas, 6 hours each.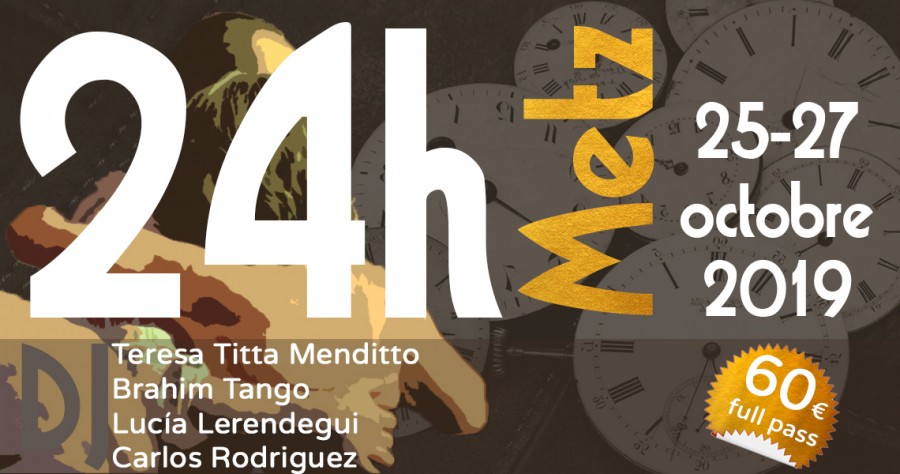 Abrazo Tango invites you to spend a weekend of tango in Metz (east of France) from 25 to 27 October 2019. For this, we have reserved a venue, the Corchade, which will have a 120m2 wood dancing floor and totally dedicated to our passion.
The 24h of Metz, it will be 4 milongas of 6 hours of fun, sharing and respect (Abrazo Tango motto)
Friday, October 25
21:00 - 3:00 Milonga del viernes /DJ Teresa Titta Menditto
Saturday October 26th
14:30 - 20:30 Milonga of the late / DJ Brahim Tango
9:00 pm - 3:00 am Milonga del sábado / DJ Lucía Lerendegui 
Sunday, October 24
1:30 - 19:30 Milonga of the despedida / DJ Carlos Rodrigues
Pass for a couple 2 * 60 = 120 € (refresh included in the pass)
Information: 24h-metz.abrazo-tango.fr
---
EVENT DETAILS
Location:

37 Rue du Saulnois, 57070 Metz, France (view map)

Event dates:

From: Friday, 25 October 2019 - To: Sunday, 27 October 2019

Location:

37 Rue du Saulnois, 57070 Metz, France (view map)

Event dates:

Event Starts: Friday, 25 October 2019
Event Ends: Sunday, 27 October 2019

Number of Participants:

150 dancers

Milonguero Ticket Price - Includes all milongas:

60 EUR - Euro Member Countries

Number of Participants:

150 dancers

Milonguero Ticket Price - Includes all milongas:

60 EUR - Euro Member Countries

Is registration required prior to the event?

Required - couples only

Registration Opens:

Sunday, 01 September 2019

Registration Closes:

Sunday, 20 October 2019

Is registration required prior to the event?

Required - couples only

Registration Opens:

Sunday, 01 September 2019

Registration Closes:

Sunday, 20 October 2019

Accommodation:

No

Beverages:

Yes

Transfer:

No

Massage:

Yes

Accommodation:

No

Beverages:

Yes

Transfer:

No

Massage:

Yes
---
EVENT ORGANISER
Non-profit association for the promotion of Argentinian tango (courses, milongas, festival)
Map
37 Rue du Saulnois, 57070 Metz, France
Pin icons from Medialoot
---
---
Questions? - Leave a Comment
Go back