10th Izmir Tango Marathon
Attention... This marathon contains a lot of fun...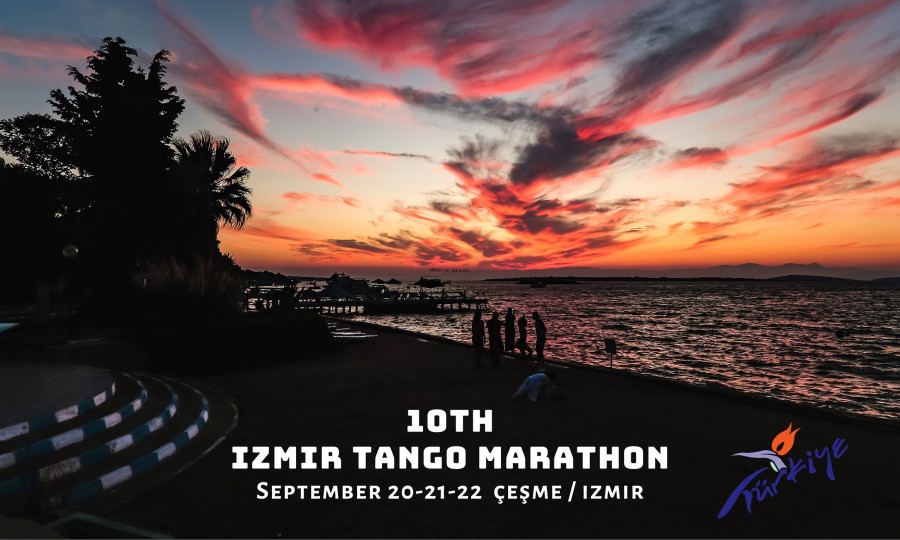 10th Izmir Tango Marathon, September 20-21-22, Çeşme-Izmir-Türkiye
We invite all of you to dance, rest, have fun and to enjoy Çeşme beaches at Medis Resort Hotel. You would not like to miss this weekend event where tango dancers from all over the world meet, dance all night long and enjoy at the beach all day long.
Breakfast, lunch, dinner and non-alcoholic hot and cold drinks, snacks, late-nite soup and boyoz, tequila and coctail parties day-night milongas are all included.
Please visit our event page:
https://www.facebook.com/events/474025019799713/
---
EVENT DETAILS
Location:

Ildır Mahallesi, Ildır Köyü, Çeşme/İzmir, Turkey (view map)

Event dates:

From: Friday, 20 September 2019 - To: Sunday, 22 September 2019

Location:

Ildır Mahallesi, Ildır Köyü, Çeşme/İzmir, Turkey (view map)

Event dates:

Event Starts: Friday, 20 September 2019
Event Ends: Sunday, 22 September 2019

Number of Participants:

150 dancers

Milonguero Ticket Price - Includes all milongas:

165 EUR - Euro Member Countries

Number of Participants:

150 dancers

Milonguero Ticket Price - Includes all milongas:

165 EUR - Euro Member Countries

Is registration required prior to the event?

Required - No tickets at the door

Registration Opens:

Friday, 08 March 2019

Registration Closes:

Wednesday, 18 September 2019

Is registration required prior to the event?

Required - No tickets at the door

Registration Opens:

Friday, 08 March 2019

Registration Closes:

Wednesday, 18 September 2019

Accommodation:

Yes

Beverages:

Yes

Transfer:

No

Massage:

Yes

Accommodation:

Yes

Beverages:

Yes

Transfer:

No

Massage:

Yes
---
EVENT ORGANISER
---
Map
Ildır Mahallesi, Ildır Köyü, Çeşme/İzmir, Turkey
Pin icons from Medialoot
---
---
Questions? - Leave a Comment
Go back