Tango Summer Festival Heidelberg
Tango at the famous Heidelberg Castle, on a Cruise on the Neckar River and Open Air above the roofs of Heidelberg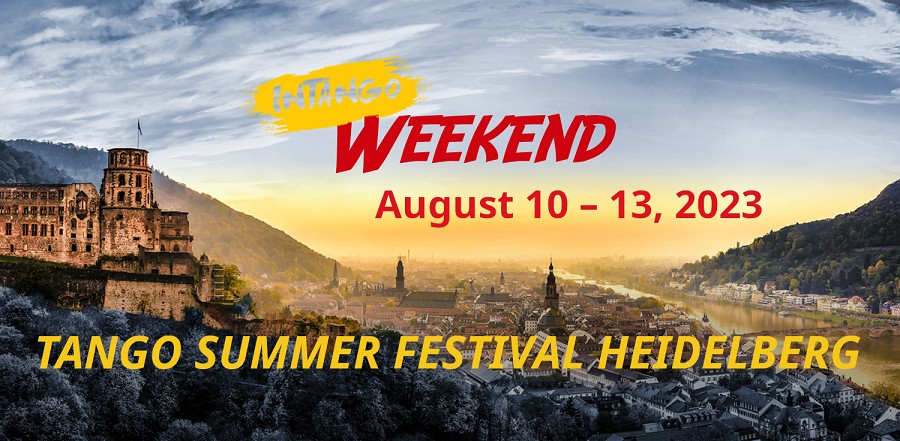 Welcome to the 6th edition of Intango Weekend – an exclusive and international Tango Summer Festival including indoor and outdoor Milongas and a 4-day intensive Tango Summer School – in the beautiful and romantic city of Heidelberg in the heart of Europe!
Dance tango in one of the most famous ruins worldwide – Heidelberg Castle, on a luxurious ship during a cruise on the Neckar river, and above the roofs of Heidelberg with a breath-taking panoramic view of the historic Old Town and wonderful landscape.
Dancing and sightseeing Heidelberg at the same time!
---
EVENT DETAILS
Location:

Heidelberg, Germany (view map)

Event dates:

From: Thursday, 10 August 2023 - To: Sunday, 13 August 2023

Location:

Heidelberg, Germany (view map)

Event dates:

Event Starts: Thursday, 10 August 2023
Event Ends: Sunday, 13 August 2023

Number of Participants:

350 dancers

Number of Participants:

350 dancers

Is registration required prior to the event?

Required - No tickets at the door

Registration Opens:

Friday, 09 December 2022

Is registration required prior to the event?

Required - No tickets at the door

Registration Opens:

Friday, 09 December 2022

Accommodation:

No

Beverages:

No

Transfer:

No

Massage:

No

Accommodation:

No

Beverages:

No

Transfer:

No

Massage:

No

Website:

Facebook:

Website:

Facebook:
---
EVENT ORGANISER
Intango was founded in March 1993 as the first school for Argentine Tango in Heidelberg and Mannheim, Germany. With more than 30 years experience and know-how Intango has highly contributed to the formation of the tango scenes in the Rhine-Neckar-region. Today, Intango is a tango institution and a training school for beginners, advanced tango dancers and tango teachers, and an organiser of milongas and international tango events. We are looking forward to welcome you! Silvana, Emile & Intango Team
---
Map
Heidelberg, Germany
Pin icons from Medialoot
---
---
Questions? - Leave a Comment
Go back