Championship-Festival Milonga of Russia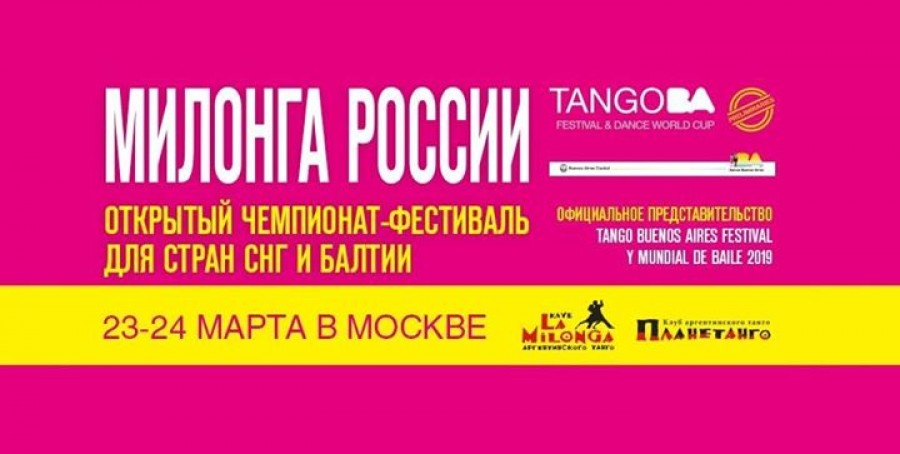 welcome to Moscow:
- dance 3 nights with international DJs
- take part in Russian an CIS tango championships to have fun and participate in election of best dancers in 6 categories - enjoy famous show of Hugo Mastrolorenzo y Agustina Vignau, show from Juan Martin Carrara y Sfefania Colina
- take 4 workshops from Juan Martin y Stefania
Дорогие Друзья!

В 2019 году Фонд Ла Милонга в седьмой раз представляет в России Фестиваль и Всемирный Чемпионат в Буэнос-Айресе (TANGO BUENOS AIRES FESTIVAL Y MUNDIAL DE BAILE)!

В 2019 году Чемпионат-Фестиваль Милонга России состоится 23-24 марта!

welcome to Moscow:
- dance 3 nights with international DJs
- take part in Russian an CIS tango championships to have fun and participate in election of best dancers in 6 categories - enjoy famous show of Hugo Mastrolorenzo y Agustina Vignau, show from Juan Martin Carrara y Sfefania Colina
- take 4 workshops from Juan Martin y Stefania
Дорогие Друзья!

В 2019 году Фонд Ла Милонга в седьмой раз представляет в России Фестиваль и Всемирный Чемпионат в Буэнос-Айресе (TANGO BUENOS AIRES FESTIVAL Y MUNDIAL DE BAILE)!

В 2019 году Чемпионат-Фестиваль Милонга России состоится 23-24 марта!

Поскольку в Буэнос-Айресе соревнования проводятся в форме и рамках фестиваля, который предполагает не только соревнования, но и выступления, и милонги, событие будет организовано именно в танго-формате!
Так как это делается в Буэнос-Айресе!

Помимо двух официальных категорий, в рамках соревнований будут еще категории, которые позволят участвовать большему количеству танцоров!
Участвовать в соревнованиях смогут танцоры из стран СНГ и Балтии!

Приглашаем всех, кто любит танго, расширить рамки нашего Праздника!

О начале регистрации на Чемпионат-Фестиваль скоро объявим!

Александр Вистгоф
Президент Фонда «Ла Милонга»
Continue Reading
Collapse text
---
EVENT DETAILS
Location:

Бауманская ул. дом 6, Moscow, Russia (view map)

Event dates:

From: Saturday, 23 March 2019 - To: Sunday, 24 March 2019

Location:

Бауманская ул. дом 6, Moscow, Russia (view map)

Event dates:

Event Starts: Saturday, 23 March 2019
Event Ends: Sunday, 24 March 2019
---
EVENT ORGANISER
Planetango club, Moscow Milonguero Nights festival from 2003, Moscow Planetango festival, Moscow Preliminar of Mundial for Russia and CiS, since 2013
Map
Бауманская ул. дом 6, Moscow, Russia
Pin icons from Medialoot
---
---
Questions? - Leave a Comment
Go back