Alcoy en Tango
An unforgettable experience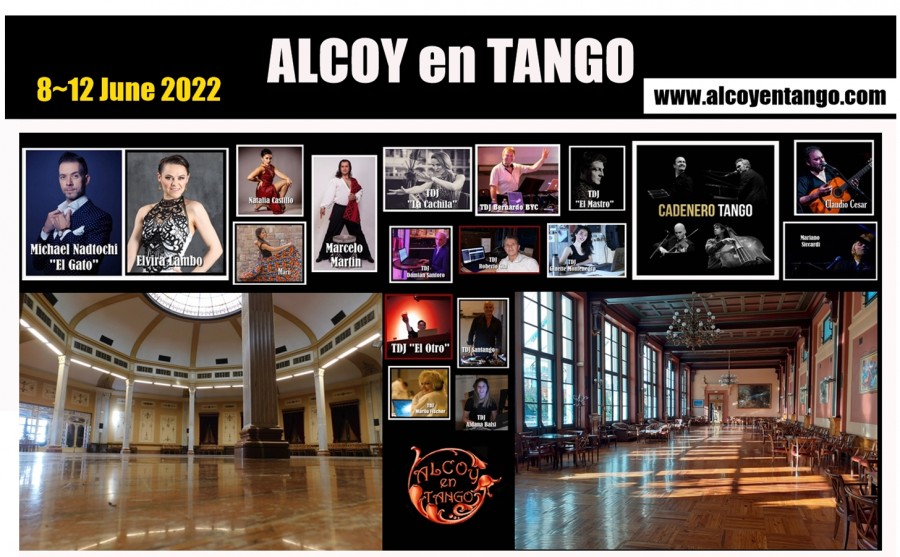 "Alcoy en Tango" is a unique concept in Spain : a whole city center transformed into an Argentinean tango stage !
5 days, 15 milongas, live music, international DJs, exclusive venues!
Open-air milongas at midday, afternoon milongas, evening milongas, gala milongas in exclusive venues, concerts, shows, screenings, a tango market, ...
Tango is in every corner of Alcoy!
In addition, participants will have the opportunity to register for a Tango Competition for Amateurs, category "Tango pista"! 
---
EVENT DETAILS
Location:

Alcoy, Spain (view map)

Event dates:

From: Wednesday, 08 June 2022 - To: Sunday, 12 June 2022

Location:

Alcoy, Spain (view map)

Event dates:

Event Starts: Wednesday, 08 June 2022
Event Ends: Sunday, 12 June 2022

Number of Participants:

300 dancers

Milonguero Ticket Price - Includes all milongas:

150 EUR - Euro Member Countries

Number of Participants:

300 dancers

Milonguero Ticket Price - Includes all milongas:

150 EUR - Euro Member Countries

Is registration required prior to the event?

Required - No tickets at the door

Registration Opens:

Wednesday, 01 September 2021

Registration Closes:

Tuesday, 31 May 2022

Is registration required prior to the event?

Required - No tickets at the door

Registration Opens:

Wednesday, 01 September 2021

Registration Closes:

Tuesday, 31 May 2022

Accommodation:

Yes

Beverages:

Yes

Massage:

Yes

Accommodation:

Yes

Beverages:

Yes

Massage:

Yes

Website:

Facebook:

Website:

Facebook:
---
EVENT ORGANISER
---
---
Questions? - Leave a Comment
Go back