26TH TABOE TANGO CAMP
Tango is just the beginning ...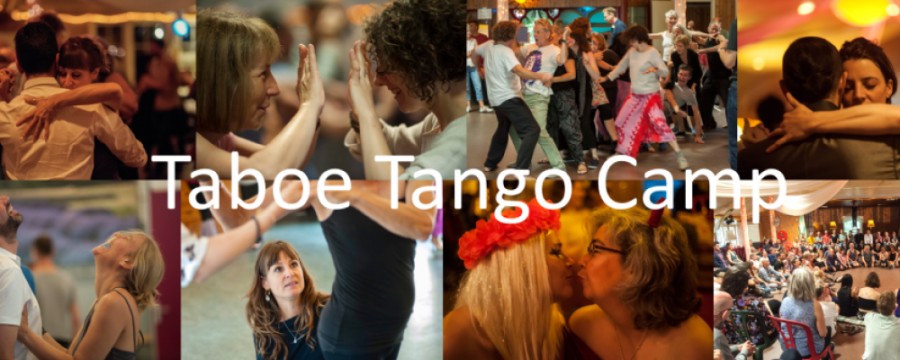 26TH TABOE TANGO CAMP
Let's meet, dance, relax, discover, get lost and feel at home within a big crowd of joyful & open hearted dancers!
Curious to see the newest Taboe videos just ready?
- Teachers Performance with Los Milonguitas:
https://www.youtube.com/watch?v=SyZbuvGhU_4
- Yin Yang Ritual:
https://www.youtube.com/watch?v=gJEmjr4rxr8&t=7s

BOOKING OPEN 14 MARCH 12:00

TABOE SPECIALITIES
A magical week offering new experiences and inspiration with all the special ingredients we offer.
Warm and committed teams takes care of your wellbeing and tango skills, and the surrounding big forest nurturing your soul. Dancing with 'old' Taboe friends and and enrich our (tango)lives with many new dances & friendships from all over the globe.
26TH TABOE TANGO CAMP
Let's meet, dance, relax, discover, get lost and feel at home within a big crowd of joyful & open hearted dancers!
Curious to see the newest Taboe videos just ready?
- Teachers Performance with Los Milonguitas:
https://www.youtube.com/watch?v=SyZbuvGhU_4
- Yin Yang Ritual:
https://www.youtube.com/watch?v=gJEmjr4rxr8&t=7s

BOOKING OPEN 14 MARCH 12:00

TABOE SPECIALITIES
A magical week offering new experiences and inspiration with all the special ingredients we offer.
Warm and committed teams takes care of your wellbeing and tango skills, and the surrounding big forest nurturing your soul. Dancing with 'old' Taboe friends and and enrich our (tango)lives with many new dances & friendships from all over the globe.
The program is All Inclusive, with daily free choice of tango and other movement classes and partners, milongas, gatherings, rituals, games & surprises.

TEACHERS TEAM
Natalia Agüero, Agustin Venturino, Adeline Ireland, Candela Ramos, Rodrigo Fonti, Lydia Muller, Yanna Esbensen, Paras Saghi & Paul Vossen and more ...still to be confirmed.

VIDEOS CAMP
Official Taboe trailer:
https://www.youtube.com/watch?v=LTyX8ZduOJc
Full movie (summer 2017):
https://www.youtube.com/watch?v=8h4nCj95d4Y&t=33s

And many more videos on our Youtube Channel: https://www.youtube.com/user/tangoatelier/videos?view_as=subscriber

PRE-CAMP SEMINAR 5 July
Teachers still to be be confirmed...

PRICES
From € 445,- (all program, no bed, no food)
The standard price € 585,- (all program with bed & food)

BOOKING open 14 April 12:00
Book via: https://www.tangoatelier.nl/index.php?id=booking-C&taal=eng
Single bookings are welcome, but they get on a waiting list until we find a virtual partner - for a good roll balance in the milongas. So if you register as leading woman, we expect you to lead in milongas most of the time.

LOOKING FOR PARTNER TO REGISTER?
Besides your own network and on this event, send a message on the Taboe Camp GROUP and to the Taboe Tango PAGE (link here below)

JOIN US ON FB!
Taboe Group: https://www.facebook.com/groups/237684493059/
Taboe Page: https://www.facebook.com/tangoatelier.nl/

MORE INFO:
https://www.tangoatelier.nl/index.php?id=taboe-tango-camp&taal=eng
Continue Reading
Collapse text
---
EVENT DETAILS
Location:

Woudenbergseweg 47, Austerlitz, Netherlands (view map)

Event dates:

From: Sunday, 05 July 2020 - To: Saturday, 11 July 2020

Location:

Woudenbergseweg 47, Austerlitz, Netherlands (view map)

Event dates:

Event Starts: Sunday, 05 July 2020
Event Ends: Saturday, 11 July 2020

Number of Participants:

170 dancers

Milonguero Ticket Price - Includes all milongas:

445 EUR - Euro Member Countries

Number of Participants:

170 dancers

Milonguero Ticket Price - Includes all milongas:

445 EUR - Euro Member Countries

Is registration required prior to the event?

Required - No tickets at the door

Registration Opens:

Friday, 01 November 2019

Registration Closes:

Sunday, 05 July 2020

Is registration required prior to the event?

Required - No tickets at the door

Registration Opens:

Friday, 01 November 2019

Registration Closes:

Sunday, 05 July 2020

Accommodation:

Yes

Beverages:

Yes

Transfer:

Yes

Massage:

Yes

Accommodation:

Yes

Beverages:

Yes

Transfer:

Yes

Massage:

Yes

Website:

Facebook:

Website:

Facebook:
---
EVENT ORGANISER
---
Map
Woudenbergseweg 47, Austerlitz, Netherlands
Pin icons from Medialoot
---
---
Questions? - Leave a Comment
Go back