Tbilisi Tango Weekend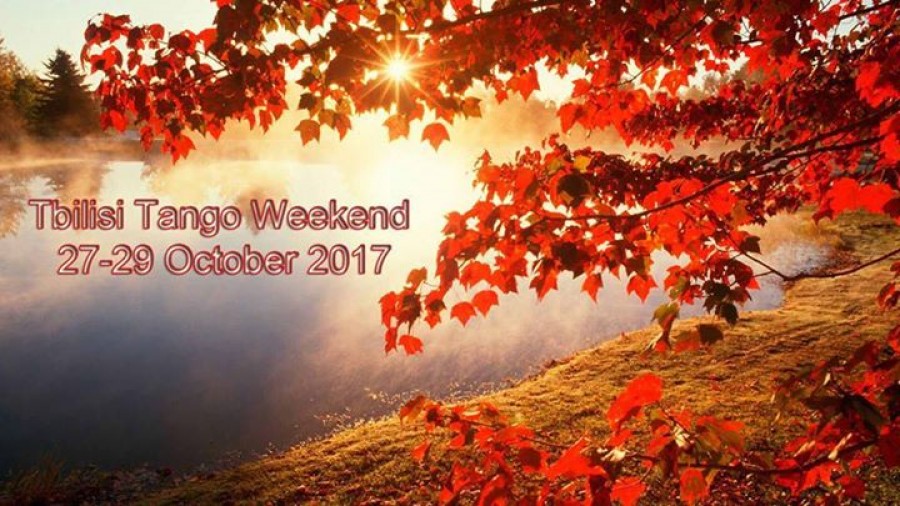 Eng: Welcome to Tbilisi Tango Weekend (Autumn Edition) on October 27-29, 2017. Seven milongas and 36 hours of social tango for three days.
The event will be held in conference hall of Hotel Arena. Floor - laminate 200 sq. m.

Admission fee for single registration is 150 GEL Per person.
For Couples (Man, Woman) 115 GEL per person (for couple 230 GEL)

Рус: Приглашаем вас на Tbilisi Tango Weekend 27-29 октября 2017 года. (Осеннее издание)
7 милонг и 36 часов аргентинского танго! В рамках мероприятия дневные и ночные милонги будут проводиться в конференц зале отеля "Арена". Пол из ламината 200 кв. м.
Плата за участие для одного человека 150 Лари.
Eng: Welcome to Tbilisi Tango Weekend (Autumn Edition) on October 27-29, 2017. Seven milongas and 36 hours of social tango for three days.
The event will be held in conference hall of Hotel Arena. Floor - laminate 200 sq. m.

Admission fee for single registration is 150 GEL Per person.
For Couples (Man, Woman) 115 GEL per person (for couple 230 GEL)

Рус: Приглашаем вас на Tbilisi Tango Weekend 27-29 октября 2017 года. (Осеннее издание)
7 милонг и 36 часов аргентинского танго! В рамках мероприятия дневные и ночные милонги будут проводиться в конференц зале отеля "Арена". Пол из ламината 200 кв. м.
Плата за участие для одного человека 150 Лари.
Для пары (мужчина-женщина) 115 Лари за человека (230 для пары)

ქარ: 2017 წლის 27-29 ოქტომბერს გეპატიჟებით თბილისის ტანგო Weekend-ზე. (Autumn Edition) 7 მილონგა და არგენტინული ტანგოს 36 საათი სამი დღის განმავლობაში.
ღონისძიების ფარგლებში დღისა და ღამის მილონგები გაიმართება Hotel Arena-ს საკონფერენციო დარბაზში. იატაკი - ლამინატი 200 კვ.მ.
ღონისძიებაზე დასწრების საფასური ერთი ადამიანისთის: 150 ლარი.
წყვილისთვის (მამაკაცი, ქალი) 115 ლარი თითოეული ადამიანისთვის (ჯამში 230)

Programm:

27 October
19:00-0:00 Milonga #1
0:00-5:00 Milonga #2

28 October
13:00-19:00 Milonga #3
20:00-0:00 Milonga #4
0:00-5:00 Milonga #5

29 October
13:00-19:00 Milonga #6
20:00-1:00 Milonga #7
Continue Reading
Collapse text
---
EVENT DETAILS
Location:

University Street 2, Tbilisi, Georgia (view map)

Event dates:

From: Friday, 27 October 2017 - To: Sunday, 29 October 2017

Location:

University Street 2, Tbilisi, Georgia (view map)

Event dates:

Event Starts: Friday, 27 October 2017
Event Ends: Sunday, 29 October 2017
---
EVENT ORGANISER
Map
University Street 2, Tbilisi, Georgia
Pin icons from Medialoot
---
---
Questions? - Leave a Comment
Go back