NY Queer Tango Weekend IV
Lead, Follow, Switch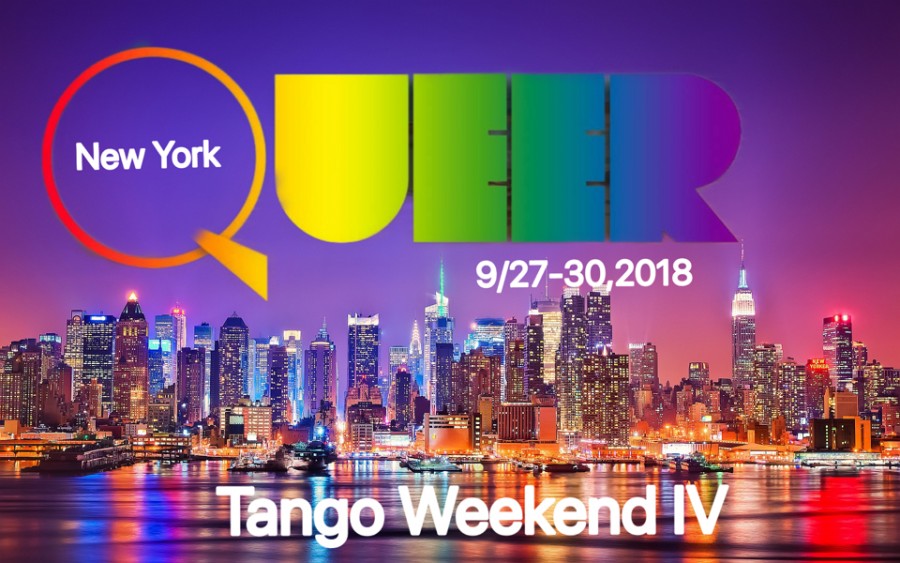 The NY Queer Tango Weekend offers an opportunity to the international Queer Tango community to convene in New York City, hone their craft at workshops and master classes taught by leading tango teachers, explore the endless variety of tango at milongas and mix and mingle with the New York tango community.

Concierge Services provided by TSQ Cabeceo, www.tsqcabeceo.com/concierge .

Bring your ticket confirmation number for exclusive deals at TSQ Cabeceo!
---
EVENT DETAILS
Location:

64 E 4th St, NYC, NY 10003, USA (view map)

Event dates:

From: Thursday, 27 September 2018 - To: Sunday, 30 September 2018

Location:

64 E 4th St, NYC, NY 10003, USA (view map)

Event dates:

Event Starts: Thursday, 27 September 2018
Event Ends: Sunday, 30 September 2018

Is registration required prior to the event?

Recommended - Tickets might be available at the door

Registration Opens:

Tuesday, 31 July 2018

Registration Closes:

Wednesday, 19 September 2018

Is registration required prior to the event?

Recommended - Tickets might be available at the door

Registration Opens:

Tuesday, 31 July 2018

Registration Closes:

Wednesday, 19 September 2018

Accommodation:

Yes

Beverages:

Yes

Transfer:

Yes

Massage:

Yes

Accommodation:

Yes

Beverages:

Yes

Transfer:

Yes

Massage:

Yes
---
EVENT ORGANISER
The NY Queer Tango Weekend offers an opportunity to the international Queer Tango community to convene in New York City, hone their craft at workshops and master classes taught by leading tango teachers, explore the endless variety of tango at milongas and mix and mingle with the New York tango community. ___ Organizers: Leonardo Sardella & Walter Pérez | Project Management: Phi Lee Lam & Cherise Tricia Fung | Web Development & Concierge Services: Cherise Tricia Fung (see TSQ Cabeceo event organiser page)
---
Map
64 E 4th St, NYC, NY 10003, USA
Pin icons from Medialoot
---
---
Questions? - Leave a Comment
Go back