Tango holiday Tangourlaub Play with Tango with Wolfgang Sand
Tango Holidays in Romantic Country House in Italy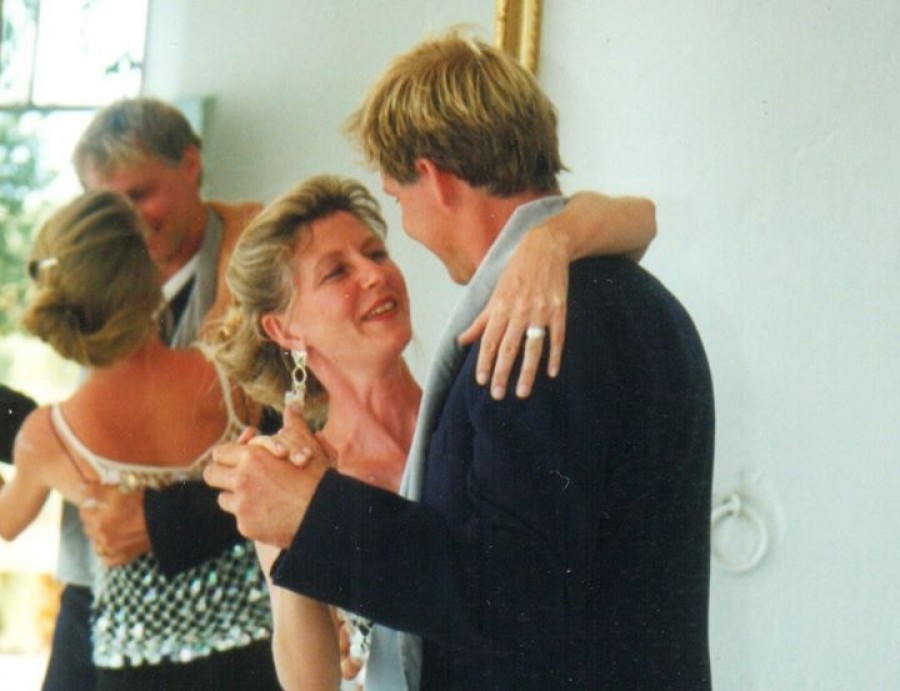 Tango for intermediate level with Wolfgang and Annette:

"Play with Tango - Work less, dance better"

You want to know whether this course is right for you?

You participated already in several courses. You attend regularly practicas, go to milongas and Tango balls?

Then you may be familiar with these problems…

Tango music is not completely new to you. Of course you know there are different orchestras and styles. But you still feel insecure how to dance to the music you are listening to in the milonga.

Then the course "Dancing Tango made easy – Play with Tango – Work less, dance better" is exactly right for you!

You will learn in this course

To improve your understanding of the music and how you can play with the rhythm.
How to dance more elegantly by working less
How to let your body do all the "work" without you even actively thinking about it.

Tango for intermediate level with Wolfgang and Annette:

"Play with Tango - Work less, dance better"

You want to know whether this course is right for you?

You participated already in several courses. You attend regularly practicas, go to milongas and Tango balls?

Then you may be familiar with these problems…

Tango music is not completely new to you. Of course you know there are different orchestras and styles. But you still feel insecure how to dance to the music you are listening to in the milonga.

Then the course "Dancing Tango made easy – Play with Tango – Work less, dance better" is exactly right for you!

You will learn in this course

To improve your understanding of the music and how you can play with the rhythm.
How to dance more elegantly by working less
How to let your body do all the "work" without you even actively thinking about it.

Especially for men

How you can create your own "figures" using simple, easy to dance elements, and how you can impress the ladies without memorising complicated choreographies
What you can do when your partner urges you to "do more, to perform more figures". Even better - how to dance from the very beginning in a way she doesn´t miss "figures" at all.
What you can do when the lady doesn´t dance what you think you have invited her to do.
How you can perceive that your dance partner doesn´t just perform some "weird steps", but simply adds some embellishments to her dance. And how you can respond.

Especially for women:

How you can understand what you can do – and what you shouldn´t do when dancing Tango
How you can perceive the offers of your dance partner and how you can respond to them actively and playfully.
How you can understand better the signals of your dance partner and how you will find the balance between dancing proactively and following the lead of your partner in a relaxed way.
What you can do when you notice that your dance partner is still insecure and gets choked as soon as you´re dancing some embellishments.

For everybody

Why it is no problem at all if something doesn´t instantly work as planned !



About Wolfgang Sandt

Two hearts beat in Wolfgang's breast, and it is difficult to say, whether his bigger passion is sculpture or tango. In any case he is an excellent teacher, who imparts to his students with patience, artistic creativity and a lot of humour the joy for those things, that fill him with enthusiasm. Wolfgang has been dancing tango since 1994. Among his teachers are Gustavo Naveira and Giselle Anne, Fabian Salas and Carolina del Rivero, Mariano"Chicho" Frumboli and Eugenia Parilla, Kely and Facundo Posadas, Amira Campora, Metin Yazir, Graciela Gonzalez, Nestor Ray, Gloria and Eduardo Arquimbau, Yvonne Meissner and Eduardo Aquirre, Ruben Terbalca and many others. For him it is important not to teach figures and steps, but to impart to his students the ability to recognize the structure of the dance and its different elements, thus giving them the ability to invent playfully their own, always new "figures". Consequence of this is a concept for a "dialogue of the dancers ", where there are (almost) no "wrong steps". Wolfgang will be assisted by his wife Annette who will also work with the ladies on posture and technique.

Level: Intermediate

Languages of instruction: English, German, Italian

More info about our Tango program at
http://www.tango-holidays.com/
Continue Reading
Collapse text
---
EVENT DETAILS
Location:

Castel Rigone, Italy (view map)

Event dates:

From: Saturday, 13 October 2018 - To: Saturday, 20 October 2018

Location:

Castel Rigone, Italy (view map)

Event dates:

Event Starts: Saturday, 13 October 2018
Event Ends: Saturday, 20 October 2018

Number of Participants:

1 dancers

Milonguero Ticket Price - Includes all milongas:

875 EUR - Euro Member Countries

Number of Participants:

1 dancers

Milonguero Ticket Price - Includes all milongas:

875 EUR - Euro Member Countries

Is registration required prior to the event?

Required - No tickets at the door

Registration Opens:

Sunday, 26 November 2017

Registration Closes:

Friday, 12 October 2018

Is registration required prior to the event?

Required - No tickets at the door

Registration Opens:

Sunday, 26 November 2017

Registration Closes:

Friday, 12 October 2018

Accommodation:

Yes

Beverages:

Yes

Transfer:

Yes

Massage:

Yes

Accommodation:

Yes

Beverages:

Yes

Transfer:

Yes

Massage:

Yes

Website:

Facebook:

Website:

Facebook:
---
EVENT ORGANISER
Organizer of Tango Holidays to Italy since 1999
More from Rogaia Tango Holidays:
Map
Castel Rigone, Italy
Pin icons from Medialoot
---
---
Questions? - Leave a Comment
Go back