Tango and Feldenkrais Holiday France with Bennie and Astrid
Playful, intense and expressive - a dance for the soul, a dance for your body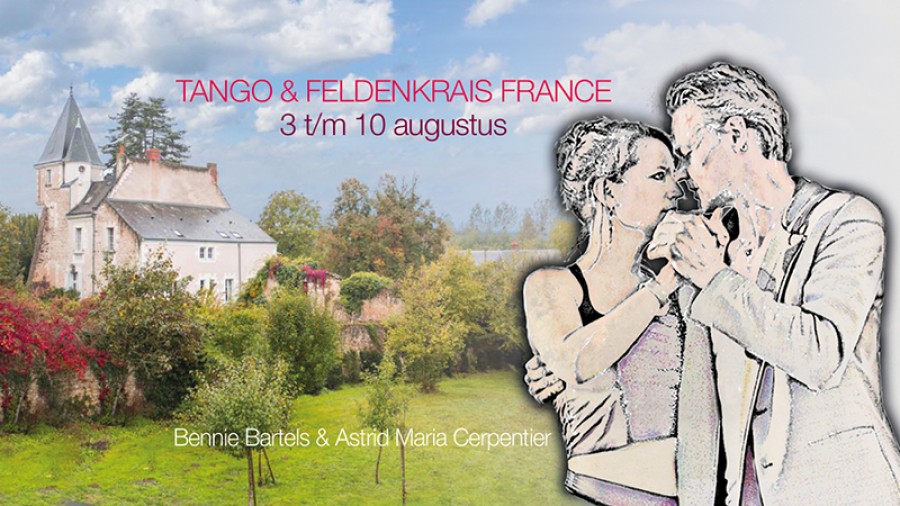 The quiet beauty and spaciousness of La Douce France, a varied program of Tango & Feldenkrais, a tango week with attention for your body and its communication.

A beautiful little castle will serve as our home for the week. It has beautiful spacious rooms, a grand piano, a tower room and a lovely walled garden where you can relax. Montrésor – one of the most beautiful French towns- is only 2,5 km away.

And of course lots of dancing, like always with us :-). Playful and expressive; a dance for the soul, a dance for your body.

Astrid Maria Cerpentier and Bennie Bartels give their tango lessons on this tango holiday with a lot of attention for movement quality, expression and dialogue.

The quiet beauty and spaciousness of La Douce France, a varied program of Tango & Feldenkrais, a tango week with attention for your body and its communication.

A beautiful little castle will serve as our home for the week. It has beautiful spacious rooms, a grand piano, a tower room and a lovely walled garden where you can relax. Montrésor – one of the most beautiful French towns- is only 2,5 km away.

And of course lots of dancing, like always with us :-). Playful and expressive; a dance for the soul, a dance for your body.

Astrid Maria Cerpentier and Bennie Bartels give their tango lessons on this tango holiday with a lot of attention for movement quality, expression and dialogue.

Definitely on the "neo" side of the spectrum, giving the steps more depth, color and significance, and within the focused form of tango, a freedom within the embrace and the roles, in that way finding a new vocabulary that fits our contemporary world.

Read more on: www.tangoalegre.be
Subscribe to: vakanties@tangoalegre.be
Continue Reading
Collapse text
---
EVENT DETAILS
Location:

Villeloin-Coulangé, France (view map)

Event dates:

From: Saturday, 03 August 2019 - To: Saturday, 10 August 2019

Location:

Villeloin-Coulangé, France (view map)

Event dates:

Event Starts: Saturday, 03 August 2019
Event Ends: Saturday, 10 August 2019

Number of Participants:

28 dancers

Milonguero Ticket Price - Includes all milongas:

640 EUR - Euro Member Countries

Number of Participants:

28 dancers

Milonguero Ticket Price - Includes all milongas:

640 EUR - Euro Member Countries

Is registration required prior to the event?

Required - No tickets at the door

Registration Opens:

Saturday, 20 April 2019

Registration Closes:

Saturday, 20 July 2019

Is registration required prior to the event?

Required - No tickets at the door

Registration Opens:

Saturday, 20 April 2019

Registration Closes:

Saturday, 20 July 2019

Accommodation:

Yes

Beverages:

Yes

Transfer:

No

Massage:

No

Accommodation:

Yes

Beverages:

Yes

Transfer:

No

Massage:

No

Website:

Facebook:

Website:

Facebook:
---
EVENT ORGANISER
More from Astrid Maria Cerpentier:
Map
Villeloin-Coulangé, France
Pin icons from Medialoot
---
---
Questions? - Leave a Comment
Go back