On line Tango Argentino for all roles
tango4all safetyfirst tangowithoutborder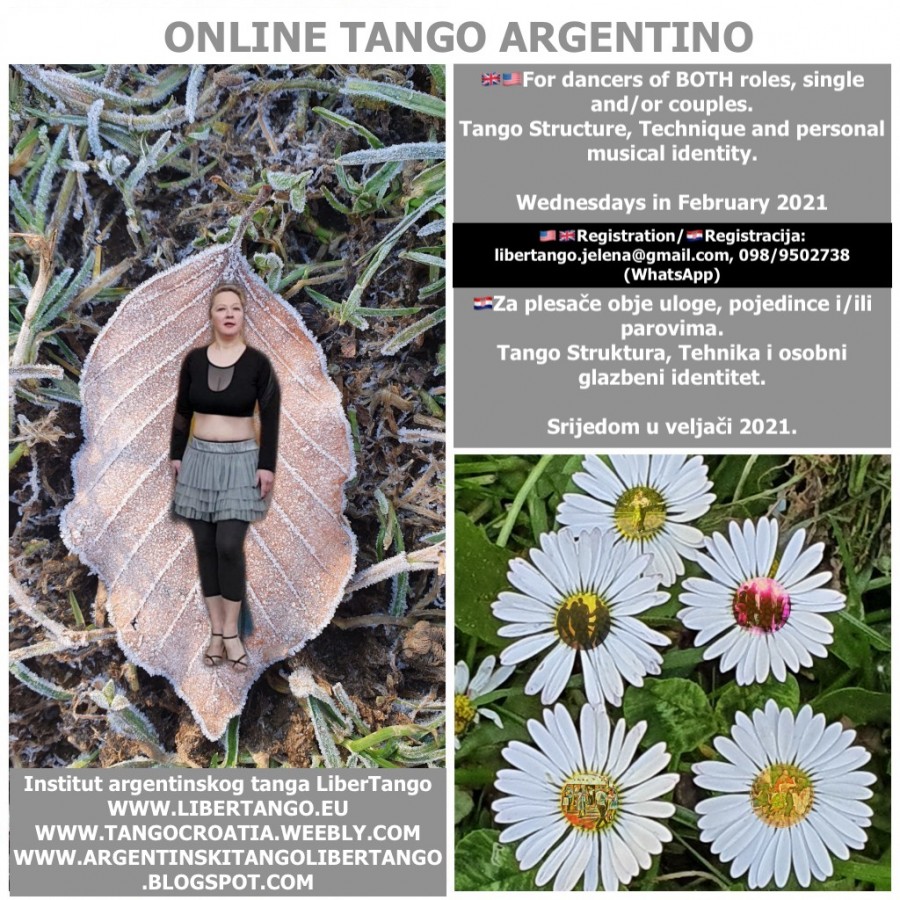 Classes are designed for dancers of BOTH roles, single and/or couples. Theme is Tango Structure, Technique and personal musical identity.
Wednesdays in February 2021, 7:00pm-8:30pm.
Applications and additional info on libertango.jelena@gmail.com, +385 98 950 2738(WhatsApp),, or via contact form on the website. One-day user membership fee per a person 10EURO or 32EURO for all parts.
---
EVENT DETAILS
Location:

Trg Eugena Kvaternika, Zagreb, Croatia (view map)

Event dates:

From: Wednesday, 10 February 2021 - To: Wednesday, 03 March 2021

Location:

Trg Eugena Kvaternika, Zagreb, Croatia (view map)

Event dates:

Event Starts: Wednesday, 10 February 2021
Event Ends: Wednesday, 03 March 2021

Number of Participants:

15 dancers

Milonguero Ticket Price - Includes all milongas:

32 EUR - Euro Member Countries

Number of Participants:

15 dancers

Milonguero Ticket Price - Includes all milongas:

32 EUR - Euro Member Countries

Is registration required prior to the event?

Required - No tickets at the door

Registration Opens:

Tuesday, 02 February 2021

Registration Closes:

Tuesday, 02 March 2021

Is registration required prior to the event?

Required - No tickets at the door

Registration Opens:

Tuesday, 02 February 2021

Registration Closes:

Tuesday, 02 March 2021

Accommodation:

No

Beverages:

No

Transfer:

No

Massage:

No

Accommodation:

No

Beverages:

No

Transfer:

No

Massage:

No
---
EVENT ORGANISER
More from Jelena Somogyi:
Map
Trg Eugena Kvaternika, Zagreb, Croatia
Pin icons from Medialoot
---
---
Questions? - Leave a Comment
Go back