It is all about spirals Intensive Tango Workshop
Master spirals, a much-ignored tango building block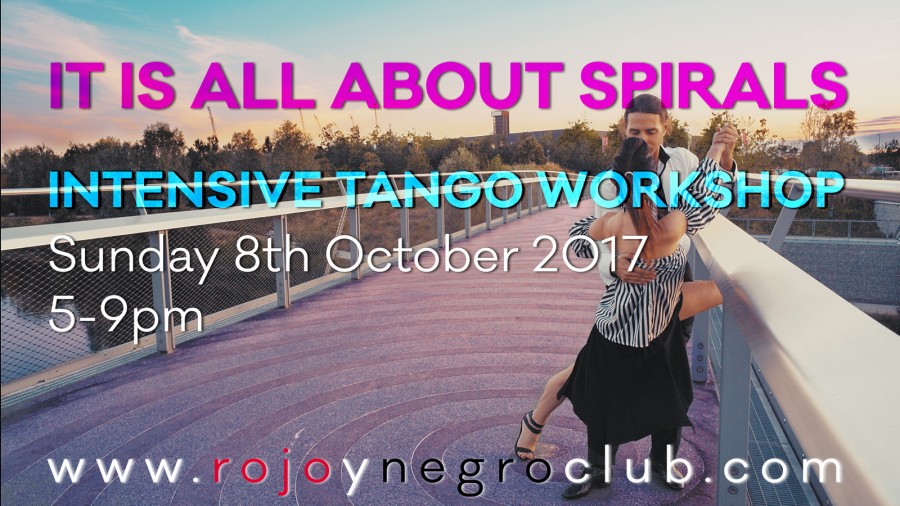 Without spirals, there would be no tango as we know it—they're hidden everywhere! In this workshop, we will explore and analyse the way we use spirals in tango, with our usual focus on mechanics, dynamics and aethetics.
Watch a promotional video for the workshop on YouTube (https://youtu.be/UYlh3SEO4uQ)
Partner not required. If you come as a couple you can stay together or decide to change partners, this is optional. Please note, advance booking is essential to help us ensure an even ratio whenever possible.
5–9:00pm (4 hours, with break)
---
EVENT DETAILS
Location:

Upstairs @ The Union Tavern, 52 Lloyd Baker Street, London, WC1X 9AA, United Kingdom (view map)

Event dates:

From: Sunday, 08 October 2017 - To: Monday, 09 October 2017

Location:

Upstairs @ The Union Tavern, 52 Lloyd Baker Street, London, WC1X 9AA, United Kingdom (view map)

Event dates:

Event Starts: Sunday, 08 October 2017
Event Ends: Monday, 09 October 2017

Number of Participants:

20 dancers

Milonguero Ticket Price - Includes all milongas:

45 GBP - United Kingdom Pound

Number of Participants:

20 dancers

Milonguero Ticket Price - Includes all milongas:

45 GBP - United Kingdom Pound

Is registration required prior to the event?

Required - No tickets at the door

Registration Opens:

Friday, 01 September 2017

Registration Closes:

Sunday, 08 October 2017

Is registration required prior to the event?

Required - No tickets at the door

Registration Opens:

Friday, 01 September 2017

Registration Closes:

Sunday, 08 October 2017

Accommodation:

No

Beverages:

Yes

Transfer:

No

Massage:

No

Accommodation:

No

Beverages:

Yes

Transfer:

No

Massage:

No

Website:

Facebook:

Website:

Facebook:
---
EVENT ORGANISER
Rojo y Negro is a tango school and organiser of milongas and other tango events
---
Map
Upstairs @ The Union Tavern, 52 Lloyd Baker Street, London, WC1X 9AA, United Kingdom
Pin icons from Medialoot
---
---
Questions? - Leave a Comment
Go back