Argentine Tango Weekend With Harby Gonzalez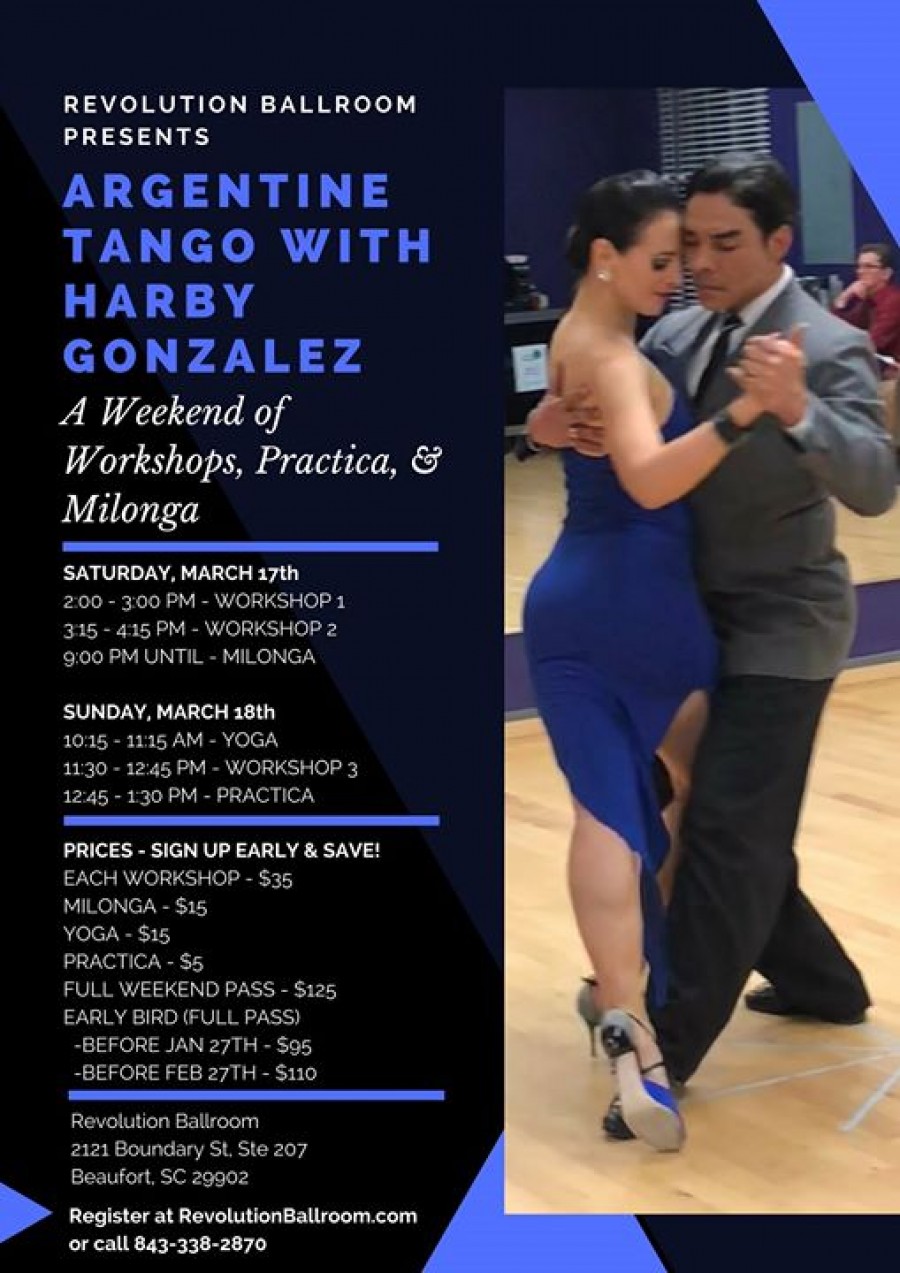 Experience the passion of Argentine Tango with Harby Gonzalez! Enjoy a full weekend of workshops, practica, and a Milonga.

Saturday, March 17th
2:00 - 3:00 PM - Workshop 1
3:15 - 4:15 PM - Workshop 2
9:00 PM Until - Milonga

Sunday, March 18th
10:15 - 11:15 AM - Yoga
11:30 - 12:45 PM - Workshop 3
12:45 - 1:30 PM - Practica

WORKSHOP DETAILS:
These workshops will offer technique, training, and insights that will be of value to any dancer - beginner through advanced intermediate level. Be sure to join us for all the workshops to deepen and develop your ability to express and enjoy the beauty of Argentine Tango.

Workshop 1: Foundations of Tango
In this workshop you'll deepen your understanding of what makes Tango such a unique and beautiful dance: the embrace, the connection, and the walk. Refining your foundation allows you to more fully explore and express the beauty of Tango.

Experience the passion of Argentine Tango with Harby Gonzalez! Enjoy a full weekend of workshops, practica, and a Milonga.

Saturday, March 17th
2:00 - 3:00 PM - Workshop 1
3:15 - 4:15 PM - Workshop 2
9:00 PM Until - Milonga

Sunday, March 18th
10:15 - 11:15 AM - Yoga
11:30 - 12:45 PM - Workshop 3
12:45 - 1:30 PM - Practica

WORKSHOP DETAILS:
These workshops will offer technique, training, and insights that will be of value to any dancer - beginner through advanced intermediate level. Be sure to join us for all the workshops to deepen and develop your ability to express and enjoy the beauty of Argentine Tango.

Workshop 1: Foundations of Tango
In this workshop you'll deepen your understanding of what makes Tango such a unique and beautiful dance: the embrace, the connection, and the walk. Refining your foundation allows you to more fully explore and express the beauty of Tango.

Workshop 2: Transitioning with Grace and Fluidity
In this workshop we'll explore possibilities using combinations of walks in normal and cross system, inside and outside partner. You'll also deepen and develop your ochos. Cultivating your ability to transition with grace and fluidity enables you to connect more deeply with your partner and the music.

Yoga: Awaken
All are welcome to experience this gentle yoga session of connection, breath, and movement which will prepare you to dance with passion! This class is appropriate for all levels, and even if you have never practiced yoga before, this class will also be perfect for you. A limited number of yoga mats will be provided, and we ask that you bring your own mat if possible.

Workshop 3: Fun with Giros
In this workshop we'll have some fun using circular movements with grapevine action. We'll cover the Molinete for the followers and pencil actions for the leaders. Enrich your execution of these essential actions and become a desired dance partner at any Milonga!

PRIVATE LESSONS

We have just a few openings for private lessons for this event. Private sessions with Harby are amazing, and he is available Saturday & Sunday by appointment. Contact us at 843-338-2870 to book your lesson.

PRICES - SIGN UP EARLY & SAVE!
Each Workshop - $35
Milonga - $15
Practica - $5
Full Weekend Pass - $125
***Early Bird (Full Pass)***
-Before January 27th - $95
-Before February 27th - $110
Private Lesson: $105 per 50-minute lesson (individual or couple)



Continue Reading
Collapse text
---
EVENT DETAILS
Location:

Beaufort, United States

Event dates:

From: Saturday, 17 March 2018 - To: Sunday, 18 March 2018

Location:

Beaufort, United States

Event dates:

Event Starts: Saturday, 17 March 2018
Event Ends: Sunday, 18 March 2018
---
---
Questions? - Leave a Comment
Go back