Vietnam Tango Cultures tour March 2018
Vietnam Cultures tours and Tango Marathon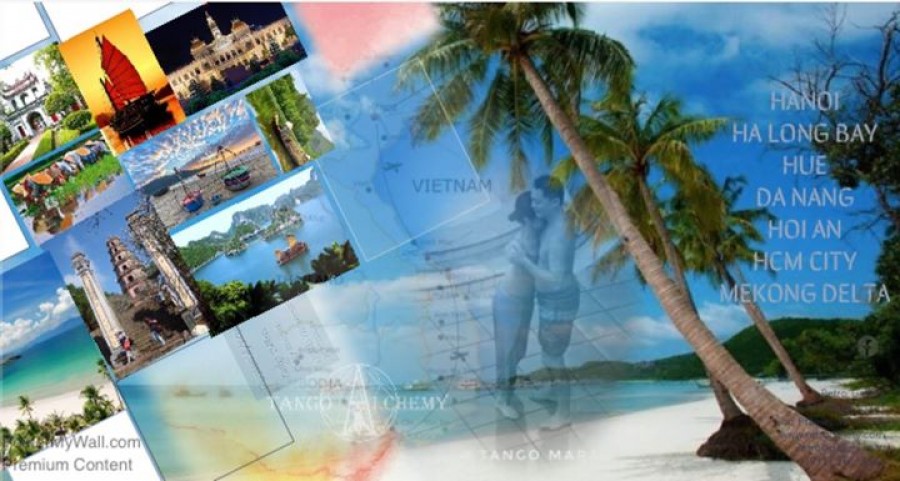 What could be more wonderful than exploring the country with its beautiful landscapes and unique 4000+ years of cultures through the eyes of a native, at the same time joining in with the local tango communities in Vietnam and all over Asia for cultural embraces.

Tango Alchemy is offering a very tailored package to see Vietnam from the North to Central to South. Each region/city offers its own unique landscape and cultures and cuisine, from the classic Hanoi full of Histories, to the vast magnificent bay of Halong, to the Imperial city where the last emperors resided, to the beach of Danang & magical ancient town of Hoi An, the energetic Saigon finally the lush green and abundance rice basket of Mekong Delta.

To make it as flexible as possible for your diaries and budgets, we have organised the tours in 3 parts with an optional extended beach Holiday.

What could be more wonderful than exploring the country with its beautiful landscapes and unique 4000+ years of cultures through the eyes of a native, at the same time joining in with the local tango communities in Vietnam and all over Asia for cultural embraces.

Tango Alchemy is offering a very tailored package to see Vietnam from the North to Central to South. Each region/city offers its own unique landscape and cultures and cuisine, from the classic Hanoi full of Histories, to the vast magnificent bay of Halong, to the Imperial city where the last emperors resided, to the beach of Danang & magical ancient town of Hoi An, the energetic Saigon finally the lush green and abundance rice basket of Mekong Delta.

To make it as flexible as possible for your diaries and budgets, we have organised the tours in 3 parts with an optional extended beach Holiday.

Part 1 The North: 4 days 4/5* Classic Hanoi and magical Boat cruise on Ha Long Bay / milonga with the locals and on board
Part 2 The Central: 7 days: 4/5* The Imperial city, Ancient town and beach + Tango Marathon- cultural tours Hue/ Danang / Hoi An
Part 3: The South: 3 days Saigon / Mekong Delta tours / tango with the locals
Part 4: Not part of the tour but if you would like to extended to a relaxing beach holiday: 4 days Phu Quoc Island .

DATE: 10-24 March 2018

Info and booking : http://tangoinvietnam.wordpress.com//home
Tangoalchemyteam@gmail.com - 07967343039
Continue Reading
Collapse text
---
EVENT DETAILS
Location:

Hanoi, Vietnam (view map)

Event dates:

From: Saturday, 10 March 2018 - To: Saturday, 24 March 2018

Location:

Hanoi, Vietnam (view map)

Event dates:

Event Starts: Saturday, 10 March 2018
Event Ends: Saturday, 24 March 2018

Number of Participants:

200 dancers

Number of Participants:

200 dancers

Is registration required prior to the event?

Required - No tickets at the door

Registration Opens:

Friday, 16 June 2017

Registration Closes:

Saturday, 03 March 2018

Is registration required prior to the event?

Required - No tickets at the door

Registration Opens:

Friday, 16 June 2017

Registration Closes:

Saturday, 03 March 2018

Accommodation:

Yes

Beverages:

Yes

Transfer:

Yes

Massage:

Yes

Accommodation:

Yes

Beverages:

Yes

Transfer:

Yes

Massage:

Yes

Website:

Facebook:

Website:

Facebook:
---
EVENT ORGANISER
---
---
Questions? - Leave a Comment
2

comments
Comment Link

Buongiorno, vorrei avere info in merito ai costi e al programma in maniera più dettagliata.
Grazie
Filippo

Comment Link

Buongiorno Filipino, Le informations possono essere trovate nel sito web http://www.tangoinvietnam.wordpress.com. Se avete bisogno di un cratore Italiano per spiegare, fatemelo sapere. Grazie
Go back